Spain is a popular destination for camping enthusiasts, and with its beautiful landscapes and warm climate, it's easy to see why. As a leading company for campervan hire in Spain, we at Siesta Campers strive to make camping accessible for everyone. However, before going camping, it's important to understand the laws and regulations. In this article, we'll take a closer look at the legalities of wild camping in Spain and explore some alternatives for those who want to experience the great outdoors in a responsible and sustainable way.

Is wild camping in Spain Legal?
The short answer is no. Wild camping is generally not legal in Spain, and there are strict regulations in place to prevent it. Spain has a long history of protecting its natural environment and wildlife, and the government has implemented measures to regulate outdoor activities, including camping. Anyone caught camping in a prohibited area can face a hefty fine. In general, fines for illegal camping in Spain can range from €30 to €3,000, depending on the circumstances. If you want to wild camp in Spain, it's essential to research the area thoroughly before you go. Some areas may have designated campsites where camping is permitted, most natural parks and reserves do not allow camping.
In 2008 the Ministry of the Interior approved the Instruction/Directive 08/V-74 DGT. If you want to wild camp in Spain, this is an essential read.

What are the rules and regulations for wild camping in Spain?
Wild camping in Spain is subject to specific rules and regulations that vary depending on the region. It's best to check with local authorities or park rangers for specific guidelines in the area where you plan to camp. Here are some general guidelines to follow when wild camping in Spain:
You can only camp in areas that are not privately owned and are not classified as protected or natural areas.
You must be at least 100 metres away from any water source, and you cannot camp in places that have signs prohibiting camping.
You are not allowed to light fires except in designated camping areas or in the case of an emergency.
You must take all of your trash with you when you leave, and you cannot leave any waste behind.
You cannot damage the environment in any way, including cutting down trees or plants, or disturbing wildlife.
If you are camping in a group, you must keep noise levels down to avoid disturbing other campers or nearby residents.
You should stay for a maximum of one night in any given spot.


Wild camping in a motorhome
If you want to wild camp in Spain in a campervan or motorhome, you may wonder if the rules are different. While camping in a vehicle can offer more freedom and flexibility than traditional camping, the same rules apply to campervan and motorhome owners.
In general, it is not allowed to camp in a vehicle outside of designated areas. The Spanish government's position is that if you're not in a designated camping area, you're wild camping, regardless of whether you're sleeping in a tent or a vehicle.
However, some local authorities may allow overnight parking in designated areas, such as rest areas, motorway service stations, or parking areas for motorhomes. Again, it's essential to check the local regulations and do your research before you park up for the night.


The IMPORTANT exception: Parking vs Camping
Knowing the difference between parking and camping is the best way to keep out of trouble and avoid fines.
In Spain, a campervan or motorhome is considered parked when all wheels are in contact with the ground without the use of stabiliser legs or levelling blocks. Additionally, no elements can extend beyond the perimeter of the vehicle (table, chairs, awning). By following these rules, the passengers can sleep inside and even lift the roof or open the roof window.
A campervan or motorhome is considered to be camping if it's using stabiliser legs or elements reach beyond the perimeter of the vehicle. The same classification applies, If you cause excess noise pollution or dump any liquids.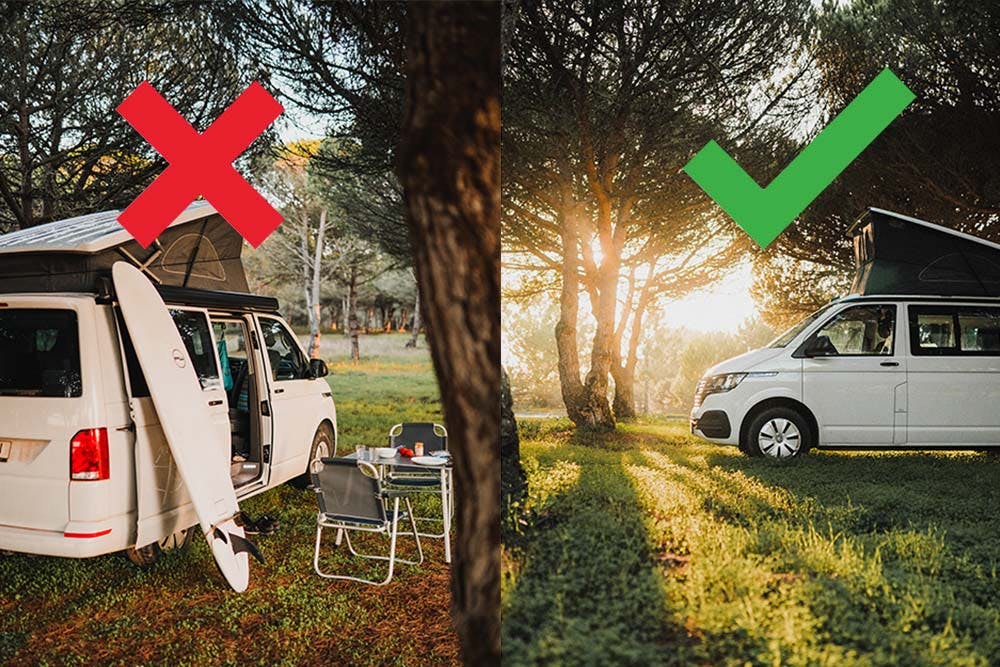 Parking vs camping


Wild camping alternatives
While wild camping is not generally not allowed in Spain, there are still plenty of ways to enjoy the great outdoors and experience the country's stunning natural scenery. Here are some alternatives you may want to consider:
1. Campsites
Spain has an excellent network of campsites, many of which offer stunning views and top-quality facilities. Camping in a designated campsite can offer a safe and comfortable experience and allows you to enjoy the outdoors without worrying about breaking the law.
2. Camper parking areas
Some towns and cities in Spain have designated parking areas for campervans and motorhomes (some free, some paid). These areas often offer basic facilities, such as water and waste disposal, and can be a good option if you're looking for a safe and legal place to park up for the night. 
3. Refuges and mountain huts
If you're planning on hiking in the mountains, you may be able to stay in a refuge or mountain hut. These are often basic shelters that offer a place to sleep and some basic facilities, and they can be a great way to experience the wilderness without breaking the law.
4. Airbnb
You can also use Airbnb to find private parking spots or driveways that allow motorhomes to park overnight. This can be a more affordable option than campsites or motorhome parks, and it also allows you to stay in more residential areas.


Conclusion
Wild camping in Spain can be an incredible experience for those who enjoy the outdoors and want to explore the natural beauty of the country. However, it's important to remember that it's not legal in most areas, and there are regulations and guidelines that need to be followed in order to avoid fines or other penalties. Before you go, research the specific regulations and guidelines for camping in the area you plan to visit, and to obtain any necessary permits or permission from landowners. Additionally, practice Leave No Trace principles, respect the environment and other campers, and follow local regulations to ensure a positive camping experience and preserve the natural beauty of Spain for future generations. Whether you choose to wild camp in Spain or opt for an alternative form of accommodation, the country offers many beautiful destinations to explore and enjoy.