Planning on camping in Spain? With its diverse landscapes and rich cultural heritage, the country is a paradise for camping enthusiasts. From the rugged cliffs along the Atlantic coast, to sun-drenched beaches of the Mediterranean and the breathtaking mountains of the Pyrenees, campsites in Spain bring campers of all types closer to unforgettable outdoor experiences. Whether you opt for campervan hire in Spain and need a recommendation for motorhome sites across the country, or simply looking for a scenic patch of grass to pitch a tent, we will introduce you to some of the best campsites in Spain. While our rental locations are spread out far and wide, some of these gems are definitely worth venturing further afield. Let's get started!


10 Best Campsites in Spain:
Parque Ardales, located near El Chorro and the renowned Caminito del Rey, is a dream destination for nature enthusiasts and adventure seekers looking to enjoy a comfortable and rejuvenating vacation. The surrounding region presents an idyllic setting for activities such as hiking, mountain biking, and rock climbing. Nearby Ardales lakes provide ample opportunities for fishing and various water sports. One of the area's highlights is the famous Caminito del Rey, an elevated narrow footpath that winds its way above the breathtaking Guadalhorce River Canyon. This scenic route treats visitors to awe-inspiring vistas of the picturesque landscape and has become a must-visit attraction for both tourists and locals. The vivid colours of the water in this region are a visual treat for all who venture here.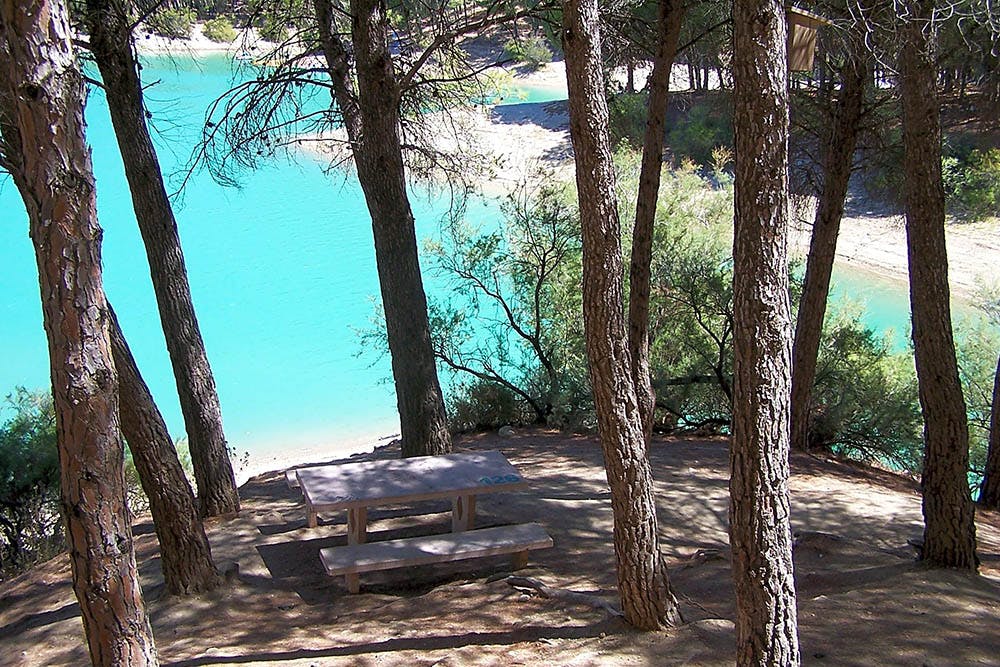 Camping Parque Ardales - ideal for outdoor activities
With direct beach access and just a brief stroll away from the picturesque Puerto De La Duquesa, known for its diverse array of beach bars and restaurants catering to every palate, this campsite promises a sensory delight. It offers a wide range of experiences, from golf courses and nature reserves to adrenaline-pumping activities and ample opportunities for relaxation. For those eager to venture further, an abundance of leisure pursuits awaits. You can indulge in water activities, wander through lush gardens, peruse vibrant markets, embark on wine tours, go cycling and trekking, enjoy horseback riding, visit an aquarium and a zoo, and even experience the thrills of an amusement park.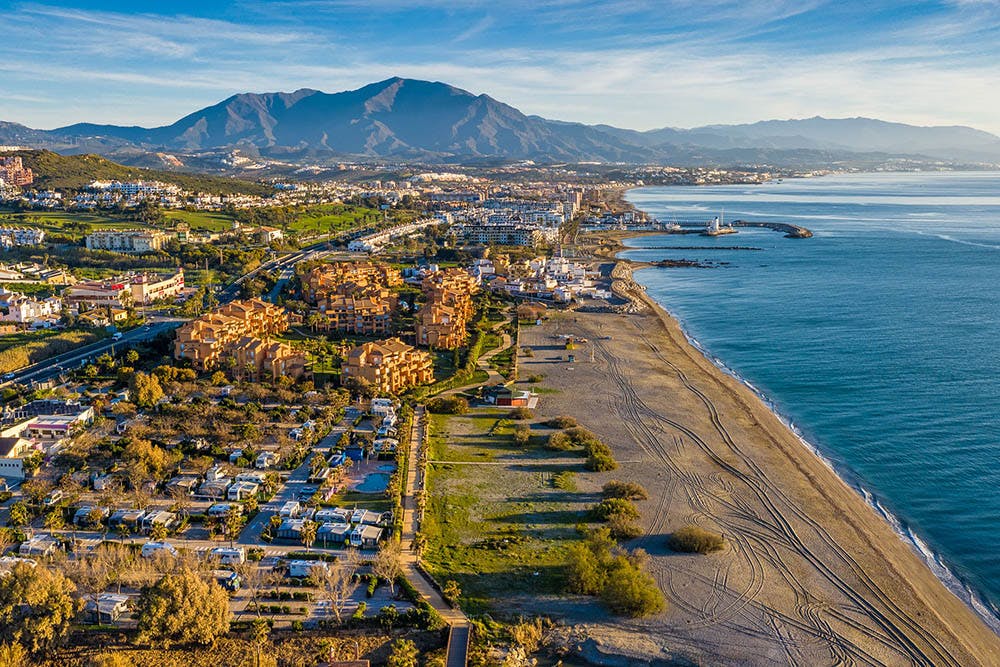 Camping La Bella Vista - beachfront campsite on the Costa del Sol
If you're in search of a tranquil lakeside camping experience, look no further than Camping La Viñuela in Málaga. This campsite is the perfect haven for those yearning for a stress-free and laid-back holiday. Situated near the picturesque Viñuela Reservoir, it offers excellent opportunities for fishing and various water sports. Surrounded by hills and mountains, the area is also a paradise for hiking, mountain biking, and rock climbing enthusiasts. With 39 camping plots and 11 mobile homes available on-site, it's an ideal destination for those seeking a relaxed atmosphere. So, unwind, take in the breathtaking views, and enjoy some well-deserved rest and relaxation amidst the beauty of the great outdoors.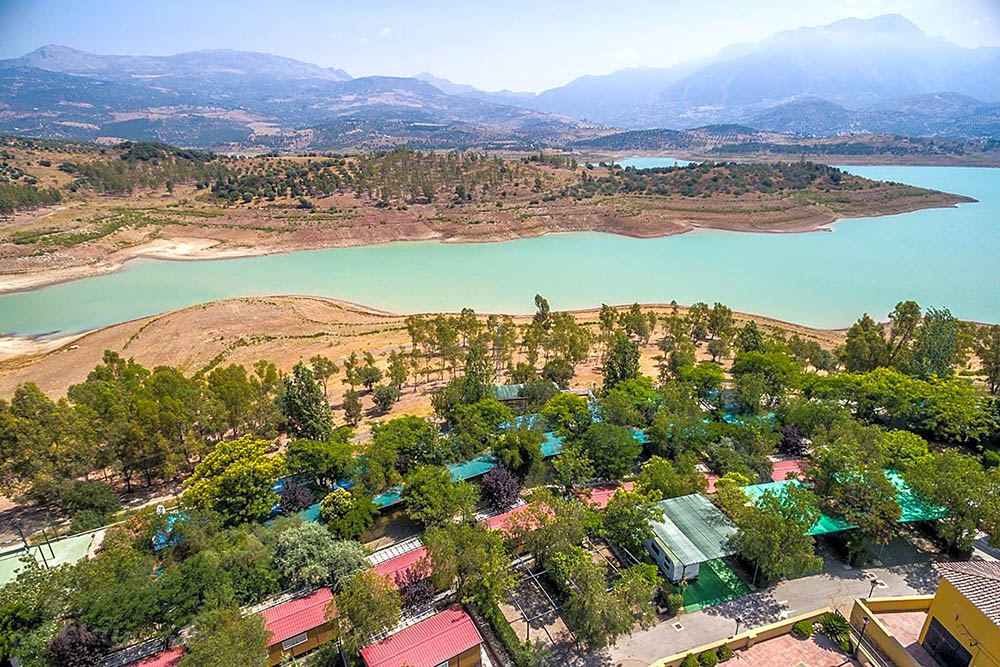 Camping La Viñuela - camping near an idyllic lake near Málaga
Prefer the sound of a serene campsite tucked away in a lush forest? Camping Conil near Cadiz, offers a peaceful family glamping experience. It's conveniently located 10 minutes' drive from Playa de la Fontanilla and 35 minutes from Cádiz. The campsite provides a variety of power optional sand campsites suitable for tents, campervans and motorhomes. Guests can enjoy on-site amenities such as a restaurant, bar, shop, swimming pool, and organised entertainment. Sports enthusiasts can enjoy padel on the sports courts or rent bikes from reception to explore the scenic Andalusian countryside. The campsite staff can also arrange various activities, including surfing lessons and trekking for those seeking more active pursuits.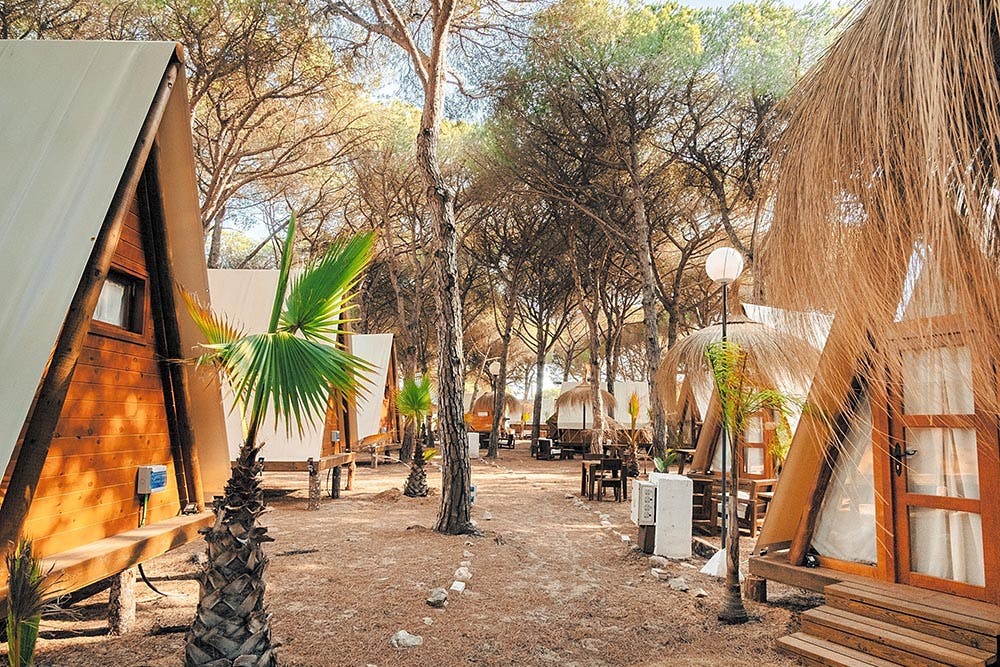 Camping Conil - forest glamping near Cadiz
Located in a peaceful setting away from noise and pollution, one of the top naturist campsites in Spain offers a unique escape where you can shed your worries along with your clothes. Situated on a beautiful bay surrounded by breathtaking sea and mountain views, this is the ideal place to unwind. For those who wish to explore, it's just a 20-minute drive to the historic city centre of Cartagena and about 45 minutes to the provincial capital, Murcia. Naturist Camping El Portus offers a range of amenities, including a fitness and wellness centre with massage rooms, a beauty salon, and a gym. Sports enthusiasts can enjoy facilities like pétanque and tennis courts, while families will appreciate the excellent playground and a spectacular pool. If you prefer to focus on relaxation and freedom from clothing, the campsite provides everything you need on-site. You can dine at the restaurant, stock up on supplies at the supermarket, and enjoy refreshing drinks at the beach bar.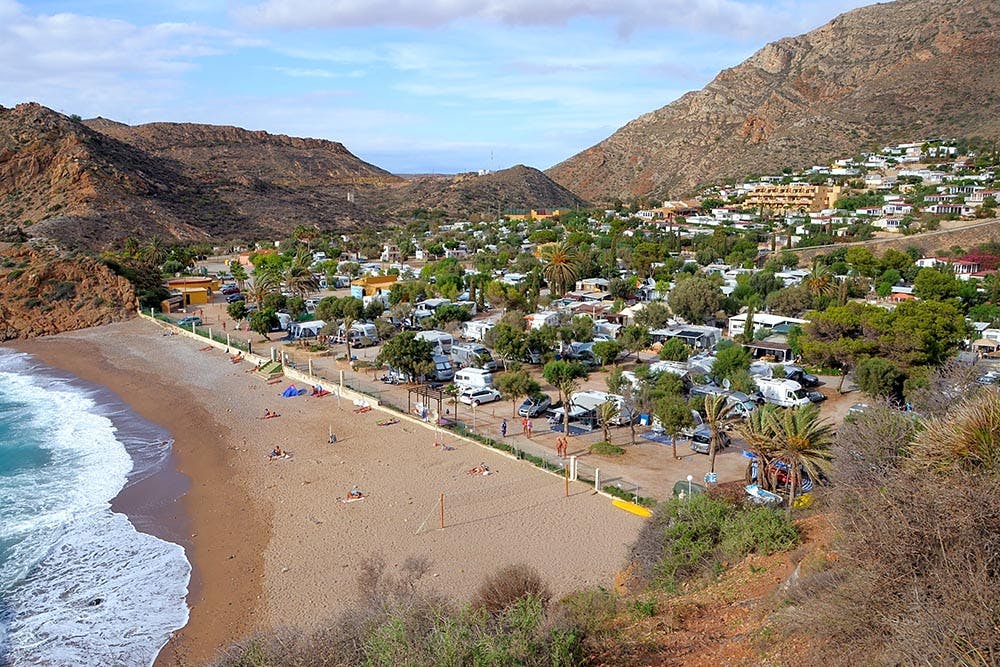 Naturist Camping El Portus - one of the top naturist campsites in Spain
This campsite is nestled in a picturesque valley, with terraced grass pitches surrounded by a lush beech forest and 3,000m high mountain peaks. Most pitches come equipped with parking spaces and electricity to ensure a comfortable stay. For those seeking tranquillity and a close connection with nature, there are plenty of areas inaccessible to vehicles, making it perfect for hikers on the GR-11 trail or other mountain excursions. If you're searching for the most beautiful campsite in Spain, this one is tough to beat! Modern service facilities, including bathtubs for children and laundry facilities, are available to all guests. Booking a spot at this campsite is limited and only available for July and August, with a minimum stay of 5 nights during these months. Reservations are unnecessary for the rest of the season.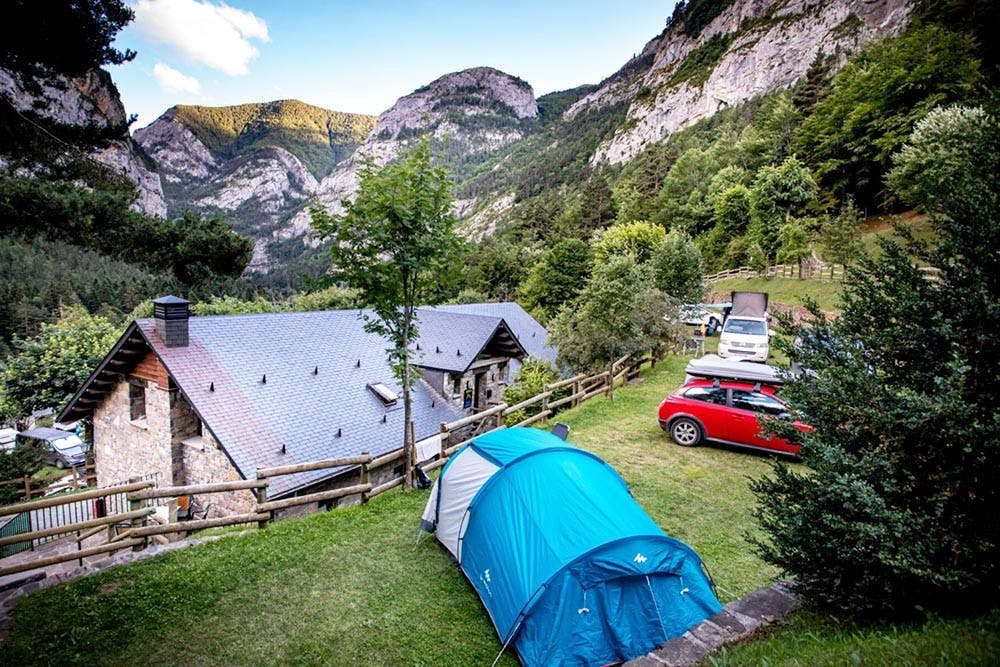 Camping Valle de Bujaruelo - most beautiful campsite in Spain?



7. Camping La Paz - great spot on the north coast
Camping La Paz is a peaceful seaside retreat located on the north coast of Spain near Llanes, offering spectacular views of the sea and coast. This campsite is perfect for campervan travellers seeking tranquillity and natural beauty. The optional grass RV sites provide ample space and come equipped with power hook-ups. You can easily prepare for picnics, barbecues, and campfire evenings by visiting the on-site supermarket, where you'll find groceries, newspapers, and beach and camping supplies. For longer stays, the laundry room is equipped with washing machines, tumble dryers, and ironing boards to keep your clothing fresh and clean. There's also a motorhome service point for campervan owners and four well-maintained toilet and shower blocks. While staying at Camping La Paz, don't miss the opportunity to explore the beautiful town of Llanes, known for its charming streets, historic architecture, and delicious seafood restaurants. The nearby beaches are perfect for sunbathing and swimming.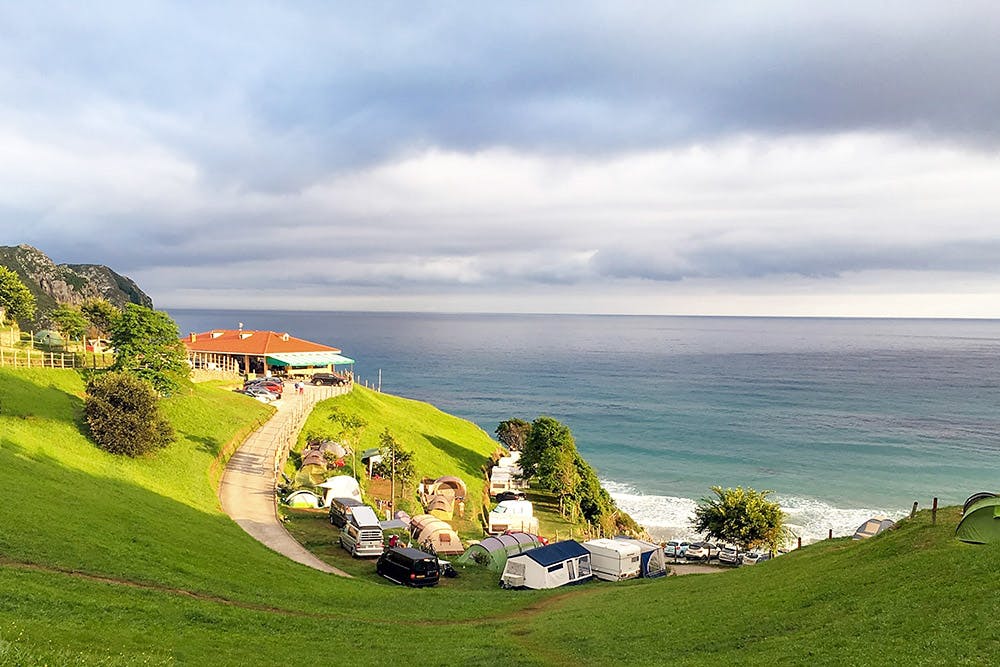 Camping La Paz - best campsite in the north of Spain



8. Camping Don Quijote - explore Salamanca and the interior
Camping Don Quijote is a peaceful family site situated on the banks of the Tormes river, less than six kilometres from the ancient city of Salamanca. Campervan travellers can choose from powered cement/asphalt and grass RV sites. The campsite offers pools, indoor play areas, a car wash, and a restaurant. Salamanca is renowned for its stunning architecture, historic university, and lively atmosphere. Explore the Plaza Mayor, visit the Old Cathedral, and wander through the charming streets of the city. If you're travelling between north Portugal and Spain, this campsites makes for a great stopover.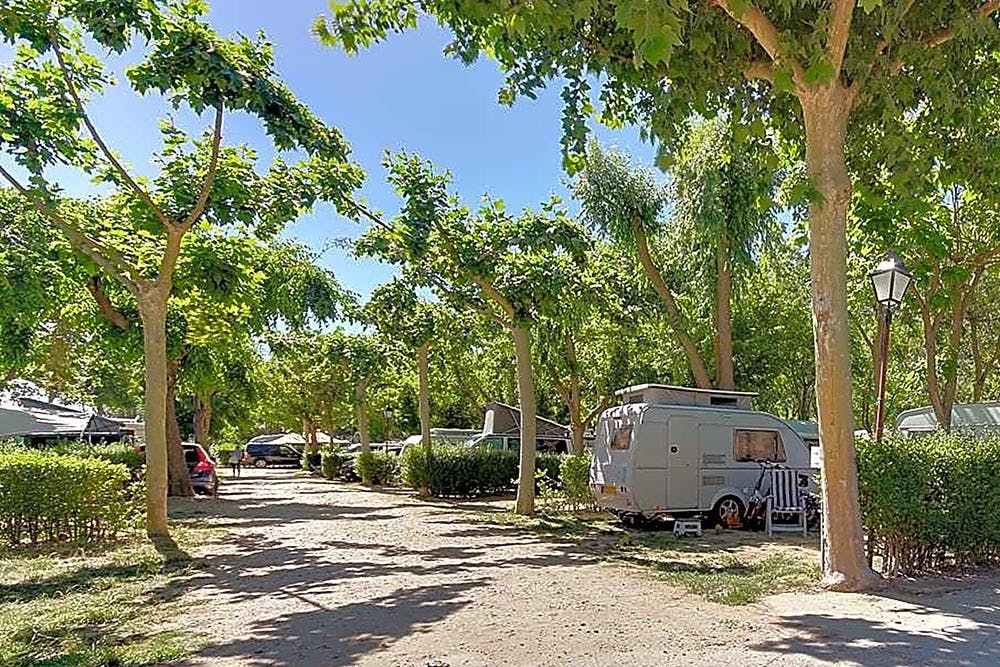 Camping Don Quijote



9. Camping Estanyet - family-friendly camping near Barcelona
Camping Estanyet is a family-friendly campsite located on the promenade of Les Cases d'Alcanar, halfway between Barcelona and Valencia. With stunning views and direct access to the beach just a few metres away it's hard not to love this place. Campervan travellers will appreciate the choice between powered grass and earth sites. The campsite also boasts a pool, playground, café-bar, restaurant, and free canoe hire. Les Cases d'Alcanar is known for its beautiful beaches and traditional fishing culture. Kick back, explore the coastal promenade, savour local seafood, and take in the picturesque views of the Mediterranean.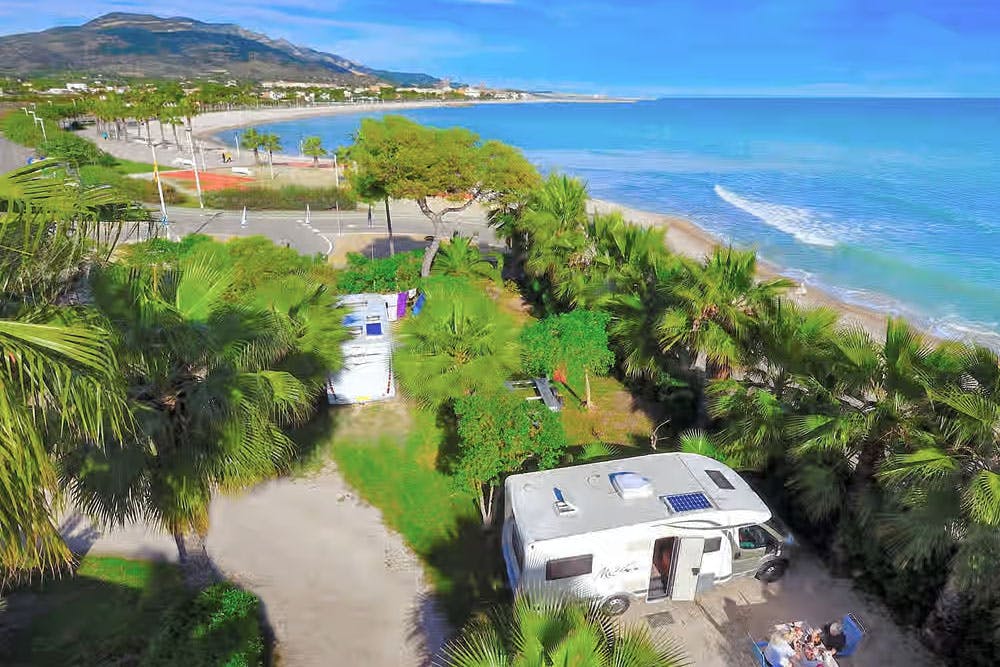 Camping Estanyet - our favourite family campsite in Spain



10. Càmping Playa Brava - quiet beach campsite on the Costa Brava 
Càmping Playa Brava offers a clean and quiet camping experience on the Costa Brava. Campervan travellers can select from powered forest floor sites or FHU grass sites. The campsite provides direct access to a spectacular sandy beach and offers a swimming pool, restaurant, and shop. Pals is a mediaeval town located nearby, known for its well-preserved historic centre. Explore the cobbled streets of Pals, visit the viewpoint at the Torre de les Hores, and enjoy panoramic views of the Costa Brava.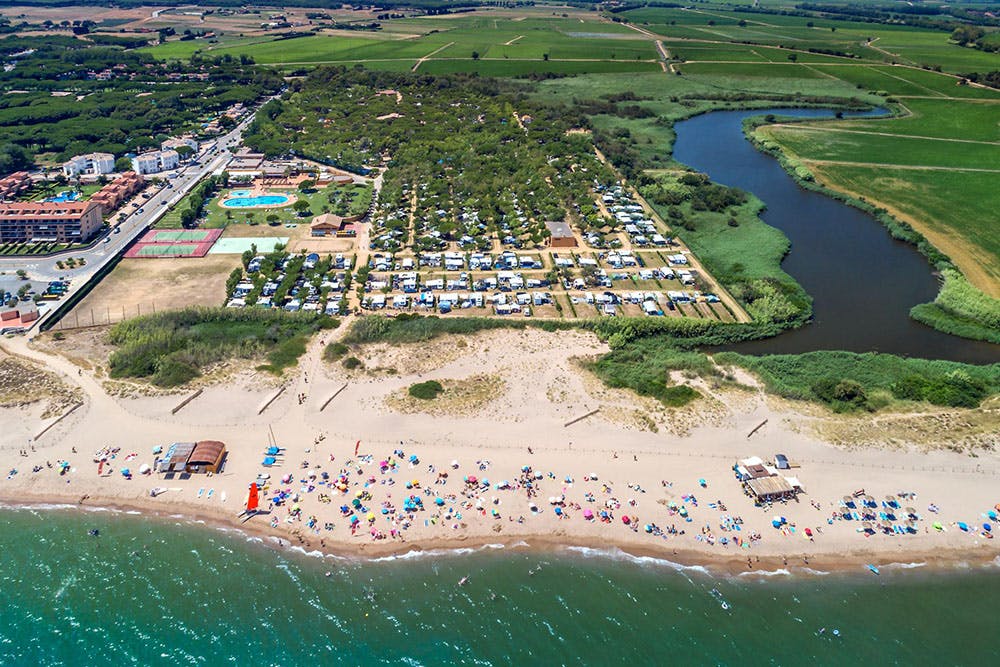 Càmping Playa Brava - quiet beachfront campsite on the Costa Brava



Camping Spain - FAQ

What is the best time of year for camping in Spain?
Spain offers diverse climates, making it a year-round camping destination. For warm weather and beach activities, consider June to September. Spring (March to May) and fall (September to November) offer milder temperatures and fewer crowds, ideal for outdoor enthusiasts.

Are Spanish campsites open year-round?
Many Spanish campsites remain open year-round, but some have seasonal closures. It's advisable to check with individual campsites for specific availability during peak tourist seasons.

How much do campsites cost in Spain?
Camping costs in Spain vary based on location, season, and amenities. On average, basic pitches range from €15 to €30 per night, while more comfortable options with electricity, showers, and toilets can be €30 to €60 per night. Prices may be higher in peak season or luxury campsites.

How do I make campsite reservations in Spain?
To book a campsite in Spain:
Choose your preferred location and dates.
Research available campsites, including facilities, rates, and reviews.
Contact the campsite directly via phone, email, or their website.
Provide details like stay dates, number of guests, accommodation type, and special requests.
Confirm availability and make a payment to secure your reservation.
Receive a confirmation from the campsite, noting check-in times and cancellation policies.
Alternatively, use camping websites like Pitchup.com for online bookings. Booking in advance is recommended, especially during peak seasons.

What are the campsite rules in Spain?
Camping etiquette in Spain involves respecting others and the environment. Follow these guidelines:
Keep noise levels down.
Adhere to campsite rules, including quiet hours and waste disposal.
Maintain a clean campsite.
Avoid littering and minimise environmental impact.
Respect privacy and personal space.
Follow fire safety regulations.
Be courteous to campsite staff.
Respect others' property.
Come prepared with necessary gear and supplies.
Adhering to these rules ensures a pleasant camping experience for all.

Is wild camping allowed in Spain?
Wild camping (outside designated sites) is generally not permitted in Spain. Strict laws govern camping, and unauthorised camping on public or private land may result in fines or eviction. Stick to designated areas or choose alternative accommodations.

Conclusion: Camping in Spain
Camping in Spain offers diverse experiences, from sunny beachfront stays to mountain adventures. The Mediterranean coast provides endless sandy beaches, while nearby mountains offer opportunities for hiking, rock climbing, mountain biking, and thrilling outdoor sports. Whether you seek relaxation or adventure, campsites in Spain cater to a wide range of camping preferences.