With the rise of technology, finding the perfect campsite has become easier than ever before. Camping apps are becoming an increasingly popular tool for finding the best public, private and even free campsites in Europe and around the world. With so many options available, it can be difficult to know where to start. In this article, we will take a closer look at some of the best camping apps available today to help you find the best campsites for your campervan, motorhome, RVs or tent.
Important: As the leading campervan hire company in Portugal, we at Siesta Campers advocate for camping responsibly no matter where you choose to go. Know the rules and regulations before hitting the road, respect the land and local communities. Also, please be aware of the size and weight requirements of your campervan to avoid getting stuck, or causing damage and injury.



1. Campanyon - authentic micro camps
Campanyon is a camping app that provides users with the opportunity to experience authentic micro camps and private campsites. Unlike traditional camping sites that can be crowded and lack privacy, Campanyon offers a more intimate and authentic camping experience.
The micro campsites are small and often run by local families or individuals, providing an opportunity for travelers to immerse themselves in the local culture and connect with the community. The private campsites offer more seclusion and privacy, allowing campers to enjoy a peaceful and tranquil environment.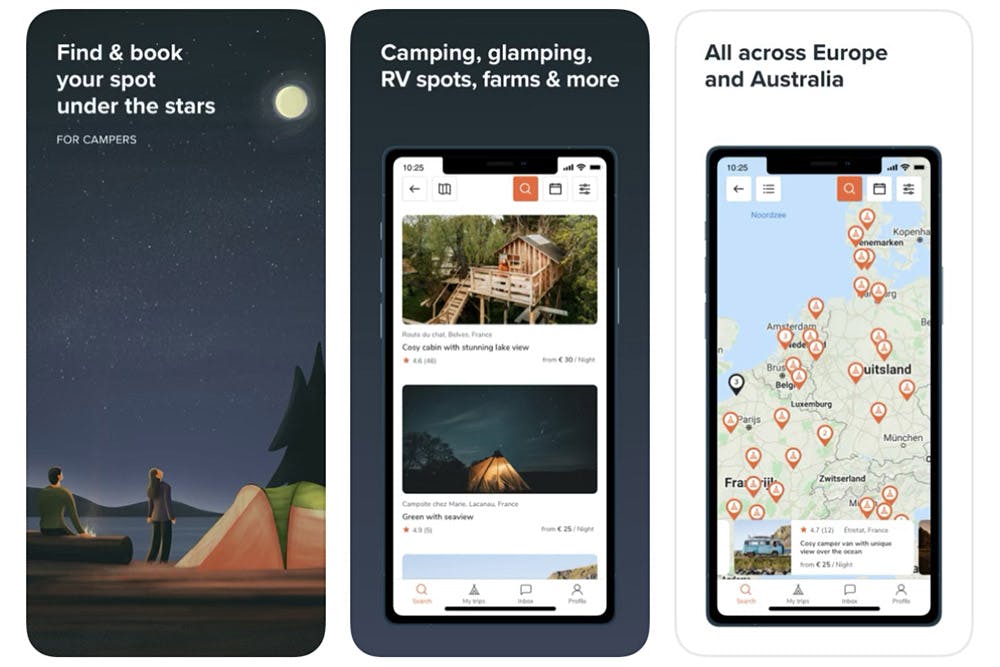 Campanyon camping app


Overall, Campanyon's unique selling point is its focus on authentic, intimate, and sustainable camping experiences. By providing travelers with a chance to connect with nature, local culture, and communities, the app offers a refreshing alternative to traditional camping sites.


2. Park4night - most popular camping app
With over 6,000,000 downloads, Park4night is widely used among camping enthusiasts. It's a community-driven camping app that allows users to share their favourite locations and leave reviews. It has a user-friendly map view, which makes it easy to find a location near you and get directions to find it. It allows users to find and book camp spots, RV parks, and other accommodations for their campervans, motorhomes, RVs and tents.
Park4night has a vast database of over 50,000 locations worldwide, including scenic spots, wild camping areas, and private locations, making it the perfect app for spontaneous road trips. It's important to note wild camping is prohibited in many areas. Know the rules before you go.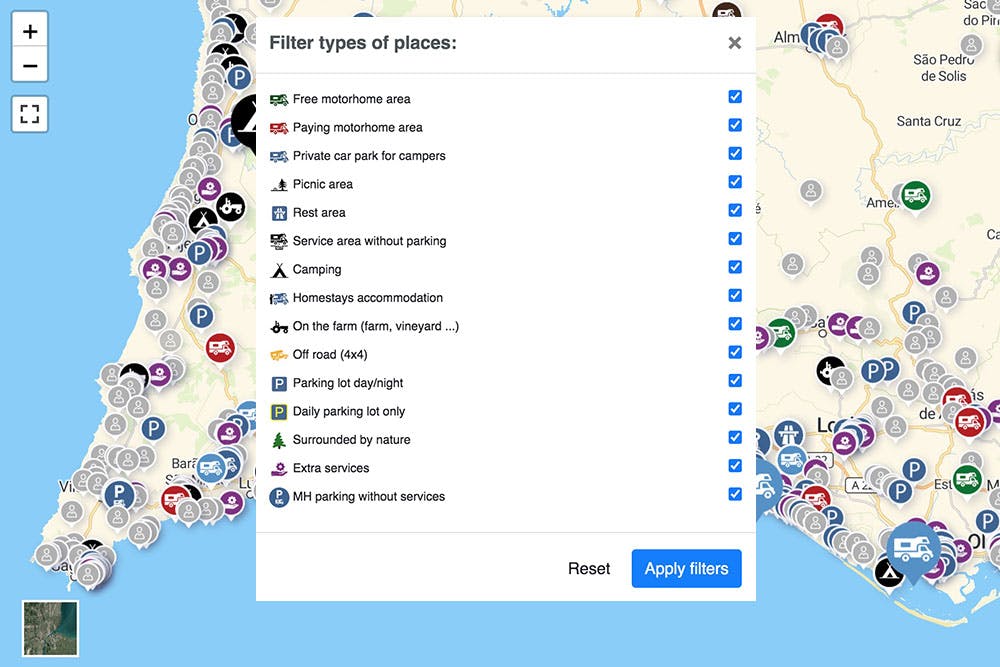 Park4night camping app


The camping app allows users to search for spots based on their location, type of camping, and amenities, making it easy to find a site that meets your needs and budget. You can also use the app to search for options based on specific criteria, such as the availability of showers, toilets, and electricity.
The community aspect of Park4night allows users to connect with other campers, share tips and information, and post photos and reviews of their experiences. This helps to create a sense of community and makes it easier to find and plan the next trip.
Park4night is available on both iOS and Android platforms, and can be downloaded for free. The app also offers a paid Park4night+ version (€2.49/month or €9.99/year). The premium version unlocks additional features such as offline mode, no ads, advanced filters, satellite view, and direct campsite contact. Supported languages include: English, German, French, Spanish, Dutch and Italian.



3. iOverlander - unique and off the beaten path spots
iOverlander is a must-have camping app for adventurous campervan enthusiasts who love to explore unique camping spots and off the beaten path locations in 96 countries around the world and counting!
This camping app is all about community and sharing, and it's packed with information on remote locations, dump stations, and other essential services. With a focus on off-the-grid camping, you'll be able to find spots that are truly unique.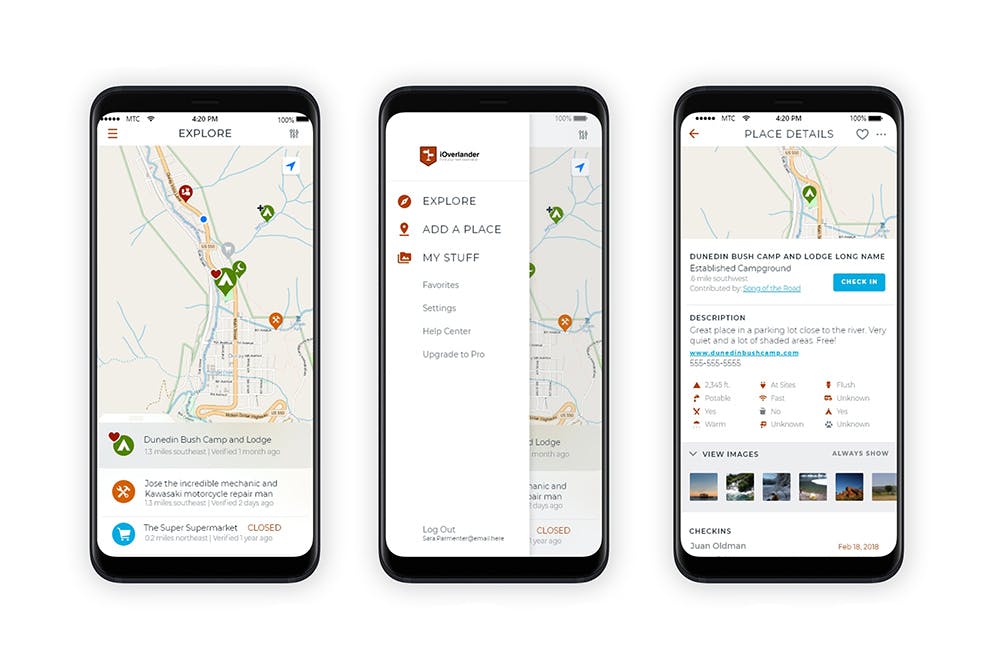 iOverlander camping app


And the best part? The app is regularly updated by a community of campervan enthusiasts, ensuring that you always have the most up-to-date information. No more worrying about outdated or inaccurate information!
iOverlander offers a paid version of the app called iOverlander Pro. The paid version offers additional features and benefits such as offline maps, ad-free browsing, and access to a larger database of camping locations. However, the basic version of the app is still available for free and provides a lot of useful information.



4. Campercontact - best for typical campsites
Campercontact is one of the more streamlined camping apps available, perfect for those who are looking for a simple way to discover the best private and public campsites. It comes with a database of over 38,000 campsites available in 58 countries and coupled with an advanced filtering system. You won't find any wild camp spots on here which keeps the app light and tidy.
Users can search for spots based on their location, type of camping, and amenities, making it easy to find a site that fits your needs and budget. The app also provides users with detailed information on each campsite, including photos, reviews, and ratings from other users, which can be helpful when making a decision about where to stay.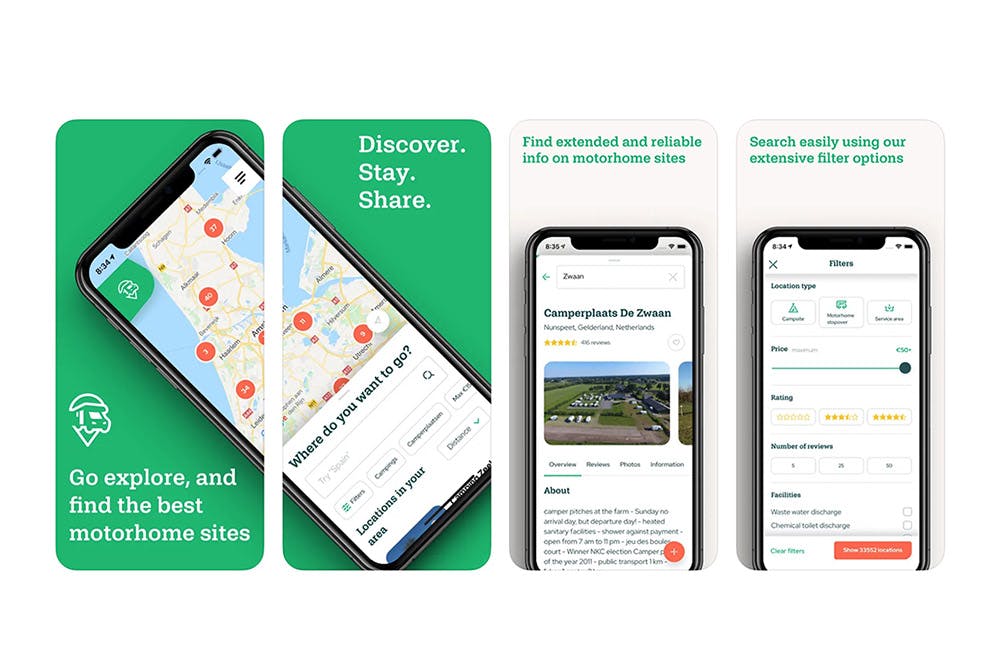 Campercontact camping app


The app is easy to use, and provides users with clear and concise information on each campsite. It also allows users to save their favourite campsites, making it easy to plan future trips. Campercontact also has a community aspect, allowing users to connect with other campers and share tips and information.
This camping app is available on both iOS and Android platforms, and can be downloaded for free. There is a premium version (€2.49/month or €9.99/year), which includes additional features such as offline usage, additional filters, viewing an unlimited number of locations per day, additional photos and reviews, no ads, saving and viewing your favourite motorhome sites.



5. ACSI Campsites - cheap campsites in Europe
Are you a motorhome enthusiast on a budget, looking for cheap campsites in Europe? Then, ACSI Campsites is the camping app for you! With over 9,400 campsites in 30 countries, this camping app It's a great resource for those who are looking for budget-friendly options, as it focuses on campsites that offer low rates.
The app provides detailed information on each location, including the facilities, prices, and reviews from other campers. Similar to the other camping apps on our list, this one also allows users to filter their search by location, type of camping, and amenities. Happy budget-friendly camping!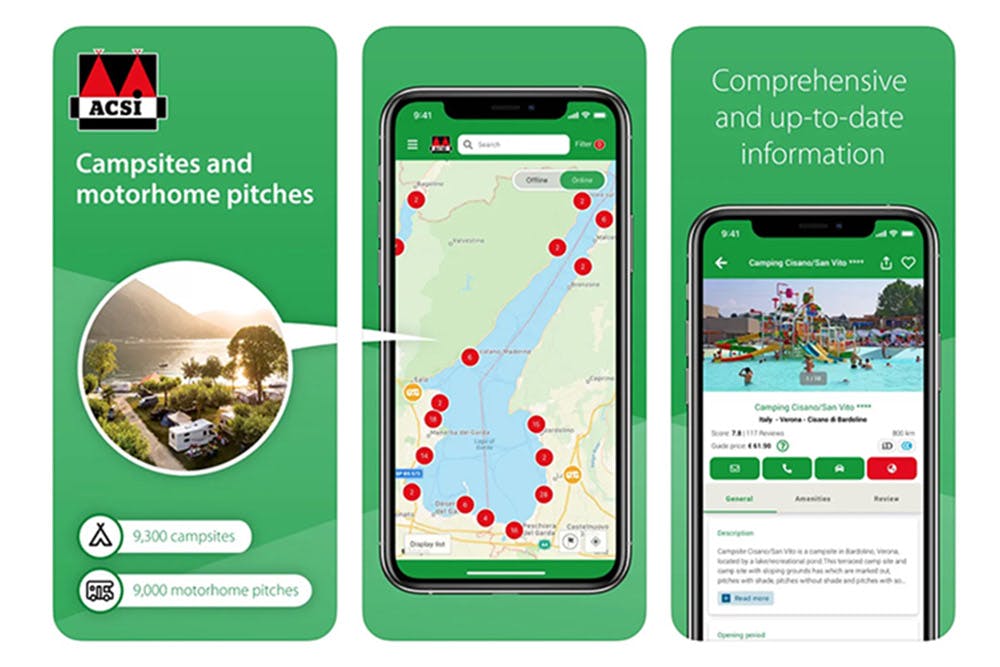 ACSI camping app


As a campervan hire company based in Portugal we believe camping should be affordable and accessible for all. The increasing popularity of 'glamping' and the ever more elaborate campervans and motorhomes can sometimes make us forget that at its core what most of us are looking for while camping is connection with our friends, loved ones and natural spaces. As such ACSI campsites app receives an honourable mention for keeping this mantra close to their chest.



6. ADAC Camping App - best German camping app
At Siesta Campers, we welcome hundreds of travellers from Germany each year. The ADAC camping app is designed for German speaking campers and is available in German only. ADAC (Allgemeiner Deutscher Automobil-Club e.V) is one of the largest automobile clubs in Europe. It provides comprehensive information and services related to camping and recreational vehicles. The app includes a directory of camping sites in Europe, as well as access to the ADAC CampCard, which offers exclusive discounts and special offers at over 2,000 campsites. More than just a camping app, ADAC camping division provides additional resources and information to help campers plan and make the most of their trips via articles, and guides on camping-related topics.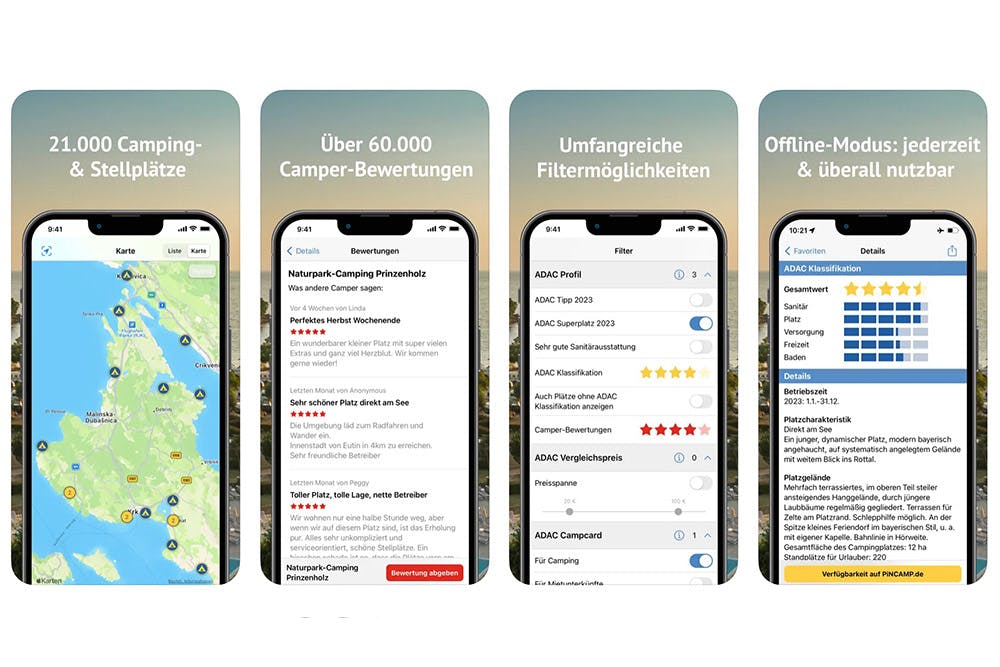 ADAC camping app



You can always rely on the quality of the ADAC standard work: almost 12,000 campsites and more than 9,000 parking spaces throughout Europe are described in detail in the new ADAC camping guide. There are also more than 50,000 camper ratings where campers can rate the sites and share personal experiences.
Note: the ADAC camping app is the only mobile application on our list which does not offer a free version. It's available for purchase for €7.99



Camping apps FAQ:
What is the best free camping app?
The camping apps: Park4night, iOverlander, Campercontact and ACSI campsites all offer a free version. Choosing the best free camping app is a matter of personal preference. Park4night offers a great variety of sites and has a large community backing it. iOverlander is focused on unique and off the beaten path sites. Campercontact steers clear of issues related to wild camping by only offering established sites on their platform. ACSI is best for motorhome enthusiasts travelling across Europe on a budget. The ADAC app is the only one on our list which does not offer a free camping app.

How much do camping apps cost?
The majority of the camping apps we surveyed offer a monthly subscription of €2-€3 per month or around €10 per year.

Are camping apps available on all mobile devices?
Most camping apps available on both iOS and Android platforms including mobile phones and tablets which accounts for the majority of global usage. Most apps include offer database access via their website also.

Can I use camping apps offline?
For most of the camping apps we looked at, offline usage is a premium feature often reserved for paying subscribers. In our opinion this is a must-have feature especially when camping in remote areas with limited internet connectivity.



Conclusion
There are several great apps for camping available that can help you find excellent public, private, and even free campsites in Europe and beyond. Whether you are looking for a well established site with a broad range of amenities or searching for a way to discover camping on private land, or a free or low-cost option you're sure to find what you're looking for with the help of these camping apps. It's important to consider your individual needs and preferences, as well as the type of camping experience you are looking for. Whether you are travelling in a campervan, motorhome, packing a tent, or you're looking for a more luxurious camping experience, there is a camping app out there that will meet your needs.