Planning on camping Málaga? This popular year-round destination is known for its sunny weather, stunning beaches, dramatic landscapes and a lively atmosphere. The region offers some of the best campsites in the country, and is a perfect base for exploring Costa del Sol, Andalusia and for enjoying local culture. If you want to hire a campervan in Málaga you're in luck! In this article, we will focus on motorhome campsites in Málaga so you can make the most of camping Costa del Sol in style and comfort.
Each campsite was hand picked for its convenient location, range of facilities, and stunning surroundings. Along the Costa del Sol travellers will find 161 kilometres of coastline, 11 marinas, more than 50 golf courses, and 23 protected natural areas. Whether you're looking for peace and quiet, a lively atmosphere, or the chance to explore the great outdoors, you're sure to love our Málaga camping recommendations!



The best campsites in Málaga:
Camping Almayate Costa is a great campsite near Málaga, right on the Costa del Sol. It's a short drive from the city and offers direct access to the beach with miles of sand to sit or wander! It's very clean with good facilities and friendly staff. Pitches are on the smaller side and can get quite busy especially on weekends so prepare to mingle! It offers various amenities including pitches for tents, caravans, and motorhomes, as well as rental accommodations such as mobile homes and bungalows. The campsite also has communal areas with a swimming pool, bar, restaurant, and playground for children. Guests can enjoy various activities on the nearby beaches.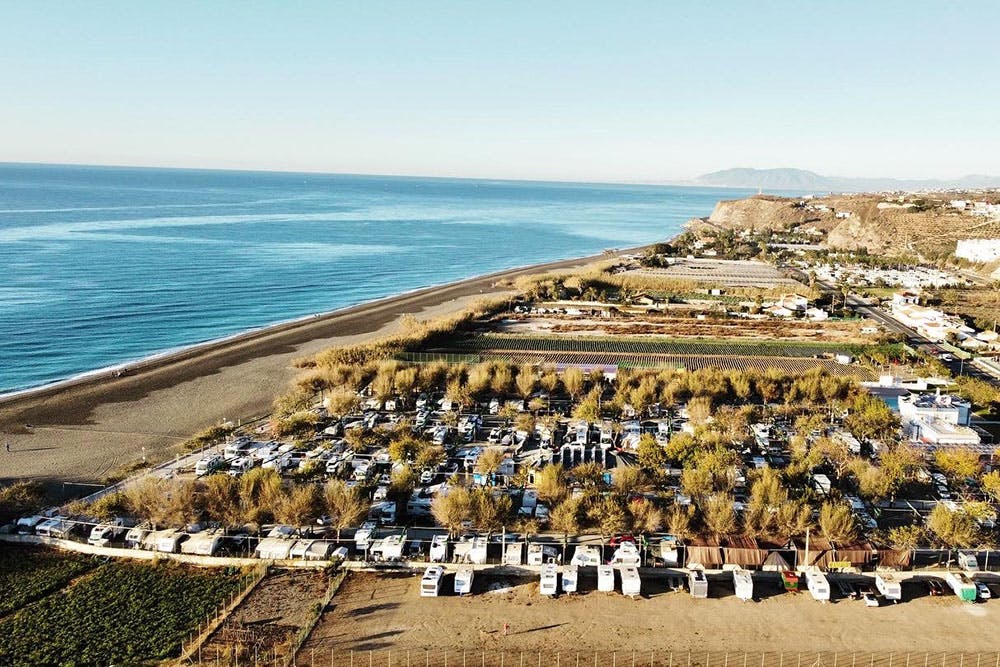 Camping Almayate Costa
Situated in the heart of the Sierra de las Nieves Natural Park, this campsite offers breathtaking views of the surrounding mountain range and is an ideal spot for those who love nature. Numerous outdoor activities are available such as a range of walking and trekking trails, 4x4 routes, canyoning, via ferrata, and horse riding. The campsite has a number of facilities, including a swimming pool and restaurant, making it a perfect place to relax after a day of exploring. All campervan and motorhome campsites are equipped with individual light points, electrical hookups, water and enough space for a porch that comes in handy during longer stays. Wi-Fi is available throughout the campsite and pets are allowed for a small additional fee.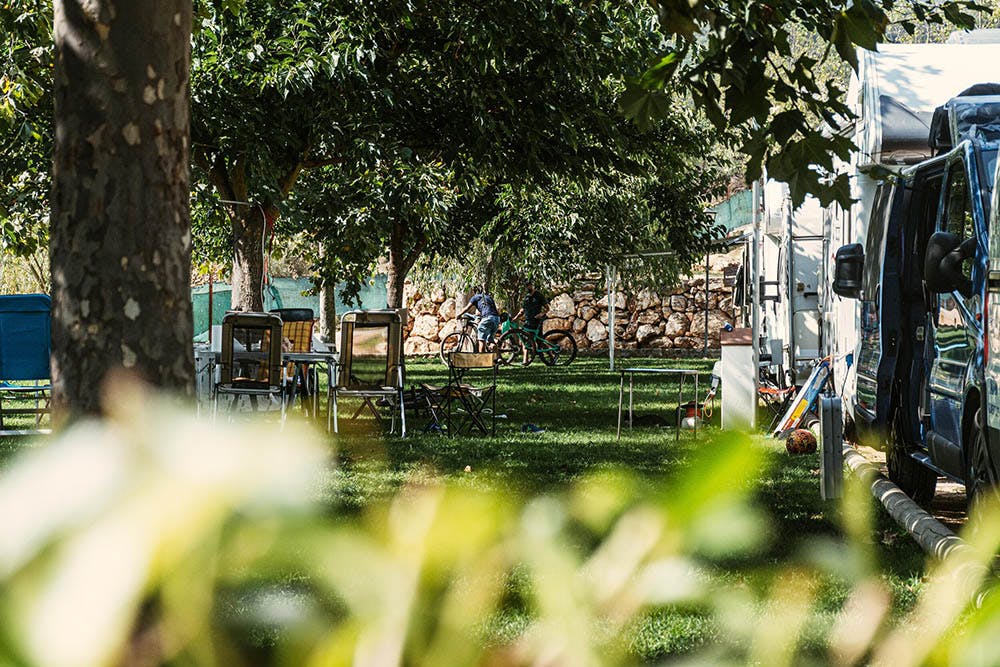 Camping Sierra de las Nieves


Parque Ardales - near El Chorro and Caminito del Rey
Parque Ardales is the perfect destination for nature lovers and outdoor enthusiasts seeking a comfortable and relaxing holiday experience. The surrounding area is ideal for hiking, mountain biking, and rock climbing, and the nearby lakes of Ardales offer opportunities for fishing and water sports. The area is home to the famous Caminito del Rey, a narrow walkway suspended high above the Guadalhorce River Canyon. This scenic walk offers breathtaking views of the surrounding landscape and is a popular attraction for tourists and locals alike. The color of the water here is pure eye candy.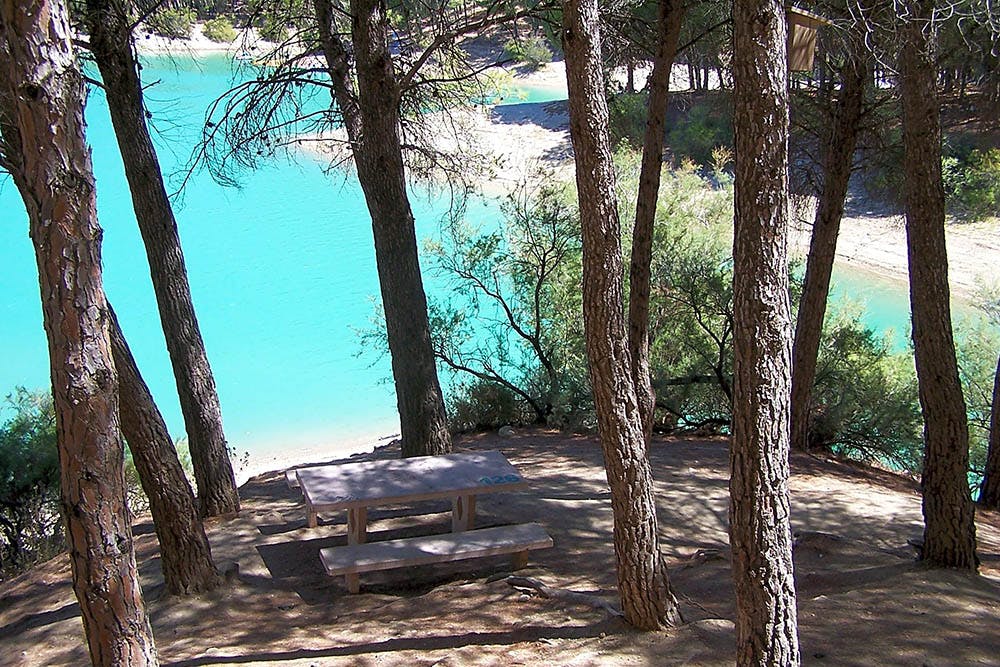 Camping Parque Ardales
Another great spot for camping by the lake! Camping La Viñuela is the ideal destination for anyone seeking a relaxed, stress-free camping holiday in Málaga. The nearby Viñuela Reservoir offers opportunities for fishing and water sports, while the surrounding hills and mountains are perfect for hiking, mountain biking, and rock climbing. There are 39 plots and 11 mobile homes on site. If you're looking for laid-back vibes this is the place. Simply sit back, relax, and soak up the views and get some well-deserved R&R in the great outdoors.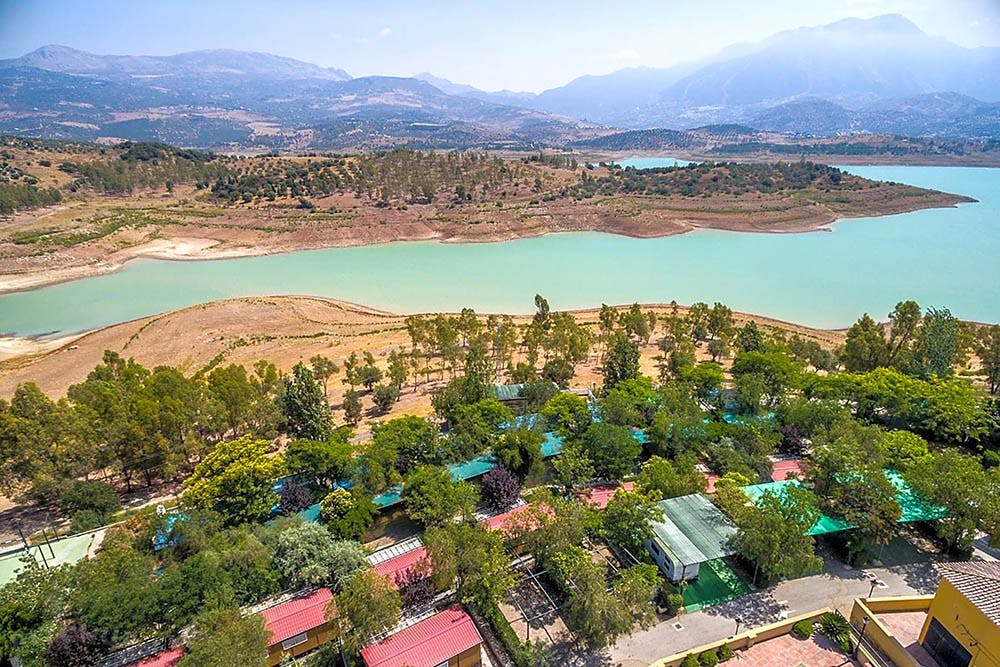 Camping La Vinuela
Solid option for a shady camping spot near Marbella to beat the heat. The campsite has 2 swimming pools, a bar, restaurant and a camping area located in a leafy pine forest with shade all day. You'll really appreciate the added protection If you're considering camping Costa del Sol in the peak of summertime when temperatures are spiking. There are also nice ​​Bungalows and a cosy reading room with a fireplace and free WIFI.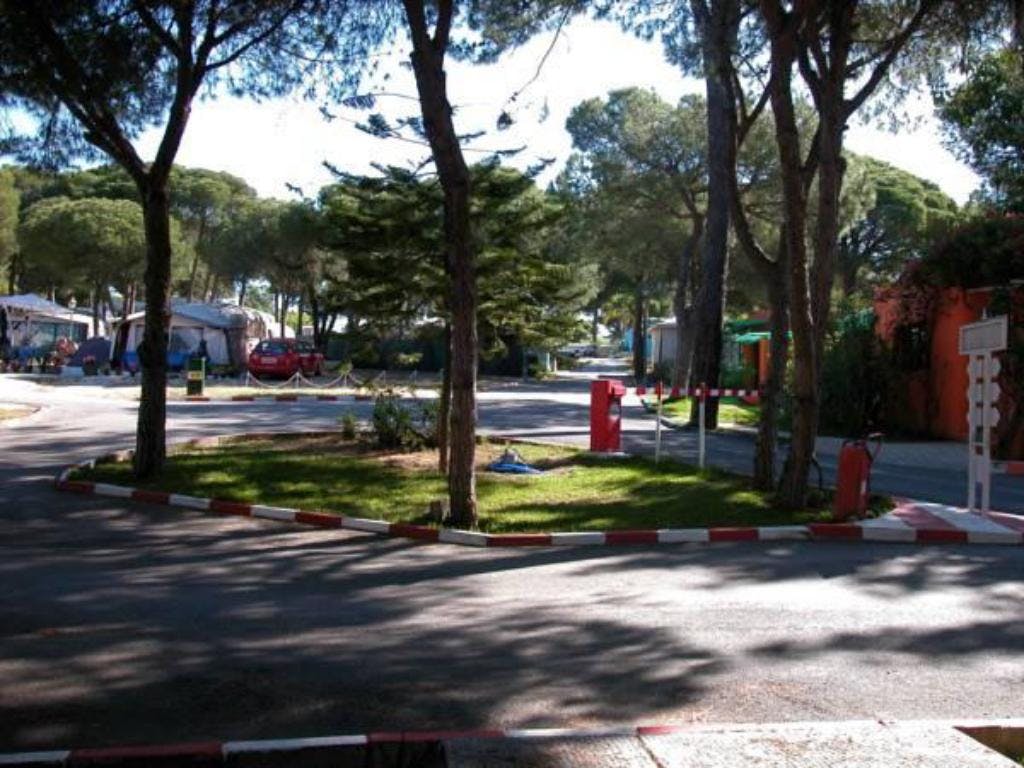 Camping La Buganvilla
Another great campsite just outside of Marbella and offers stunning views of the Mediterranean. It is an ideal spot for those who want to enjoy the sun, sea, and sand while also being close to the action of Marbella's town centre. The campsite features a swimming pool, bar, and restaurant and there is a small beach nearby, perfect for swimming and sunbathing. Whether in campervan, motorhome, or tent, the 250 level pitches all come with water supply and electrical hookups up to 16 amps. There is also a motorhome service area with a CamperClean Machine and, for all campers, 5 chemical toilet facilities attached to recently upgraded shower and toilet areas. You can choose from a wide range of settings as there are those with natural shade, ideal during summer while others in exposed locations are perfect for lazy afternoons in the sun.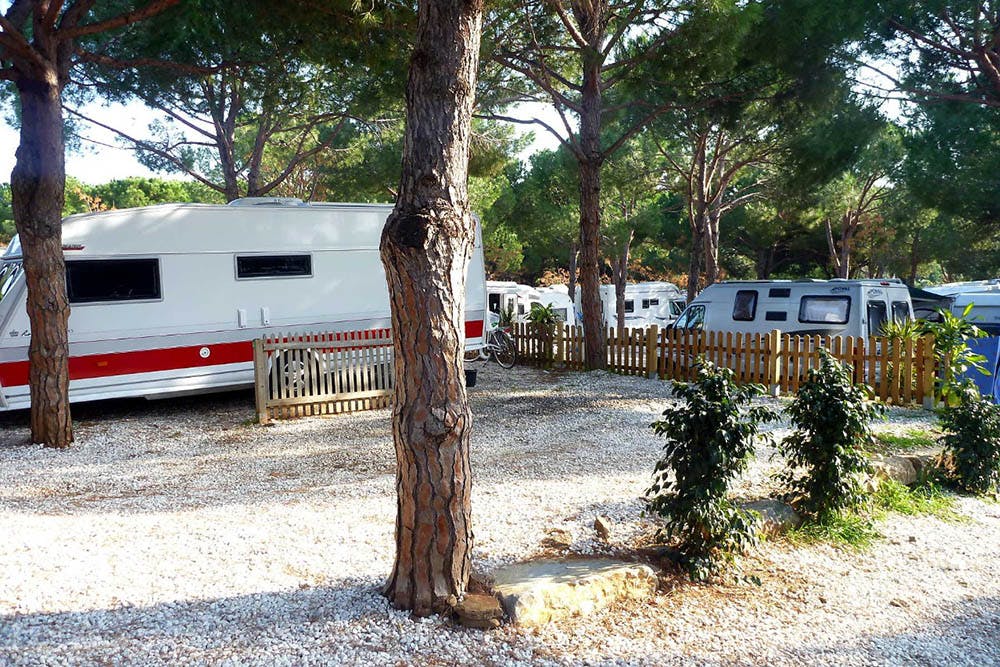 Camping Cabopino


Camping La Sierrecilla - if you can't find it here, it doesn't exist
The 'all you can eat buffet' of Málaga campsites. This highly rated campsite offers just about every type of camping style, accommodation and activity. The list of amenities is extensive and includes a pool, restaurant, sauna, a multi-adventure park, various classes, nature walks, mountain biking, moonlight dips, water polo, archery and other activities we've never even heard of at a campsite before such as an orienteering style treasure hunt, among others. Campers love this place and one thing is certain, it is not possible to be bored here! The bungalows are a pretty tempting proposition too.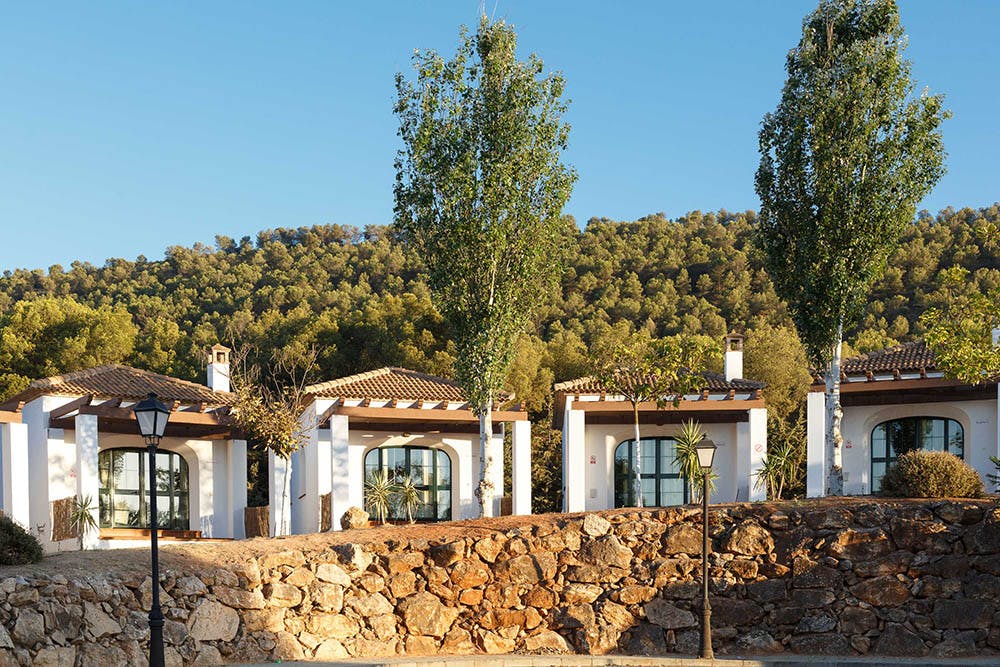 Camping La Sierrecilla
Direct beach access and a short walk from the picture perfect Puerto De La Duquesa, featuring a variety of beach bars and restaurants to suit all tastes. This campsite is a pleasure for the senses offering golf courses, nature reserves, adrenaline fueled activities or plenty of opportunities to relax. When you're ready to explore leisure activities such as shopping centres, water activities, lush gardens, markets, cocktail bars, wine tours, cycling, trekking, horse riding, an aquarium, a zoo and even an amusement park will keep you entertained for as long as you choose to stay.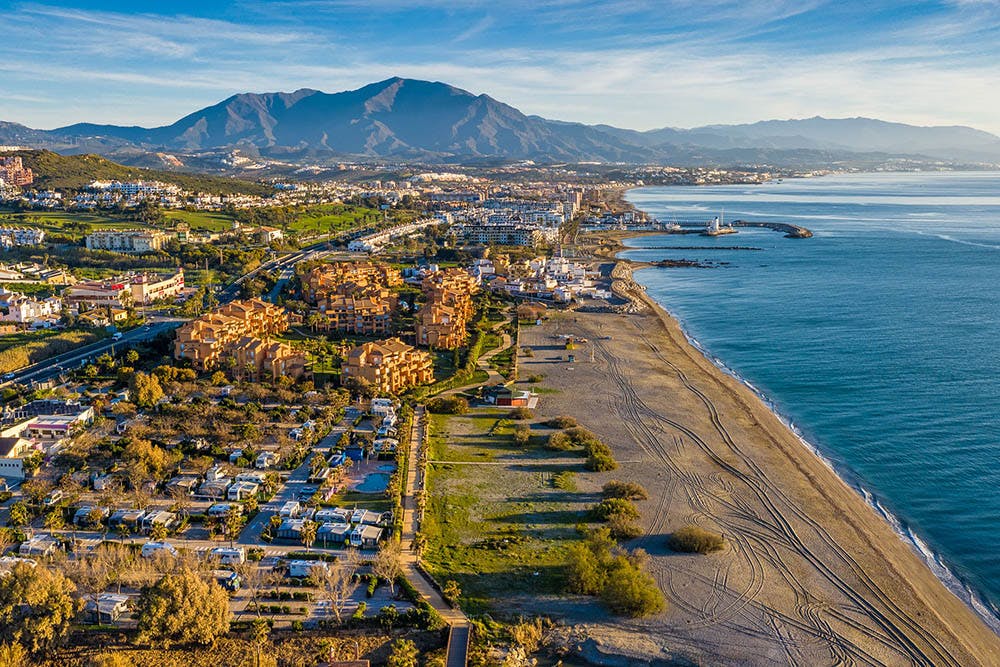 Camping La Bella Vista


Camping Málaga FAQ:
What is the best time of year for camping in Málaga?
For warm weather, the months of June to September are ideal. The temperatures are high, with clear skies and sunshine, perfect for beach-goers and outdoor activities. If you prefer cooler temperatures, spring (March to May) or fall (September to November) are good times to visit. These seasons offer mild weather, with less crowds and more peace and quiet.

Are Málaga campsites open year-round?
Many campsites in Malaga remain open year-round, while some have seasonal closures. It's best to check with individual campsites to determine their specific Málaga campsite in advance during peak tourist season to ensure you have a place to stay.

How much do campsites cost in Málaga?
The cost of camping in Málaga varies depending on several factors such as location, time of year, and amenities offered. On average, campsites in Málaga can range from €15 to €30 per night for a basic pitch (a designated area to set up a tent or park a small camper), and €30 to €60 for a more comfortable option with additional facilities such as electricity, showers, and toilets. However, prices can be higher in peak season and at more luxury campsites. It's always best to check directly with the campsite for the most up-to-date information.

How do I make a reservation at campsites in Málaga?
Determine your preferred location and dates of stay.
Research available Málaga campsites, including their facilities, rates, and reviews.
Contact the campsite directly, either by phone, email, or through their website.
Provide the necessary information such as the dates of stay, number of people, type of accommodation, and any special requests.
Confirm the availability and make a payment to secure the reservation.
Receive a confirmation from the campsite and check for any additional information, such as check-in times and cancellation policies.

You can also use popular camping websites, such as Booking.com or Pitchup.com, to search for and compare campsites in Málaga and make a reservation online. It's always best to book in advance, especially during peak tourist season, to ensure you have a place to stay.
For those who don't enjoy planning ahead, Camping Apps are a great way to find and book great campsites near you.

What about campsite rules?
Camping rules or camping etiquette refers to the standard of behaviour and respect that campers are expected to follow while staying at a campsite. Follow these examples of campsite etiquette and you'll do just fine:
Be considerate of other campers: Keep noise levels down and avoid loud music or late-night partying.
Respect the campsite rules: Follow any regulations set by the campsite, such as quiet hours, fire regulations, and waste disposal guidelines.
Keep the campsite clean: Properly dispose of waste and maintain a clean and tidy campsite.
Respect the environment: Avoid littering and minimise the impact on the surrounding area.
Be mindful of others' privacy: Keep a respectful distance from other campers and do not disturb their privacy.
Observe fire safety rules: Follow guidelines for starting fires and dispose of ashes properly.
Respect the campsite staff: Be polite and courteous to staff members, and follow any instructions they provide.
Respect other people's property: Do not use or damage other people's property, including picnic tables and fire pits.
Be prepared: Bring all the necessary gear and supplies for your camping trip.

By following these guidelines, you can help ensure a pleasant and respectful camping experience for everyone at the campsite.
Can you wild camp in Málaga?
In Málaga, wild camping (camping outside designated campsites) is generally not allowed. There are strict laws regarding camping, and you may be fined or asked to leave if you camp on public or private land without permission. If you're camping Málaga, It's best to do so in designated areas or opt for other forms of accommodation. For more information, check out our helpful article: Wild Camping Spain


Camping Málaga: Conclusion
Camping in Málaga is a beautiful experience no matter how you decide to do it. The long Mediterranean coast allows visitors to enjoy endless sandy beaches and lazy days in the sun. There are also mountainous areas nearby, offering opportunities for outdoor activities such as hiking, rock climbing, mountain biking and a wide range of adrenaline fueled sports. Whether you're looking for a relaxing camping holiday or an adventure-filled trip, the many fantastic campsites in Andalusia have something to offer for everyone.