Planning the perfect South Spain road trip? Our 7 day Andalusia itinerary delivers a bucket list level adventure for campervan enthusiasts (and not only!). These are our personal recommendations for the most beautiful beaches, top camp spots, scenic drives, unmissable cultural highlights and culinary delights.
Andalusia, stretching from the Mediterranean to the Atlantic ocean truly has it all. It's an easily accessible holiday destination with a mild year-round climate, vibrant culture, rich history and tapas (!). It's impossible to be bored here! The region also possesses the widest range of terrain, plant and animal life in all of Spain. Each new day of your Andalusia road trip introduces rapidly changing landscapes from turquoise Mediterranean waters to barren deserts, lush valleys, dense pine forests and high elevation alpine scenery. Ready to roll?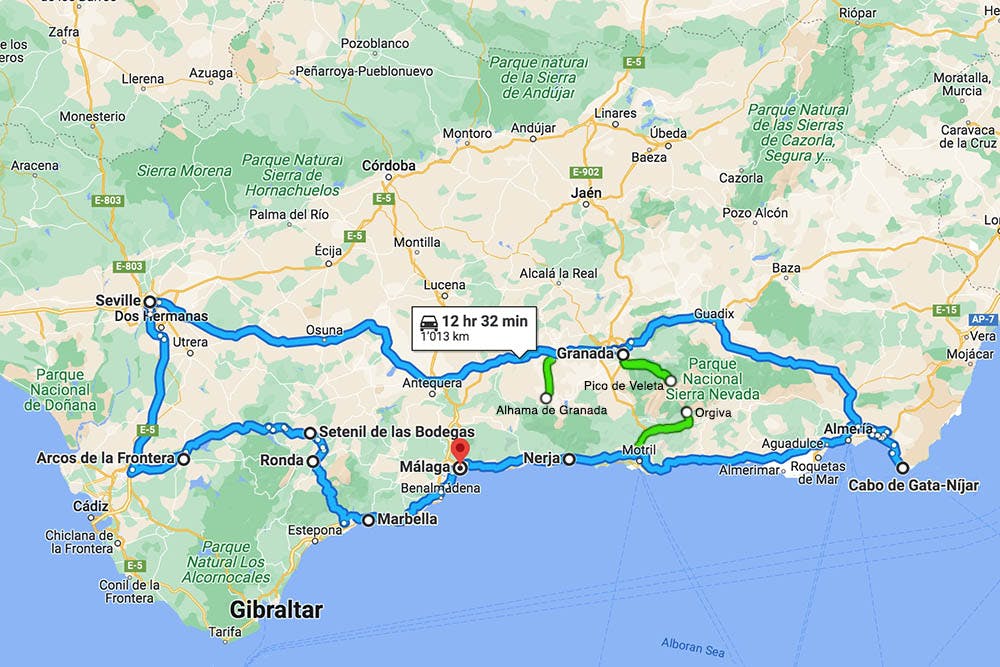 South Spain road trip map. Total driving time: 12h30, 1000km


Where to start your Andalusia road trip
Our recommendation is to road trip from Malaga. Malaga airport (AGP), the gateway to Costa del Sol, is serviced by direct flights from 130 cities in 35 countries. This is the ideal starting point of your Andalusia road trip.
Campervan hire in Malaga is the best choice for travellers wishing to begin and end their holiday with quality time at the beach. Siesta Campers Malaga is conveniently located near the airport for quick campervan pick up and drop off. Our fully equipped, hand crafted VW campervans & motorhomes offer plenty of room for up to 4 adults to travel & sleep comfortably. Your rental includes freshly laundered bedding, kitchen kit, cooker, fridge, shower, WC, unlimited km's and basic insurance.
Campervan hire in Seville is also a great choice for travellers flying into Seville airport (SVQ).

Day 1: Your Malaga road trip begins

Highlights:
Ancient Roman amphitheater & La Alcazaba fortress 
Tapas and a stroll in the historic quarter
Sunset dip at Playa el Palo 
Driving time: 1hr, 25km


Kick off your Malaga road trip with a short drive to the city centre to discover a harmonious blend of history and modernity. Free street parking is scattered throughout the city, but it's nearly impossible to find when needed. Your best cheap option are the paid blue zones.
Begin with a visit to the ancient Roman amphitheater (Teatro Romano de Málaga, the oldest monument in the city dating back to the 1st century A.D. From there, walk over to La Alcabaza, the 11th century Moorish fortress. Malaga is also the birthplace of master painter Pablo Picasso, try to make time to visit the museum - it's superb.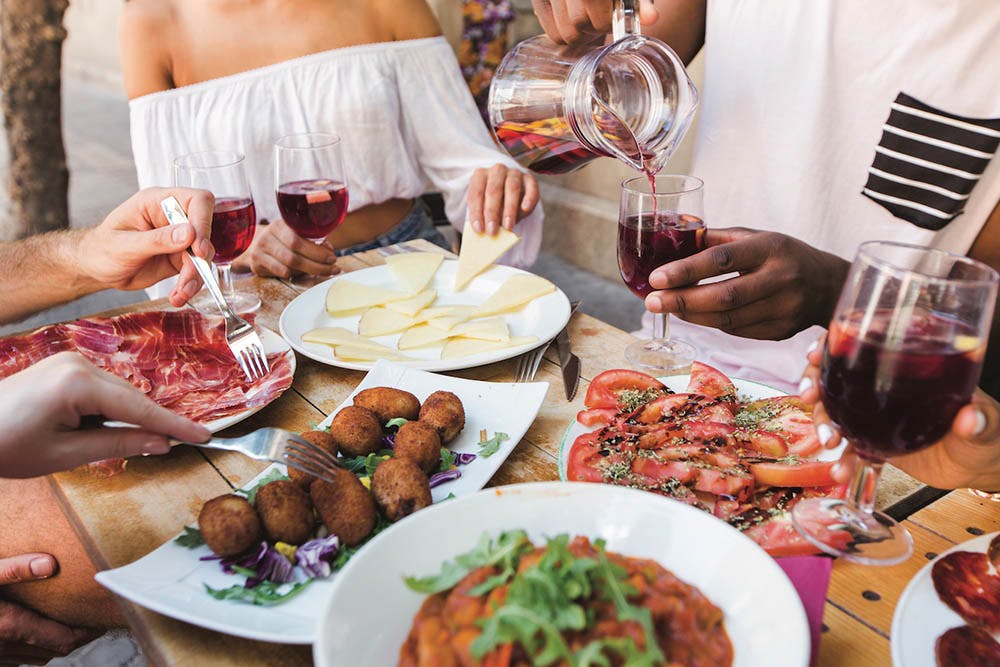 It's Tapas time!


When hunger strikes, stroll around the historic centre in search of tapas, traditional small plates from the region. Malaga's food scene is thriving with numerous bars and restaurants for all budgets. On a hot day, go to El Pimpi and try the Ajo Blanco, a delightful chilled summertime soup made of skinned almond, garlic and vinegar otherwise known as white gazpacho.
Hop back in your campervan and point it towards Playa el Palo, Malaga's original fishing neighbourhood turned into a vibrant stretch of bars and restaurants. Wrap up the first day of your Malaga road trip with a dip in the Mediterranean to unwind after a busy day. 
Overnight at: Malaga Beach Area, a seaside camping area offering showers, free wi-fi, a small shop and a pet friendly beach.



Day 2: Beaches of Nerja and Costa de Almería

Highlights:
Picturesque beaches of Nerja
Cabo de Gata-Níjar Natural Park
Whitewashed village of Níjar 
Driving time: 3h30, 275km


Pack up your gear and drive 30 minutes (45km) east to Nerja, a charming coastal town along your Southern Spain dotted with quaint little coves and some of the most beautiful sandy beaches of your Andalucia road trip. Don't miss the iconic Playa de Burriana (Burriana Beach).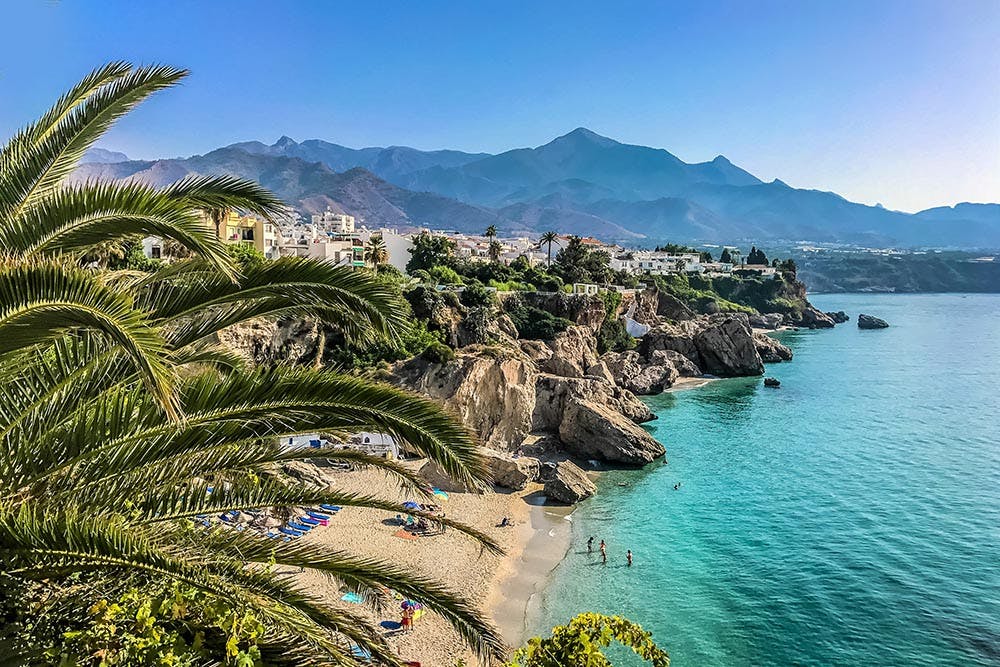 One of the many stunning beaches in Nerja, Spain


From Nerja enjoy a meandering 2 hour (200km) coastal drive to Níjar, an extremely picturesque whitewashed Moorish village. Nijar is a great place to watch real Spanish life pass by. There are plenty of reasonably priced bars and restaurants serving tapas and more.


Detour #1: Thermal springs (optional)
From our personal experience, one of Spain's unsung treasures are the many thermal springs adorning the road map, particularly the ones in the wild. One of the many in this area is found between Malaga and Granada by a dramatic mediaeval town Alhama da Granada, perched on the edge of a limestone gorge. You can pay to use the hotel's grounds and facilities for a more upmarket experience, or follow the river to find deliciously warm pools by the side of a gushing cold river. Note: This detour can be done later on in your South Spain road trip too!
Detour #2: Hippy van life mecca (optional)
If you're not in a rush to get to Nijar and crave a complete change of scenery, head up the scenic A348 into the southern foothills of the Sierra Nevada towards Lanjaron. This small hillside spa town is famous for its natural spring water. There are free flowing water spouts in the town centre making it a great place to fill up your bottles and tank. From there, meander onwards and upwards to the town of Orgiva, nestled in orange trees with horizons of dramatic snow capped peaks in the distance. This place is a true mecca of all hippy van life wanderers and seekers of alternative lifestyles. It is also where the founders of Siesta met many moons ago. Sit in a bar here for too long and who knows what turns your life may take!


The next unmissable stop on your Andalucia road trip are the volcanic landscapes, cliffs and sandy beaches of Cabo de Gata-Níjar Natural Park in Spain's southeastern corner. The arid desert climate is quite the sight against the turquoise backdrop of the Mediterranean. Savour the time spent here. Disconnect, wander, swim and listen to the sound of the wind.  
Overnight at: Camper Area Cabo de Gata, a comfortable, clean and quiet place near the park.



Day 3: Into the Sierra Nevada and Granada arrival

Highlights:
La Alhambra fortress & Generalife gardens 
Albaicin neighbourhood
Free tapas? Yes!
Driving time: 2h, 180km


Resume your South Spain road trip with a 2 hour drive skirting the foothills of the Sierra Nevada mountains towards Granada, one of the crown jewels of Andalusia.

Detour #3: High altitude outdoor activities (optional)
During much of the year the Sierra Nevada is a great destination for hiking, mountain biking, climbing or paragliding. Our proposed detour offers active travellers unforgettable alpine scenery. Drive the route to Pico de Veleta, a 35 km journey from Vega de Granada to the peak of Pico at 3,392 metres. The route follows a well-kept paved road and is one of Europe's highest mountain roads. Warm clothing is recommended.

If you press on directly to Granada, La Alhambra is your first and unmissable stop. Seriously, you couldn't miss it if you tried and you shouldn't - it's breathtaking. This massive Moorish hilltop complex is made up of royal palaces, peaceful patios, reflecting pools, fountains and lush Generalife gardens. Perched atop Sabika Hill it offers stunning views over the city, mountains and surrounding countryside. The best way to discover Alhambra is with a guided tour. Tap the link for useful info.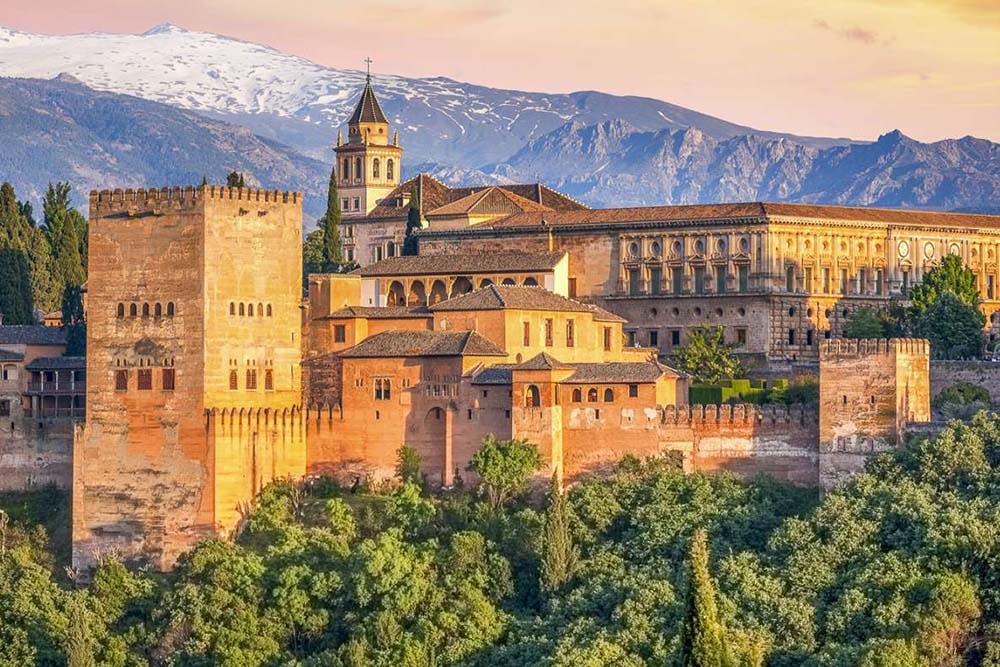 Alhambra fortress in Granada, Spain


Next, climb up the hill to Albaycin and wander the narrow streets lined with old Arab houses. Catch a beautiful view of Alhambra fortress from the Mirador de San Nicolás - the most popular viewpoint in Granada. The hill is quite steep but well worth the effort (shoes recommended). Alternatively, you can get to the top of Albaycin via red mini buses that stop at Plaza Isabel Catolica near the Cathedral.
After a full day of wandering, you're sure to work up an appetite and you cannot leave Granada without a tapas binge. The city is one of the few still serving free tapas! Bars throughout the city offer tapas free of charge with any drink purchased. Try the retro-chic Papaupa, offering delicious tapas for vegans, veggies and meat-eaters. The empanadas are bangin'.
Overnight at: Area Camper Granada, a well-located and affordable spot with a delicious on-site bakery. Flat pitch, power, water, grey and black disposal.



Day 4: Seville, the capital of Andalusia 

Highlights:
Alcázar Palace & Seville Cathedral
Cooking class at Mercado de Triana
Discover the art of Flamenco
Driving time: 2h30, 250km


Next up, Seville - the largest and arguably most intriguing city in your Andalucia road trip was said to have been built by Hercules himself!
Park here: Aparcamiento Paseo de Colón. It's super centrally located so you can visit all the highlights on foot.
Begin exploring the capital of Andalusia with a visit to Alcázar Palace. If you only have time for one sight here, this is the one. This UNESCO site depicts the evolution of Seville on its walls, from the Arabic period through the Middle Ages, to the Renaissance and up to the Baroque period. Reserve your tickets ahead of time or better yet, sign up for a skip-the-line tour. Afterwards, head over to the Seville Cathedral. The largest Gothic cathedral in the world and was over 100 years in the making and will stop you in your tracks.
Next, cross the Guadalquivir River for a visit to Mercado de Triana. This is a great place to restock your campervan pantry, offering a wide range of local produce, authentic cured meats, cheeses and freshly caught fish. If you want to practise your Spanish cuisine chef skills, take a cooking class at on-site Taller Andaluz de Cocina culinary school.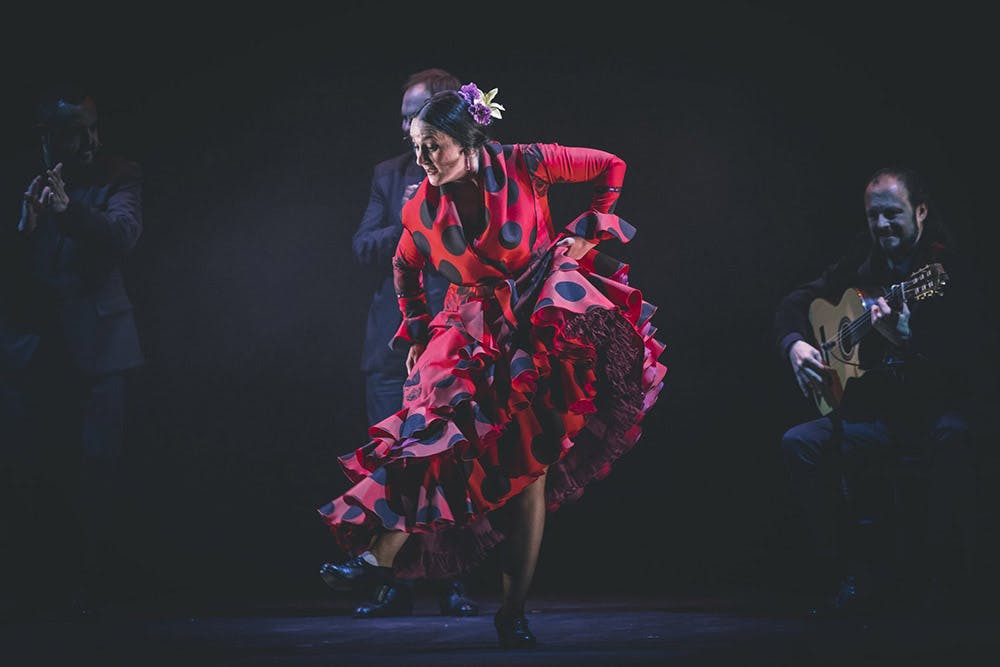 Flamenco dance performance is a must while in Seville


By night, Seville comes alive to the sound of flamenco. The world renowned dance originated in Andalusia as part of gypsy heritage with roots in Spanish, Indian and Arabic culture. This unmissable experience is centred around 3 elements: the song, the guitar, and the dance. Catch a show at La Carboneria, a hot, crowded bar with three shows a night and free entrance. Just buy a drink. This is the real deal. After the show, enjoy a leisurely stroll back to the parking lot, and carry on to the overnight spot.
Overnight at: Camping Villsom Sevilla, close to every possible amenity imaginable with plenty of shade, copious amounts of hot water and a refreshing pool.



Day 5: The Famous White Villages Route

Highlights:
Unspoilt nature and breathtaking viewpoints
Local cuisine, crafts and authenticity
Unique dwellings build into a cliff side
Driving time: 4h, 250km


A journey along the Route of the White Villages is a highlight of any South Spain road trip. This unforgettable scenic drive is dotted with beautiful whitewashed villages and impressive natural landscapes from start to finish. There are 20 villages in total but to streamline your Andalucia itinerary, we put our favourites in order of travel. Here are our recommendations:


Route of the White Villages - Top 5
Arcos de la Frontera - Parador viewpoint over the river gorge
Ubrique - crafts such as fine Italian leather
Grazalema - one of the most beautiful villages in Spain
Zahara de la Sierra - dramatic fortress perched atop a rugged cliff
Setenil de las Bodegas - unique dwellings build into a cliff side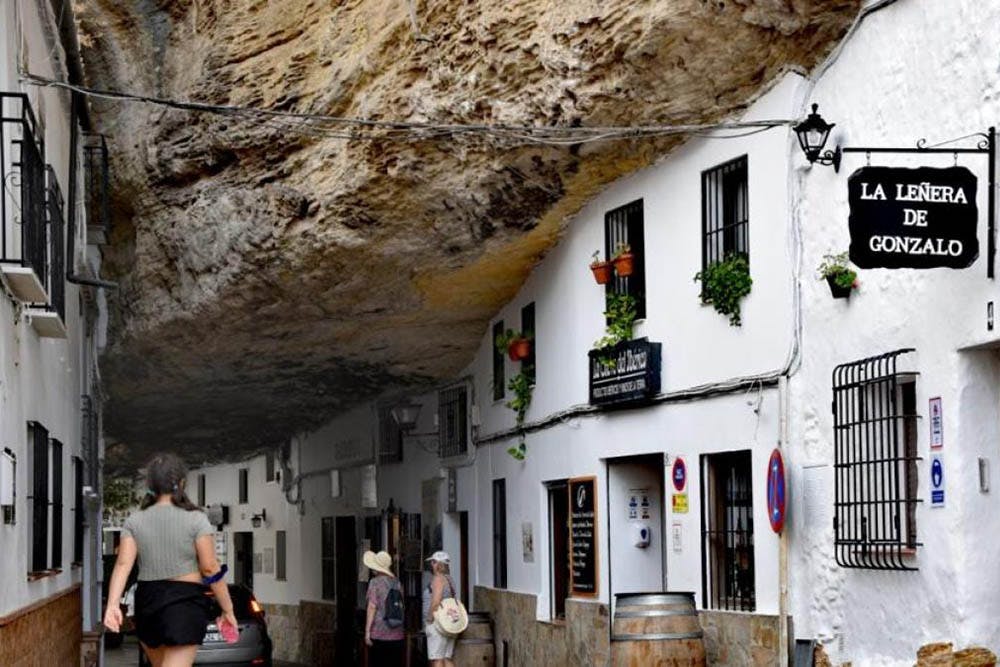 Dwellings built into the cliffside in Setenil de las Bodegas


Press on to Ronda, an extremely popular stop on your Andalusia road trip itinerary. The campsite we recommend is just 1.5km on the outskirts of town and a great base for exploration.
Overnight at: Area Autocaravanas Ronda, a charming spot with wonderful staff, high quality facilities and a swimming pool. 



Day 6: Ronda to Marbella 

Highlights:
The famous Puente Nuevo (New Bridge)
Walk down into El Tajo gorge 
Bullfighting tradition at Plaza del Torros
Driving time: 1h, 60km


Ronda, the 6th century mountain top city set precariously above a deep gorge boasts historic sights, dramatic views, and charming bodegas. Warm up with a stroll in Alameda del Tajo, a lovely 19th century park frequented by street musicians. From there head over to Puente Nuevo, the bridge connecting both sides of the gorge. Fun fact: the small room below the bridge is a former prison.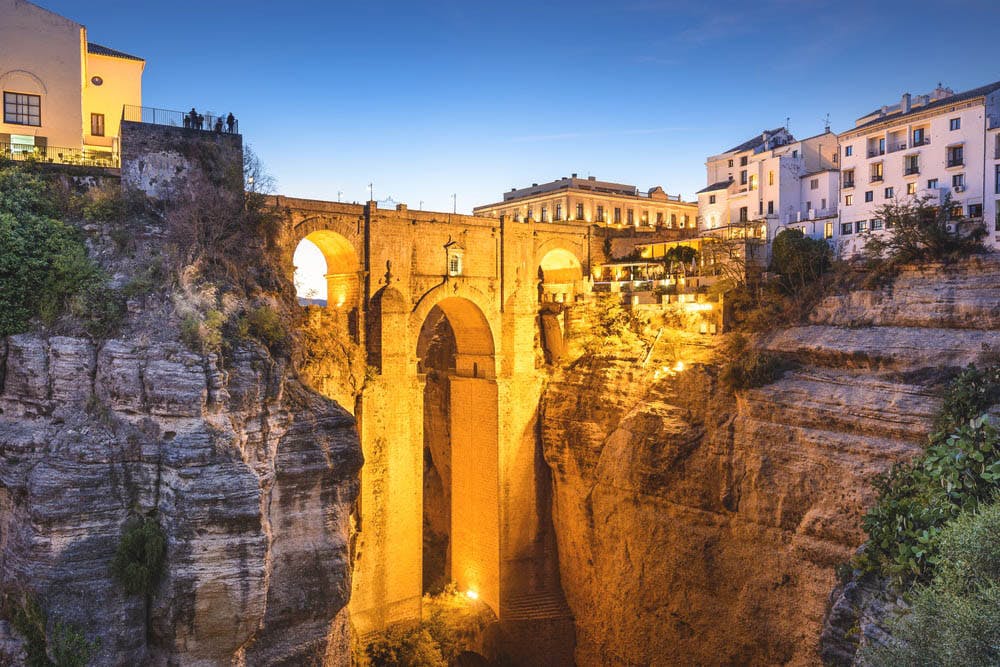 The Puente Nuevo, Ronda's 'new bridge'


Next, you can walk down into El Tajo gorge. Head to Plaza de Maria Auxiliadora where you will see a pathway with steps that descend into the gorge. It's a nice short walk offering great views of the gorge and postcard worthy angles of the bridge.
Once you're back topside, head over to Plaza del Torros, one of Spain's oldest bullrings dating back to 1785. While we're not into the sport, the museum is a great place to learn about Ronda's bullfighting tradition. One fight per year is held at the Plaza del Toros now, as part of the Feria de Pedro Romero festival each September.
Pack it in and hit the road towards Marbella. The drive from Ronda to Marbella is stunning, one of the best during the trip. Nestled between the natural parks of the Sierra de Grazalema and the Sierra de las Nieves, the views are endless. 
Overnight at: Camping Cabopino, nice campsite near the beach with friendly staff.



Day 7: Marbella

Highlights:
Walk along the coastal promenade
Salvador Dali artwork at Avenida del Mar
Explore the charming old town


Unless you've decided to take some detours along the way, kicking back in Marbella will be the last full glorious day of your road trip. With a stunning backdrop of the Sierra Blanca Mountains and 27 km of sandy Mediterranean beaches, golf courses, prestigious nightclubs and coastal estates, Marbella is a fantastic place to finish your 7 day Andalusia itinerary.
This city has many different faces and caters equally to individuals, couples and families. We don't like to pack too much into the last day of a trip, but here are some ideas. Kick start the day with a stroll down the gorgeous coastal promenade and check out hip bars and cool restaurants along the way. Along the way check out the artwork of Salvado Dali. The beautiful outdoor sculptures are placed along the Avenida del Mar.
For one last taste of authenticity, visit the cosy old town. The cobblestone streets are lined with charming houses, boutique shops and yummy tapas bars.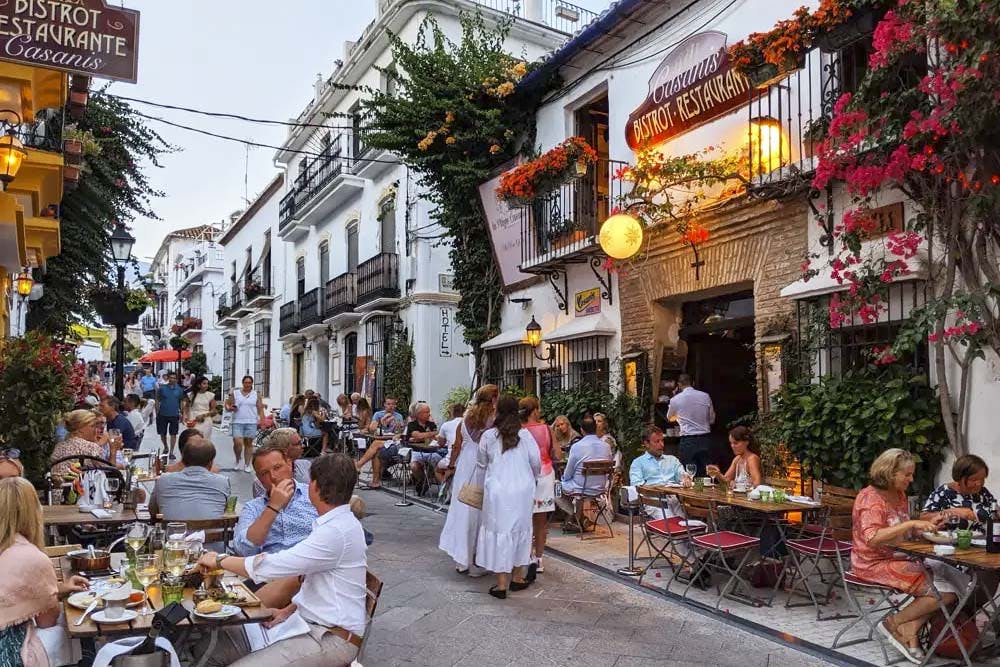 No shortage of great places to eat in Marbella


The Marbella food scene is a notch above the rest of the Costa del Sol. Since your campervan pantry is probably running out of, well everything, here are some recommendations for a delicious last day:
Tabena CasaBlanca (€€) - Popular with the locals, known for the best tapas
Manuka Plaza del Mar (€€) - Plant based with a focus on local ingredients
The Farm Restaurant (€€) - Organic restaurant in a beautiful setting

With a seemingly endless variety of options, we'll shut down the inspiration machine here. Make the most of your last night however you see fit.



Marbella to Malaga
Departure day! The 60 km drive from Marbella to Malaga the following morning should take roughly 1 hour. Campervan drop off at our base in Malaga is easy, but it's best to give yourself a 20 minute time cushion to go through the campervan return procedure