Begin your Lisbon to Algarve 6 day coastal road trip and drive your campervan south of the Tagus river, across the suspension bridge to beaches, vineyards, mountain views, peninsulas, ferry rides and hip seaside towns. Rock up and relax at Praia do Meco; go on a wine tour in Azeitão; set sail with the dolphins; mix with fellow Lisbon escapees in Comporta. Pack your sense of adventure and let your road trip south begin!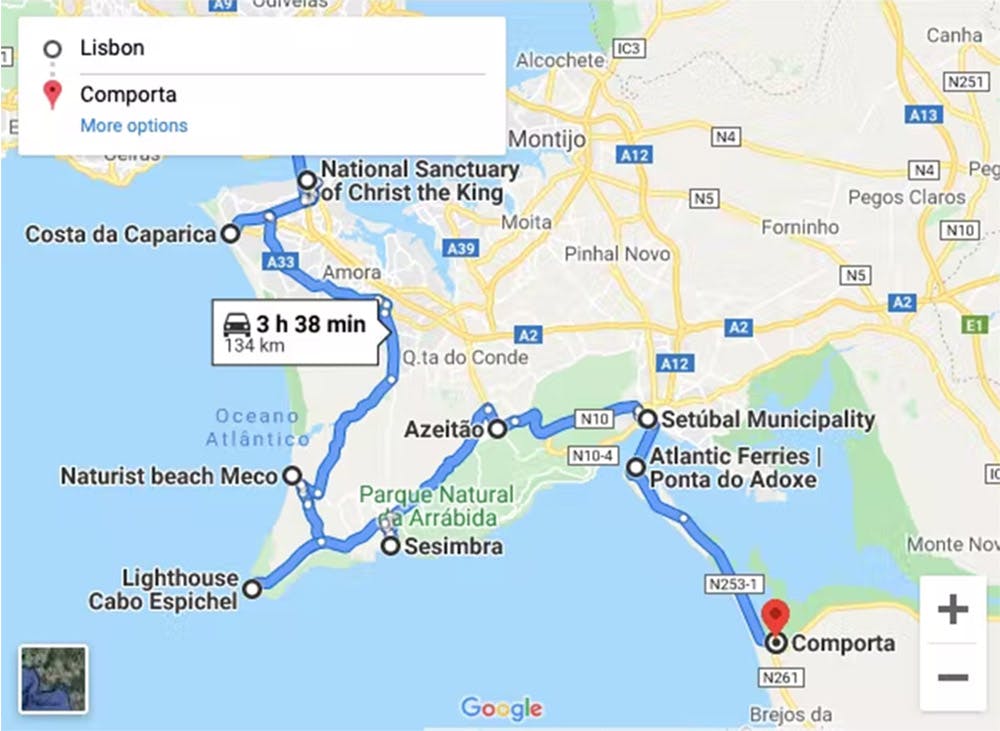 Part 1 itinerary map: Lisbon to Comporta (Days 1-3)


Day 1: Lisbon to Praia do Meco via Costa da Caparica
Highlights:
25 Abril Bridge & Christ the King statue
Costa da Caparica
Clifftop sanctuary


Start your adventure with the famed Christ the King statue and take in the jaw-dropping view of Lisbon across the river. For an excellent alternate viewpoint, try the Pilar 7 experience at the top of the famous 25th of April bridge.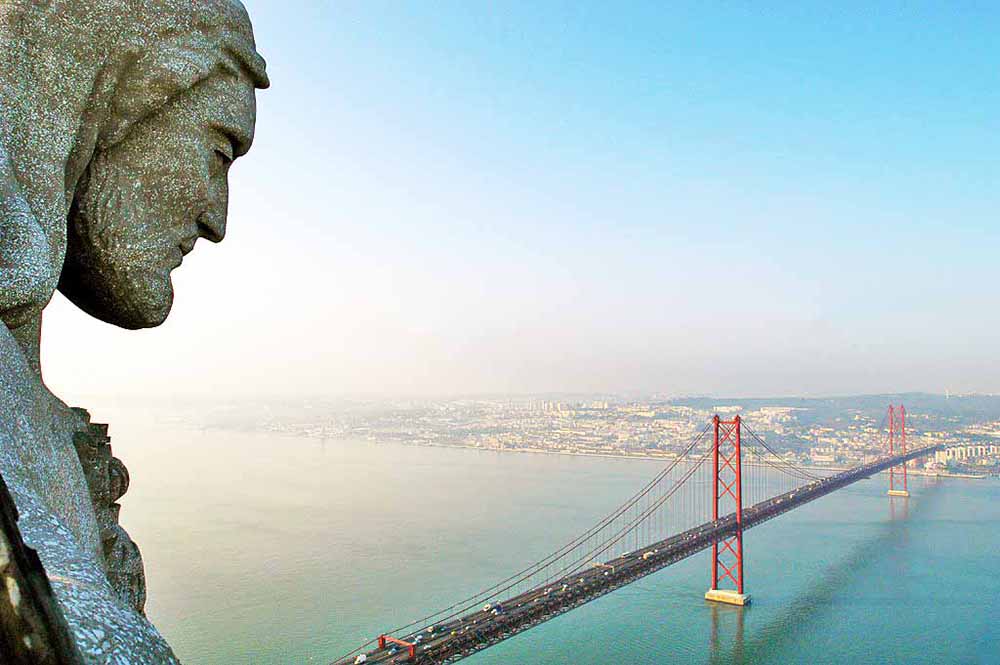 Christ the King statue overlooking the 25th of April bridge in Lisbon.


Next, head west to Costa da Caparica, Lisbon's surfing hotspot on the Atlantic coast. If you plan on sorting our your campervan hire in Lisbon make sure you add-on a board and wetsuit if you plan on getting in the water. When you're ready to leave, check out the amazing views from Miradouro dos Capuchos.
Continue to Aldeia de Meco. In the summer this quaint village turns into a bustling nightspot, with bars filling with a young Lisbon crowd partying till the early hours. If partying doesn't tempt you, head to a great wild spot on the cliffs overlooking Praia do Meco beach for a sunset to remember. From here you can pop down to Cape Espichel (15 min) to visit its impressive sanctuary. Many people wild camp by this abandoned monastery. It can be quite eerie especially as the sea mist rolls in during the night.


Day 2: The Setúbal peninsula
Highlights:
Local wine and cheese tasting
Fishing village charm
Endless views


Begin the day with a wander down the narrow winding streets of Sesimbra, or take a 1 hour hike to marvel at the beautiful bay views from its Moorish castle.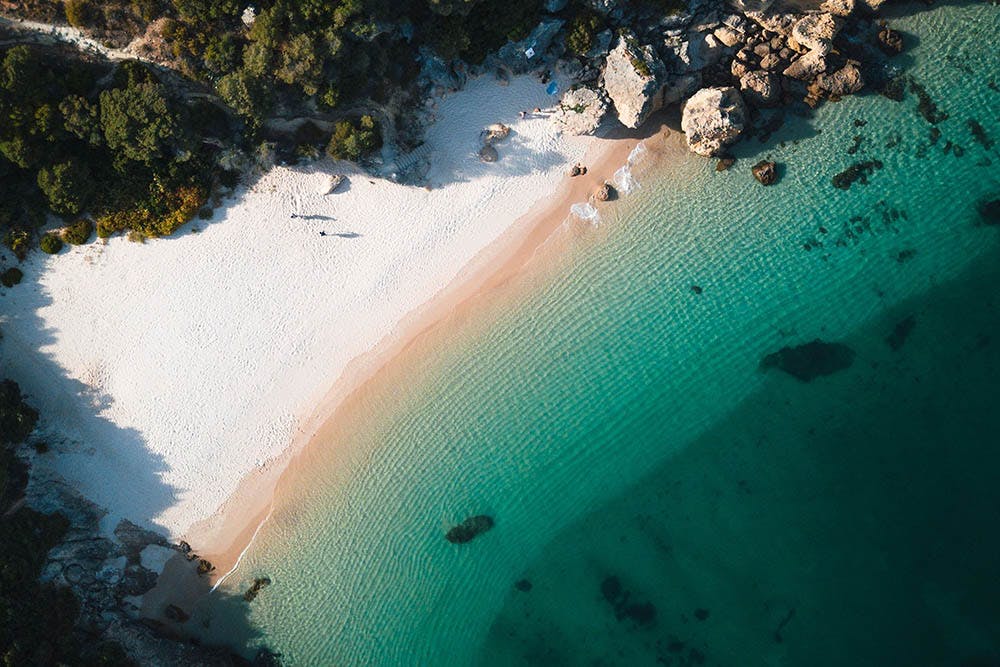 We could tell you where it is, but it's more fun to explore.


Hop back in your campervan and head northeast to the cluster of villages collectively known as Azeitão. Take a tour of the famed wine estates and sample its world-renowned cheese, delicious 'torta' cakes and the unique 'Moscatel de Setúbal'', produced across the peninsula.
Take the scenic route down to Setúbal through the hills down to where the Sado river enters the ocean at the tip of Tróia and beyond. End your day at Praia da Figueirinha.


Day 3: Across the river down to Comporta
Highlights:
River dolphins at Sado estuary
Ferry crossing towards Tróia
Chillin with the 'it' crowd in Comporta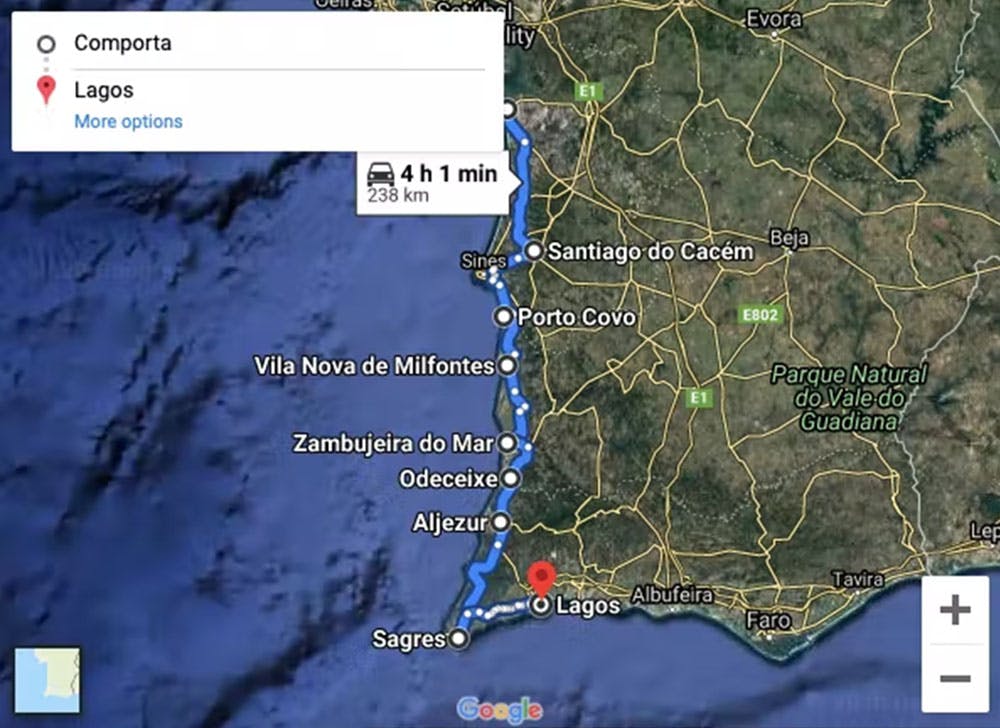 Part 2 itinerary map: Comporta to Lagos (Days 3-6)


Head down to the pier in Setúbal to catch a boat for a thrilling journey into the Sado estuary to observe the local dolphin population. When you return, it's time for another trip across the water, this time with your campervan on a car ferry bound for Tróia.
Once you arrive on the other side and ready to continue your Lisbon to Algarve scenic drive, the choice of beaches all the way down the peninsula is endless. We recommend Comporta, the hip escape of 'Lisboetas' in the know, with good restaurants, cool beach bars, boutiques and a relaxed vibe. 


Day 4: Comporta to Santiago De Cacém
Highlights:
Safari fun
Lagoon dips
Castles and Roman ruins


Once you leave Comporta, the landscape mellows reflecting the sparsely populated lower Alentejo. If you want to explore more endless beaches check out Carvalhal, Pêgo, Galé-Fontainhas do Mar, Aberta Nova, or Melides. If you want some extra facilities, there are good campsites along this stretch, including Camping Galé and Parque de Melides.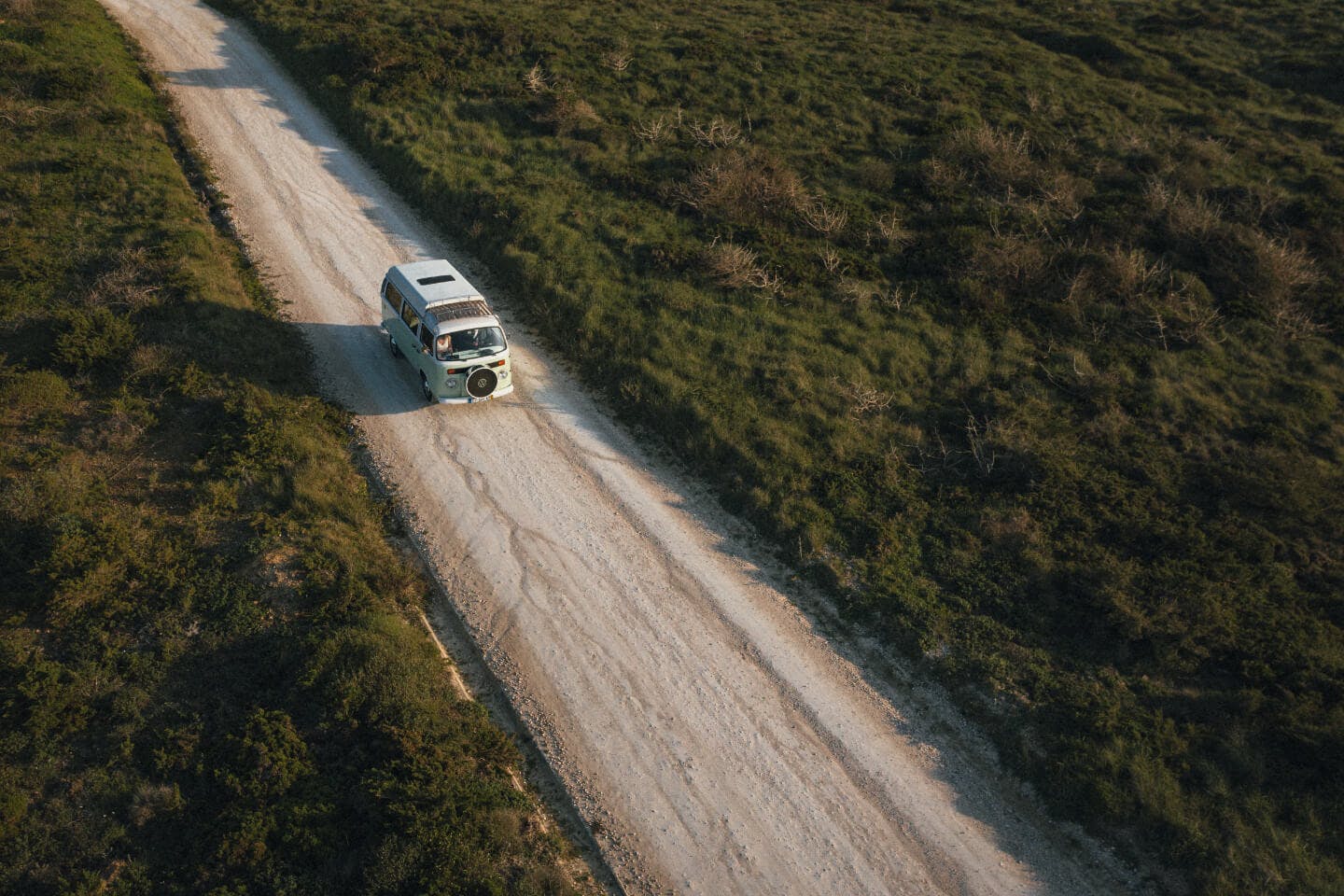 Unspoilt and sparsely populated Alentejo.


Further south, turn left for your first nature reserve, Lagoas de Santo André, a stunning lagoon, backing onto a beautiful beach. It offers a good option for setting up camp on your first day at Parque de Campismo de Lagoa de Santo André, and a good base to set out and see local sites.
From here you can go meet some African animals at Badoca Safari Park open-air zoo (www.badoca.com), visit the castle-dominated town of Santiago de Cacém or walk in Roman footsteps in Miróbriga.


Day 5: Santiago De Cacém to Odeceixe
Highlights:
Beaches galore
Mouthwatering cuisine
Coastal villages & towns


The day starts as it means to finish: at the ocean. Once past the industrial port town of Sines, enjoy a slow jaunt past numerous beaches (Morgavel, Aivados, Vierinha-Vale Figueiros, Samoqueira) and coastal eateries before reaching the bustling village of Porto Covo. Time for a stroll and a coffee break!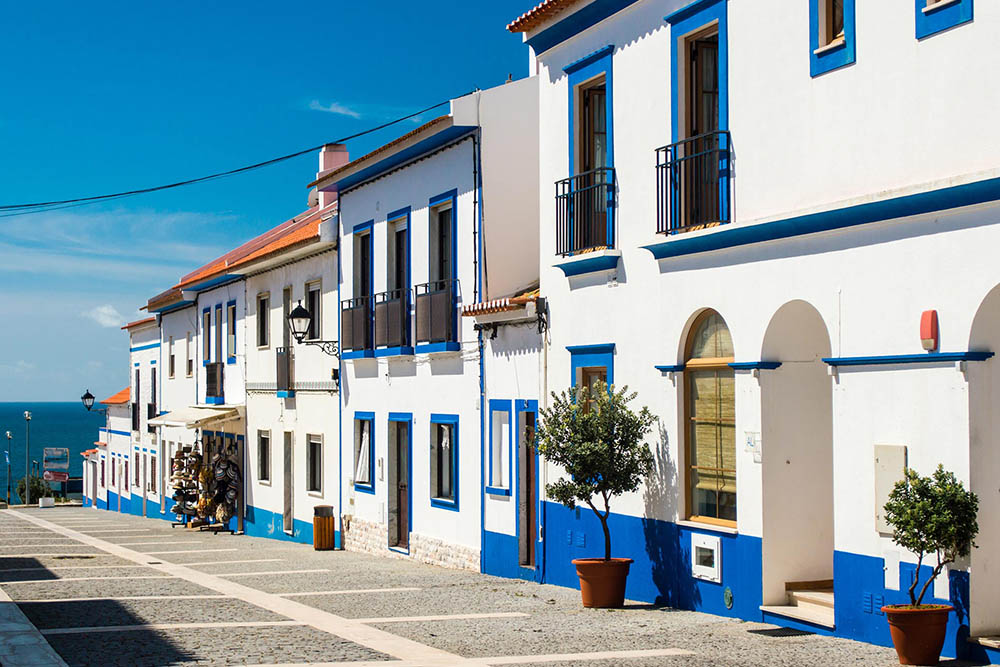 Charming houses in Porto Covo.


The Lisbon Algarve journey continues, taking us ever southwards, this time to the town of Vila Nova de Milfontes at the mouth of the River Mira. Stroll the shops, pop down to the beach and grab lunch. The river and seafront make up one of the best foodie destinations in the Alentejo.
From here, drive to the last Alentejo coastal town before we enter the Algarve: Zambujeira do Mar. Another great place to take a break, grab a drink and contemplate the sea.
The day closes just on the other side of the Algarve border, in Odeceixe. One of those unforgettable beaches, Praia de Odeceixe is formed in the final curve of a river as it empties out to the sea. With bars, restaurants, surfing possibilities and stunning views, this is the perfect place to set up camp.


Day 6: The Algarve: Odeceixe to Lagos
Highlights:
Europe's most South-Westerly point
Surfing paradise
Lagos: The best city in the Algarve?


The Algarve's stunning west coast awaits on today's meandering trip down to Lagos. Famed for its rugged, cliff-backed beaches, great surfing opportunities and natural wonders. 
Leaving Odeceixe, follow the winding, southbound road to Aljezur. Stop for a freshly-squeezed juice and shop for surf and beach gear. Amoreira beach is a local highlight similar to Odeceixe, with a winding river, yet on a grander scale. Monte Clérigo beach offers a wide expanse of sand and rock pools and Arrifana beach dazzles with its dramatic cliffs.
The surf is definitely up as you head south with a choice of must-surf spots along the route. Even if you don't surf, these are great family beaches ideal for keen walkers. Surfers (and families) flock to Bordeira/Carrapateira, and nearby Amado. The former is vast and scenic, yet facility-free, while the latter has a café, surf school and plenty of room to park up. Further south, Cordoama and Castelejo are also excellent, the first seemingly never-ending, and the second astoundingly scenic with its rock formations.
Since north of Porto Covo, you've been passing through the vast expanse of the Southwest Alentejo and Vicentina Coast Nature Park. Home to a wealth of wildlife and birdlife, this park also features a number of organised trails, known as the Rota Vicentina. Stop off for a hike into nature at any point.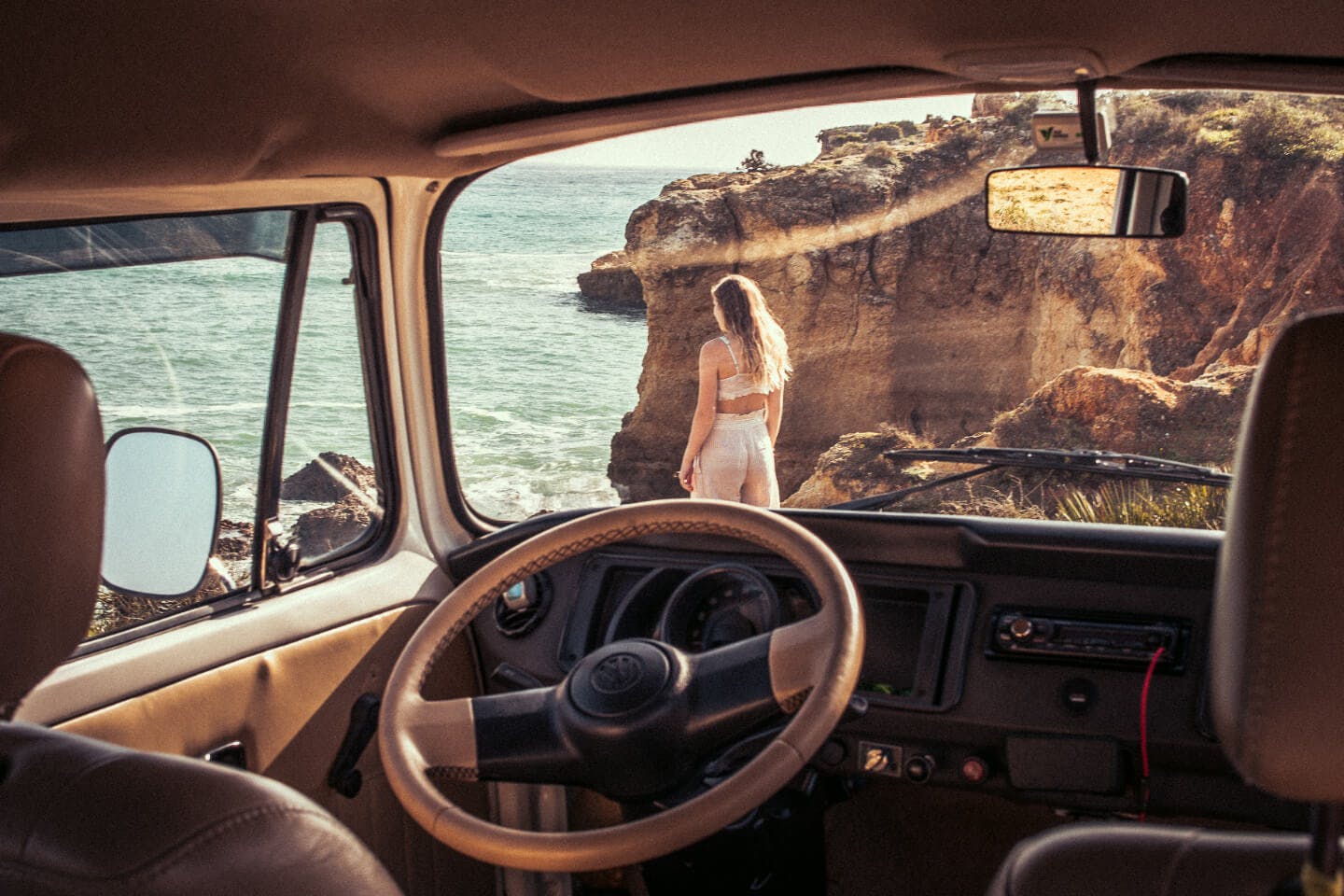 The stunning cliffs of Algarve.


Across to Sagres, the town itself, with its cafés and bars, has a real surfing vibe. Surf Schools are based here, taking their beginner students to south-coast beaches and the more advanced to the beaches of the west coast, such as Amado. Heading east along the Algarve's varied southern coastline, you begin to appreciate the allure of this beach-rich region. Fine beaches prior to Lagos include: Salema, Burgau and Luz, each great for families, and with plenty of amenities. 
Last but not least, Lagos gives the perfect snapshot of the Algarve's wonders. Beyond its wall-enclosed historic centre, packed with great restaurants, cafés, shops, museums and galleries, beyond its palm-lined promenade, Lagos truly excels for its beaches. Many can be reached on foot from the city centre.

If time isn't a constraint and you'd like to discover more of the Algarve, read our 7 Day Wild Algarve Road Trip Itinerary