Want to learn to surf in Portugal? You're in good hands. We've got the low down on the best beaches for beginners and we got plenty of tips to help you make the most of your Portugal surf road trip. First, we'll start with a basic rundown of the best surf spots and later we'll break them down into the best surf beaches near Lisbon, Porto and the Algarve.
We'll also dive into some tips around seasonality, choosing the right gear and reasons why you should consider campervan hire in Portugal to make the most of your trip. There are numerous surf schools for beginners in Portugal, but we'll focus primarily on the surf spots themselves, many of which require your own transportation and a bit more of an adventurous, self-starter attitude.


What are the Best Beaches to Learn to Surf in Portugal?
Cantinho da Baia, Peniche - the most popular Portugal surf spot for beginners.
Foz do Lizandro, Ericeira - It's about the waves just as much as the dreamy vibes.
Guincho, Cascais - sandy bottom and 2 to 8 foot right-handers offer plenty of variety.
Amado, Aljezur - consistent swell and the warmest water in Portugal.
Arrifana, Aljezur - great surf and a scenic location along the wild coast.
Castelejo, Vila do Bispo - beautiful, isolated and delivers very consistent year round swells.
Tonel, Vila do bispo - solid right & left handers and walking distance from Sagres town center.
Praia da Torreira, Murtosa - the beach break offers ideal conditions for riding shorter boards.
Matosinhos, Porto - easily accessible with many great surf camps nearby.
Figueira da Foz, Coimbra - untouched by mass tourism and less crowded than most surf spots in Portugal.


Best time of the year for learning to surf in Portugal

If you're a beginner surfer, the Summer (April – September) offers pleasant weather, warmer water, and small to medium swells. In practice, this translates to more manageable waves, less risk and more fun - perfect for beginners! Winter on the other hand signals the arrival of bigger swells and higher, heavier waves. It's best to get some practice before tackling the larger waves. The goal is to have fun, right? 
Please note: water stays pretty cool year round, so you'll need a wetsuit. Summertime water temperature is 17-22°C (63-71°F) on the north & central coasts. We recommend a 2 mm long-sleeve shorty and a 3/2 mm wetsuit for the cool mornings and windy days. Along the south coast, water temps are slightly warmer, ranging between 21 and 24°C (70-75°F) in summer and early fall. During the warmest months, a swimsuit is all you need, but we recommend a 2 mm shorty for longer sessions.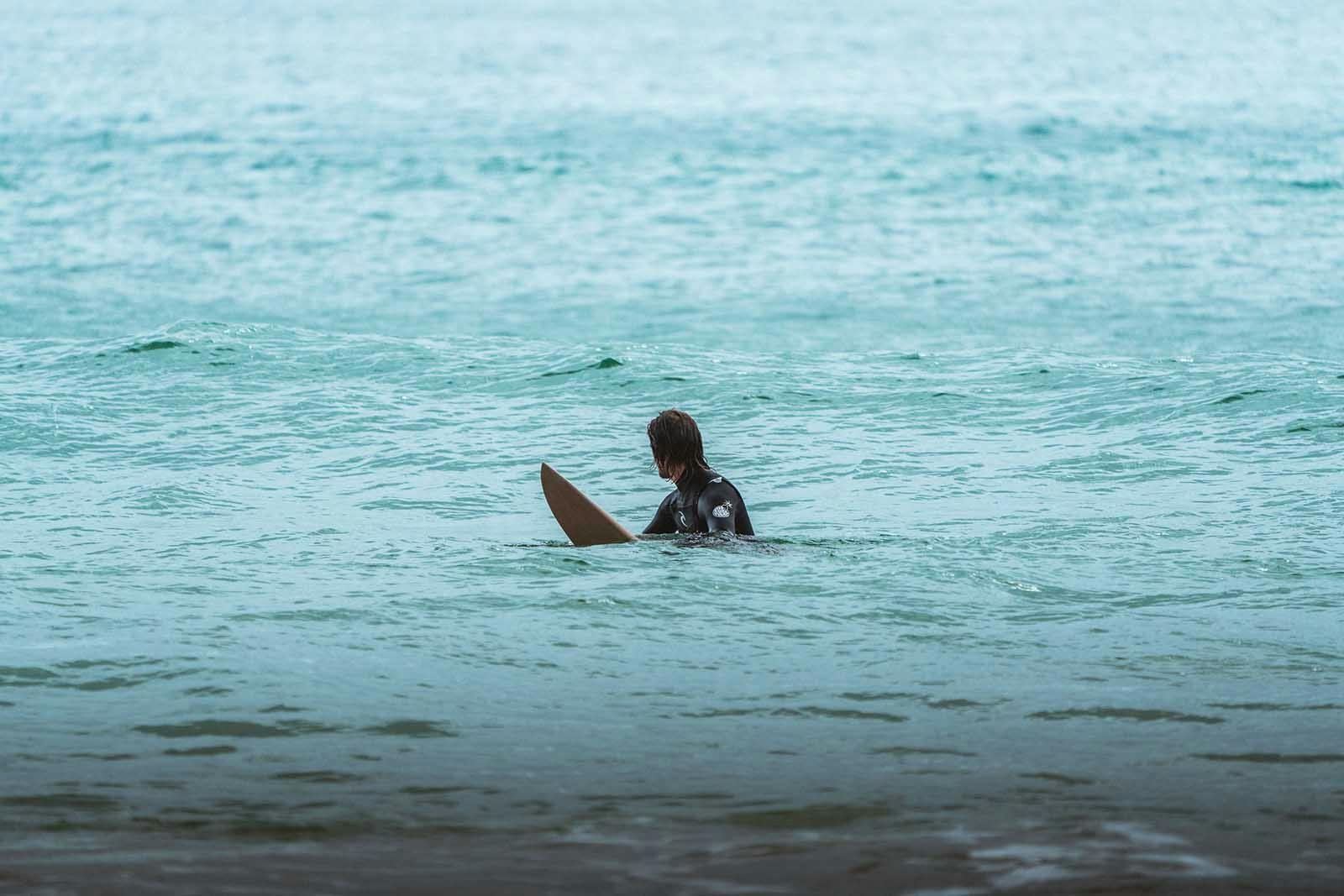 Choose the correct wetsuit for the conditions depending on location and seasonality.


Choosing the right surfboard & wetsuit
Choosing the right board is the most important step in your Portugal surf journey to enjoyable wave riding. Even as a complete beginner understanding the fundamentals is important. The ideal choice comes down to your surfing skill, surf conditions, wave type, and your level of fitness.
While we could write a standalone article dedicated to choosing the right gear, rest assured we stock a big variety of boards and wetsuits at our bases in Lisbon, Porto and Faro. The friendly Siesta Campers staff will be there to offer suggestions and advice on choosing the right gear for your needs before you set off on your road trip to find the best waves in Portugal.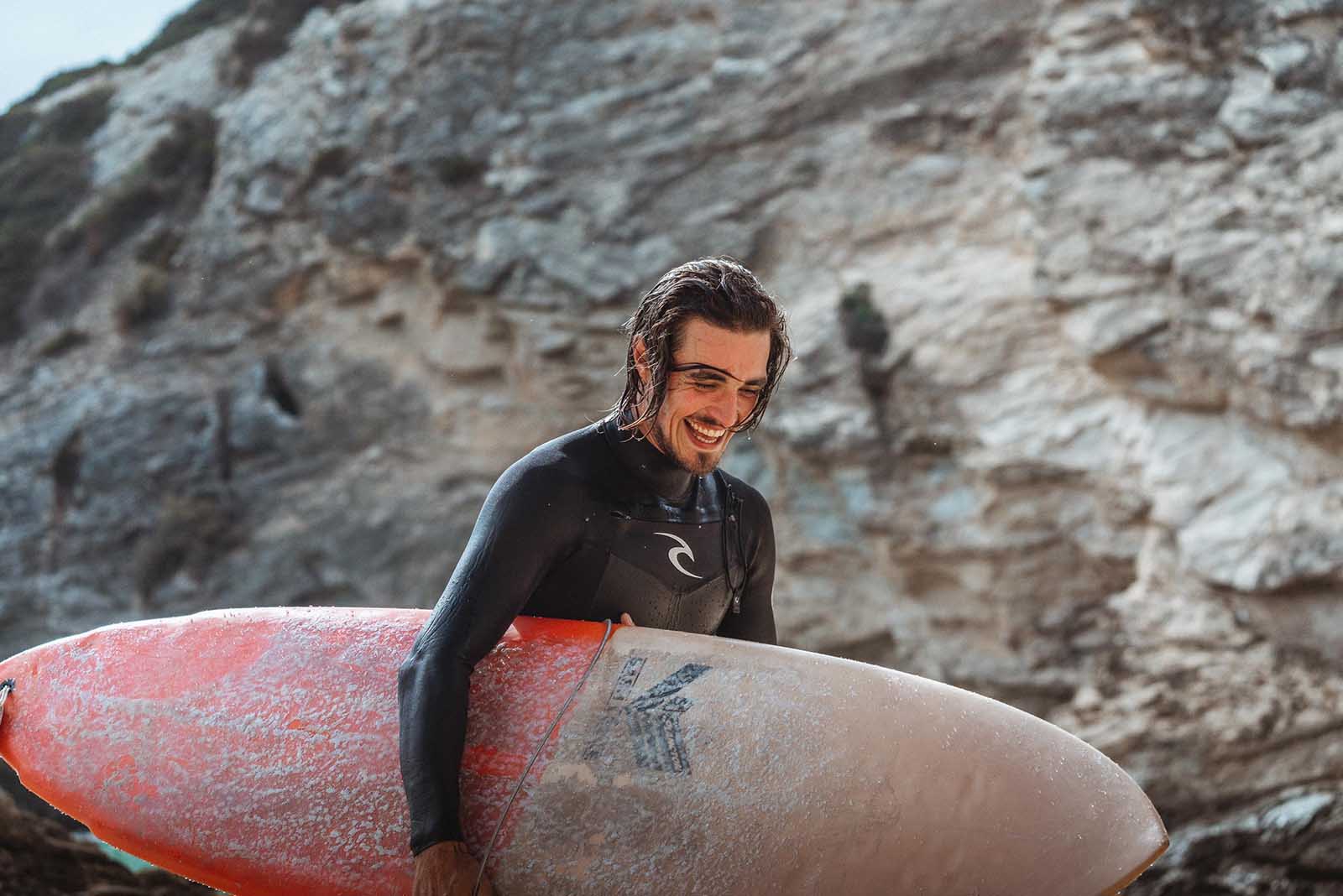 You can rent a surfboard and wetsuit at all Siesta Campers locations.



A campervan surf trip in Portugal is as good as it gets!
You may be tempted to select a single location to learn, such as a beachside hotel or surf school. Alternatively, if you want to explore the coast you can bring your own car or hire a rental car to reach the remote beaches. The final and our favorite option is to hire a surf camper. Here's why renting a camper will help you make the most of your surf trip in Portugal.
For starters, all Siesta Campers campervans come equipped with everything you need for a multi day, off-the-beaten-path excursion, so you can stay in the water longer, recharge faster and have a better time overall. Here's what you'll have at your disposal: fridge, 2 burner gas stove, kitchen sink, rear shower, camping chairs, table, enough headroom to stretch your legs, a bed(!) and plenty of space to store the boards. Even if the beach you're going to provides basic facilities and is easily accessible, you'll be happy to have the privacy only a campervan can offer.
Learning to surf can be an intimidating experience. The more crowded the wave, the more competition you will face which isn't always great for learning. Hire a surf camper in Portugal so you can go away from the crowds, learn at your own pace and do it in a fun, comfortable way.
Pro tip: the optional chemical toilet, solar panels and portable Wi-fi are great add ons if you're going to put in some overtime off-grid.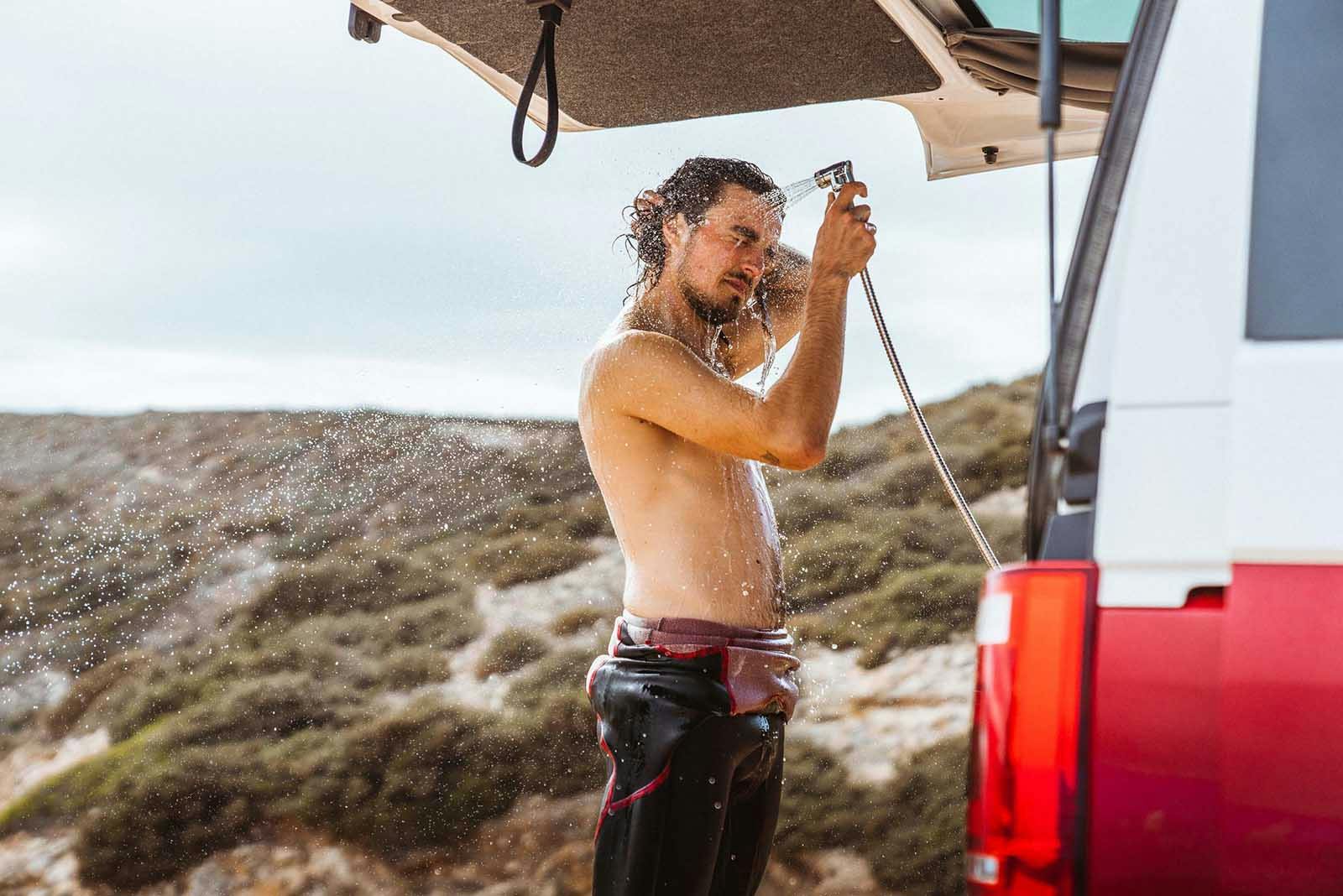 Once you try the exterior shower in any of our vans there's no going back.
Now, imagine bringing a car instead of a campervan. This option may work for some, but the outcome will not be optimal. At the end of a long day in the water, you're going to be hungry, you'll want a shower, and you're probably going to want to get some sleep. If you're planning on staying overnight, you're going to wake up the next day feeling a bit like a train wreck. That passenger seat is certainly not as comfortable as you thought.
Also, returning that rental car soaking wet and full of beach sand isn't going to go over well with the agency you rented it from. As with most situations in life, preparation is key to success and our campervans are perfect for surf trips in Portugal.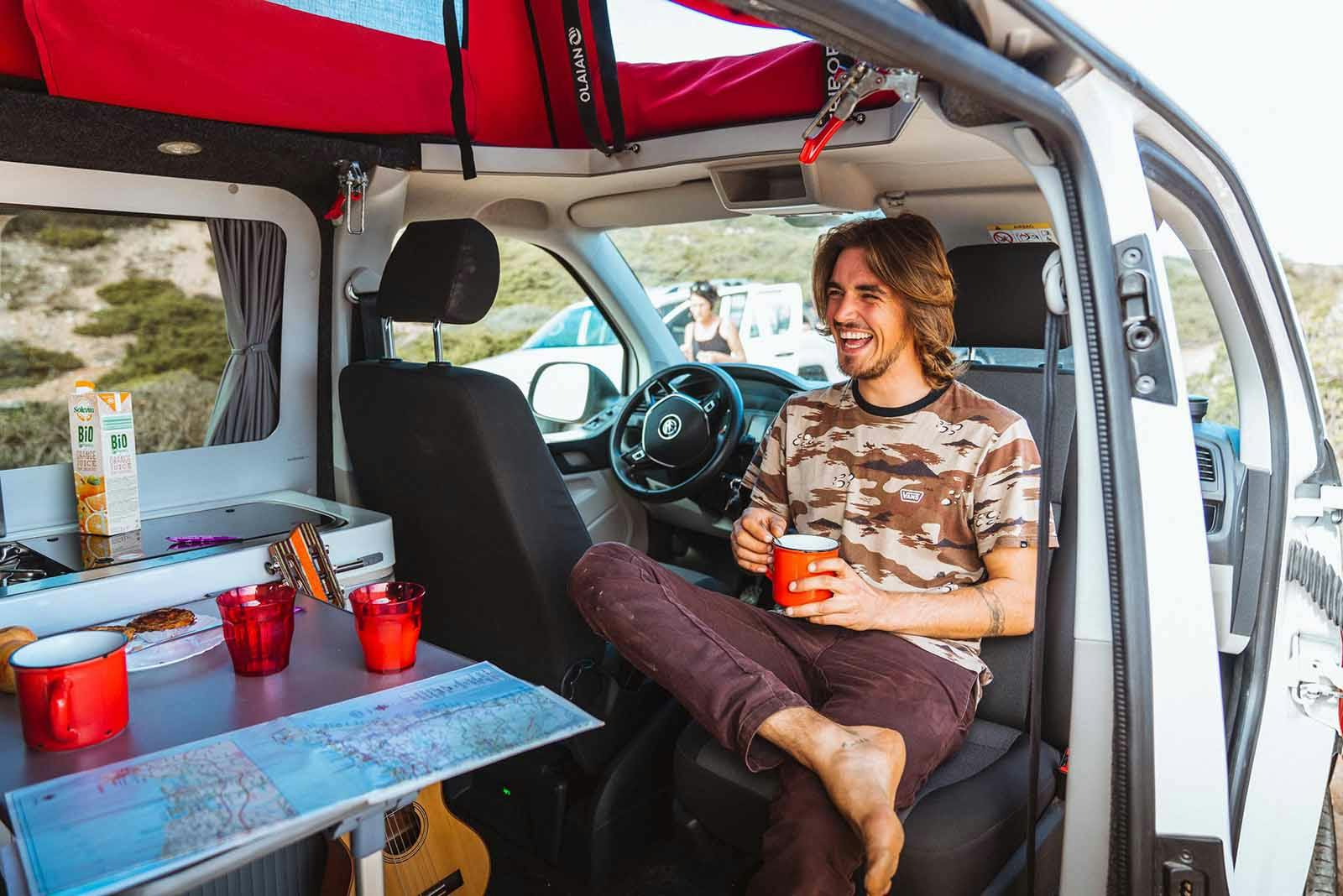 Our campervans come with many tasteful modifications like swivel seats for added comfort.

Best surf spots for beginners near Lisbon
Catinho da Baia – Peniche
An hour north of Lisbon, Peniche is home to some of the best waves in Europe. Catinho da Baia is the most popular surf spot for beginners and one of the best in Portugal. The 3km beach offers numerous take-off points. Closer to shore, the waves are smaller and ideal for first timers. Further out, they are bigger and better for those wanting to level up their game.
Foz do Lizandro – Ericeira
Each year, surfers flock to the town of Ericeira for the waves just as much as for the dreamy vibes. This spot easily competes with the best of them as it caters to the world's best surfers as well as complete novices. The surf is incredible and the coastline north of town was declared a World Surfing Reserve in 2011. Beginners should head to Foz do Lizandro at low-medium tide for a fun beach break wave. Catch either lefties or righties while marveling at the stunning scenery.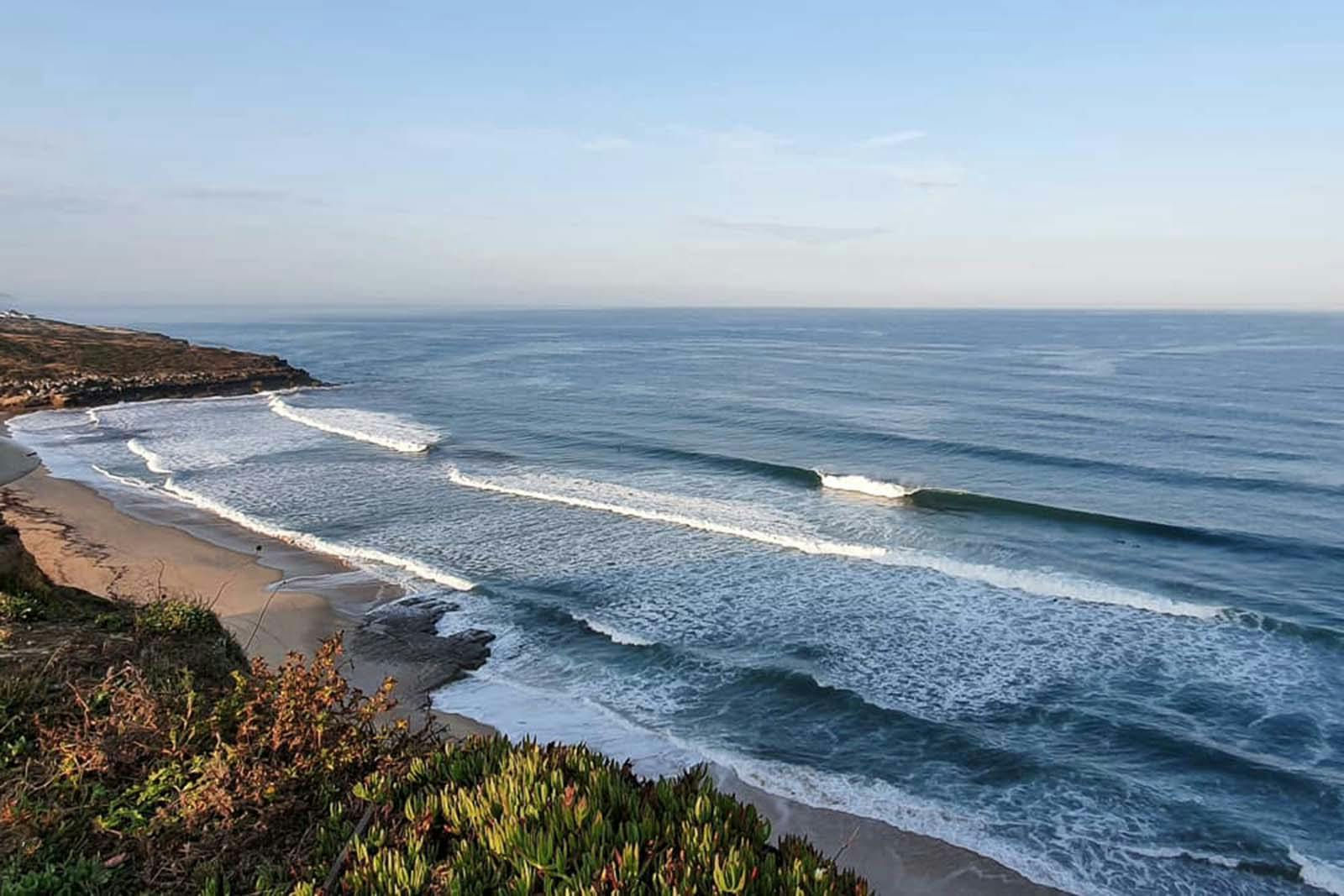 Foz do Lizandro beach near Ericeira.


Guincho – Cascais
Cascais, a dreamy beach escape a short drive from Lisbon is the gateway to one of the best surfing beaches in the area, Guincho. Beginner surfers will feel right at home here at low-medium tide. The stress free sandy bottom and 2 to 8 foot right-handers offer plenty of variety to gauge progress. This beach tends to be windy often, making it very popular with kite boarders. Best to pay attention to the wind forecast before making the trip. 

Top surf spots for beginners in the Algarve
Amado – Aljezur
The Algarve is one of the best places to learn to surf in Europe. The consistent swell that isn't affected by the changing of the tide, makes it great for learning. Here, aspiring surfers will also find the warmest waters around Portugal, so staying in the water longer makes for better learning sessions. The main base camp for surfing in the Algarve is the picturesque town of Lagos. Praia do Amado is wide and offers plenty of room for everyone. If you prefer to learn in privacy, there's a good chance you'll have the waves to yourself. Wave consistency is what earns this spot a slot among the best beaches to learn to surf in Portugal.
Arrifana – Aljezur
Looking for a fun wave to surf at any level of skill? The location is really nice and the area is great to hang out along the wild coast. This one can get a little busy on a good day of swell, but it's totally worth it. High tide softens the waves up while lower tide speeds everything up a bit.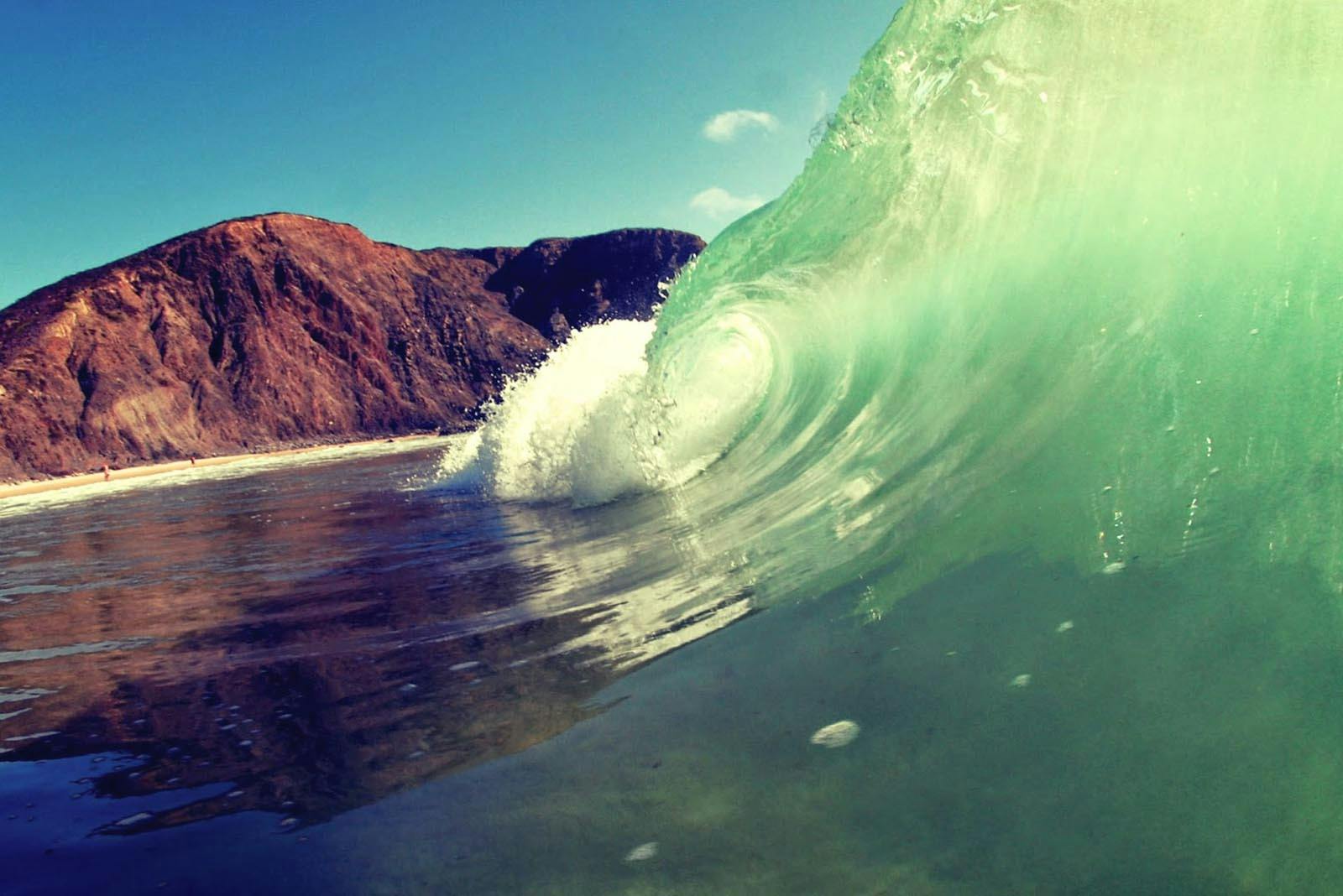 Arrifana beach.


Castelejo Beach – Vila do Bispo
Isolated at 12km north of Sagres, the beautiful views and very consistent year round swells make this one very well worth the trip. Keep an eye out for the westerly winds, but during summer months Castelejo can catch any small Atlantic swell making it a great beach to learn how to surf in the summer sun.
Tonel Beach – Vila do Bispo
This great beach to surf for beginners & intermediates is walking distance from Sagres town center. It is sheltered from the north wind and has solid right and left handers all along the beach. Sagres is a base with many bars and restaurants too, so once you're upped your game you don't have to go very far to celebrate.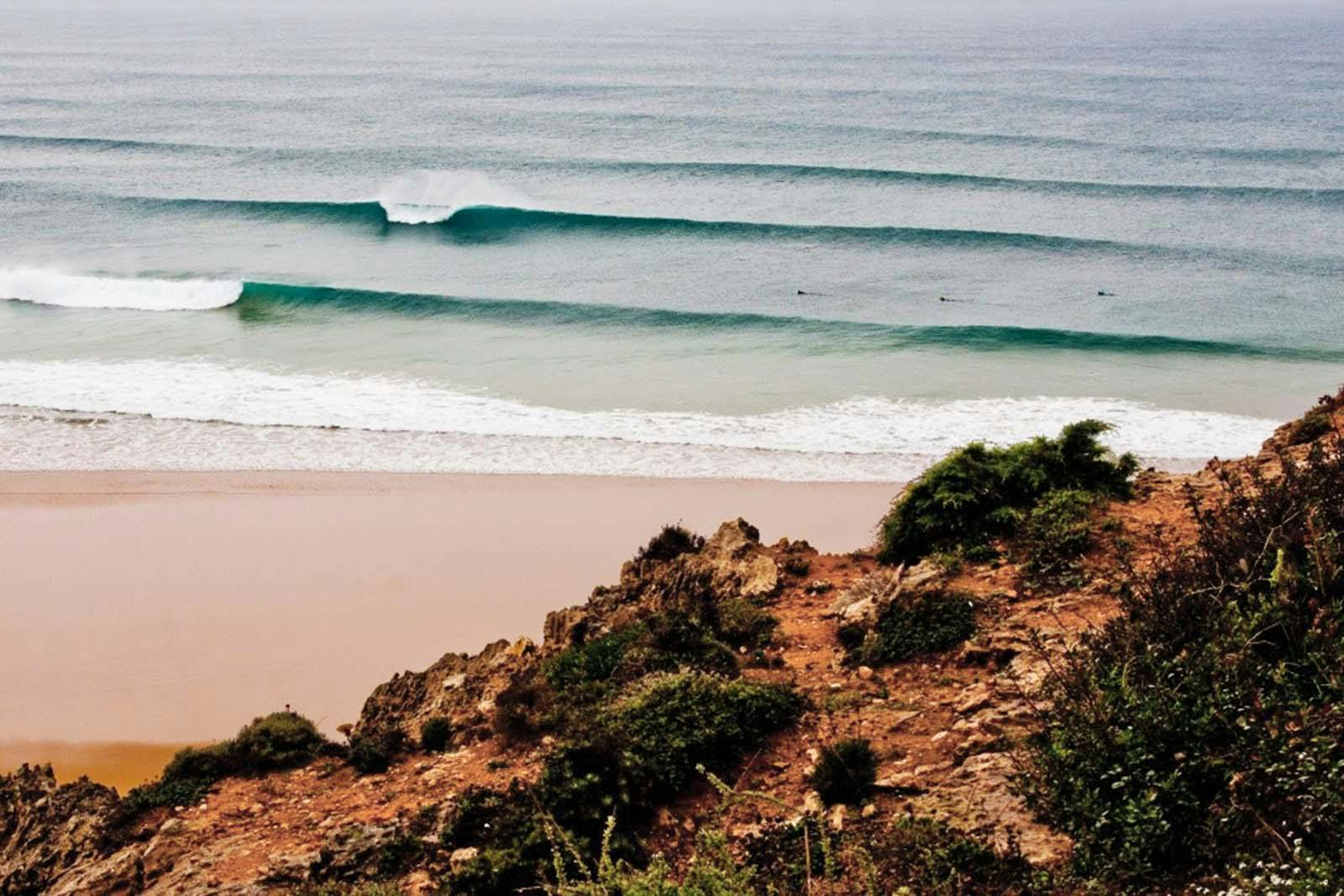 Beginner friendly waves at Tonel beach.

Top surf beaches for beginners near Porto
Praia da Torreira - Murtosa
At 40km's from Porto, Praia da Torreira is known for its excellent right and left hand waves. This one is ideal for beginner surfers who got a few good sessions under their belt and are ready to start learning how to ride shorter boards. The beach break offers more punchy waves for those wanting to get to their feet quickly and maximize their time in the water.
Matosinhos – Porto
If you want the shortest possible route from Porto airport to the ocean, Matosinhos is the answer. The mellow beach break offers great conditions for beginners and intermediate surfers year round. In case you've got no transportation or misplaced the car keys, this one can also be accessed by metro! The numerous surf camps in the area make it quick and easy to get in the water, especially if you don't have any gear with you. 
Figueira da Foz – Coimbra
If you want the waves all to yourself and value pristine surroundings Figueira da Foz is worth the drive. Untouched by mass tourism, this one is way less crowded than most other surf spots in Portugal. The two main beaches – Buarcos and Cabedelo are both great for all levels of surfers. Buarcos delivers one of the longest waves in Portugal, which means plenty of room to practice and have fun. The waves at Cabedelo are produced by a jetty. Closer to shore, they are gentle. Further out, they get stronger so make sure you eat your wheaties in the morning before paddling out.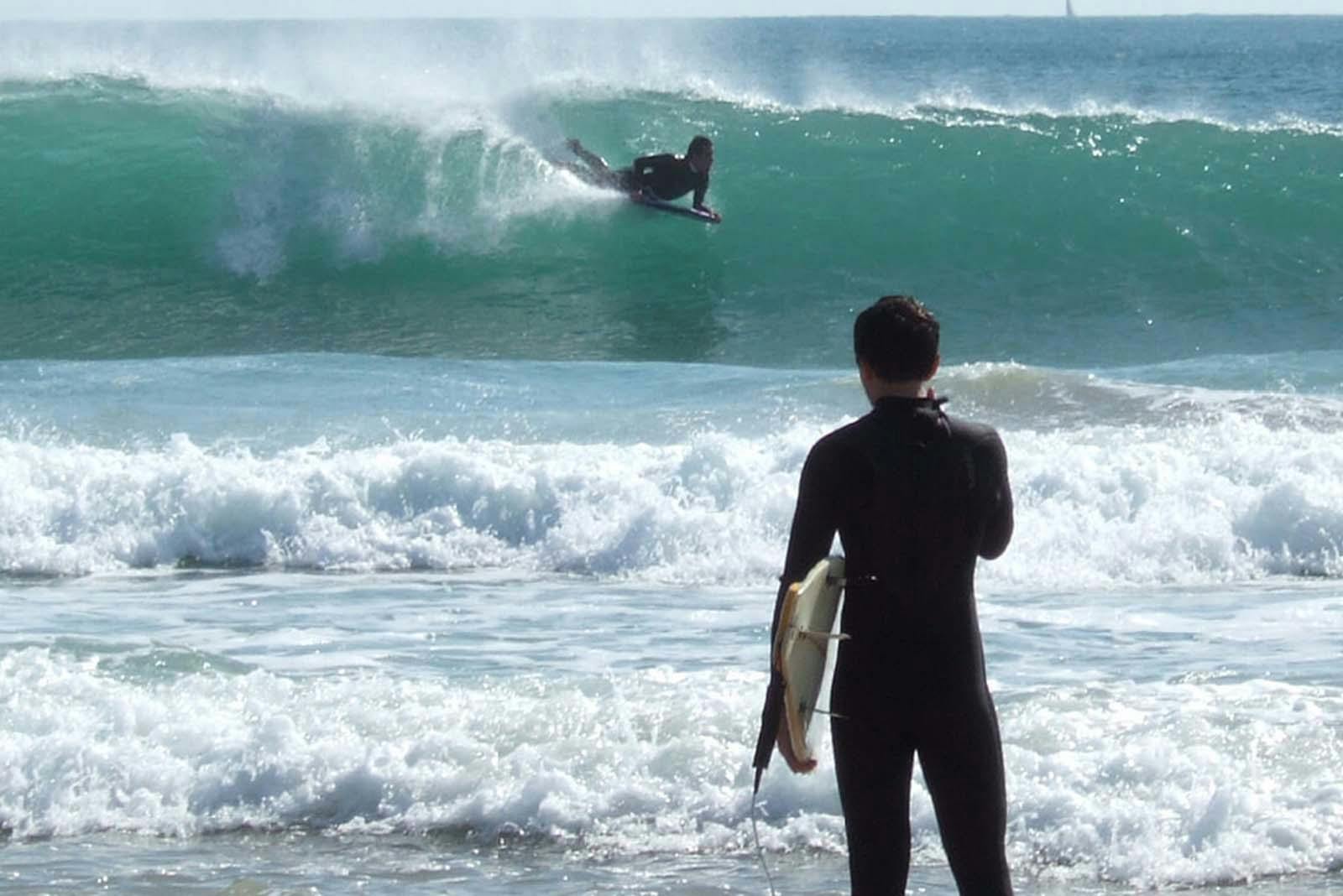 Are you ready to get in the water?