Searching for campsites in Portugal? We've done the legwork for you and put together the Best Campsites in Portugal guide. These are personal recommendations sorted by region. We expect this list to grow in the future as we continue camping Portugal from north to south. As the leading company for campervan hire in Portugal, and with bases in Lisbon, Porto & Faro, we know our way around the country. Many of the Portugal campsites found on this list will extend a 5-10% discount to Siesta Campers customers. All you have to do is show your rental contract at the time of booking!
Finding campsites in Portugal is best done from the comfort of your armchair before you hit the road, unless you're more of a last-minute spontaneous camper. Booking in advance isn't usually necessary, but some of the more popular Portugal campsites like Yelloh! Village in Praia de Luz can get very busy during peak season. Contact them directly or use handy apps like Pitchup to book before you arrive. If you're already in Portugal and wondering 'is there a campsite or camping near me'? - have no fear. This Portugal camping guide covers nearly all corners of the country!
IMPORTANT: If you're going to find your own spot to camp for the night, avoid fines and get to know the current laws for Wild Camping in Portugal.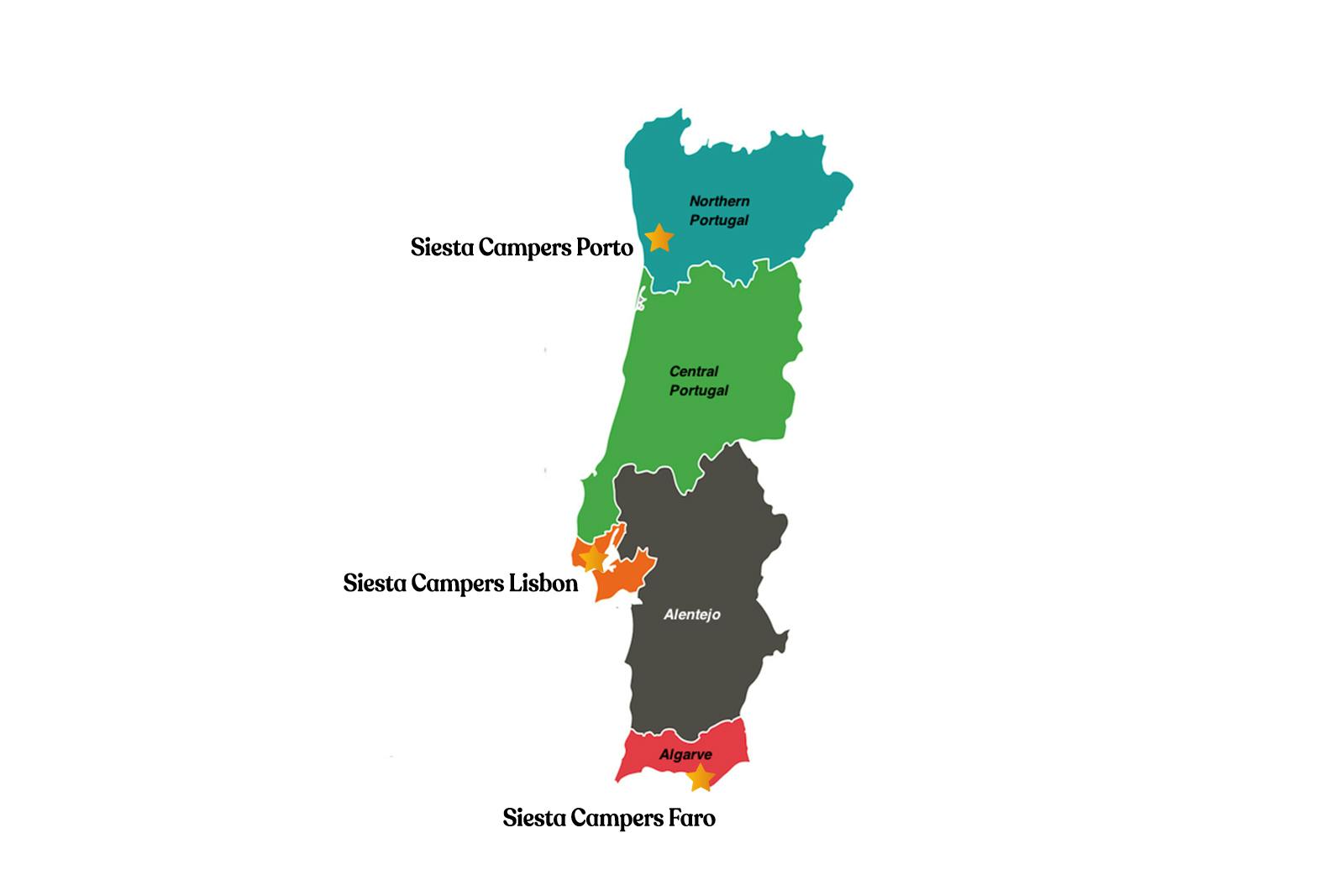 Top 10 Campsites in Algarve
This spacious campground is a 30 minute drive east of Faro and is characterized by its numerous large trees offering plenty of shade and proximity to lush natural habitats. Situated on the edge of an untouched nature reserve and close to Olhão, it's a great choice for nature lovers and foodies. If you enjoy great seafood, visit the popular outdoor fish market and grill up in the evening. The site also features a pool, tennis court, playground, restaurant and mini supermarket. Olhão Camping is one of our preferred campsites in Algarve for your first or last night stay if your road trip begins or ends in Faro.

Algarve Motorhome Park - Tavira
A peaceful campsite in a small seaside village just east of charming Tavira. The site and facilities are well maintained, clean and orderly. The motorhome reception area is located at the eastern entrance of Tavira, allowing for easy city and beach access on foot. The motorhome service area has a capacity for 120 motorhomes with a minimum space of 70m2 and is equipped with water and electricity.
The campground is located very close to the Parque Natural da Ria Formosa, a true natural gem. There are a total of 350 Individual plots equipped with electricity and free Wi-Fi. This is a very good campsite with a pool, shop, restaurant, mini gym, playground, BBQ area and even an artificial lake! The facilities are clean and well-organised. The natural beauty and proximity to the natural park earns this spot a place on our list of recommended campsites in Algarve.

Algarve Motorhome Park - Falésia
Portugal camping typically comes down to location and price, and it's difficult to beat this one on either. This affordable campsite is clean, features basic facilities and is located on the edge of one of the Algarve's finest beaches - Praia da Falésia
 
Algarve Motorhome Park - Silves
Conveniently placed at the edge of Silves, a historic city characterized by irregular little alleys, quaint restaurants, small art galleries and craft shops. Another very good cheap campsite! If you time it right you should check out the annual medieval fair in August.
The perfect campsite for kite surfers in Portugal! There are pitches, but feel free to park your camper wherever you like. There is good coverage of electricity points throughout the site.
Tucked into the trees, with a focus on being a natural campsite, this is a perfect base to explore the southwest region. If you picked up your wheels at campervan hire Faro the drive takes only an hour, but that's not the reason we love it. Salema Eco Camp is the campsite of choice for enthusiasts of slow living and surfing. What earns Salema our recommendation as the best campsite in the Algarve is their effort to minimize environmental impact across all services and activities by focusing on renewable energies and consumption reduction. By using flow reducers and coal filters in all faucets, customers can fill their reusable water bottles at any water point in the facility. Solar energy is used to heat water and plastic consumption is limited by not selling bottles or any other plastic wrapped goods. To top it off, most of the ingredients used at their restaurant come from small-scale local producers!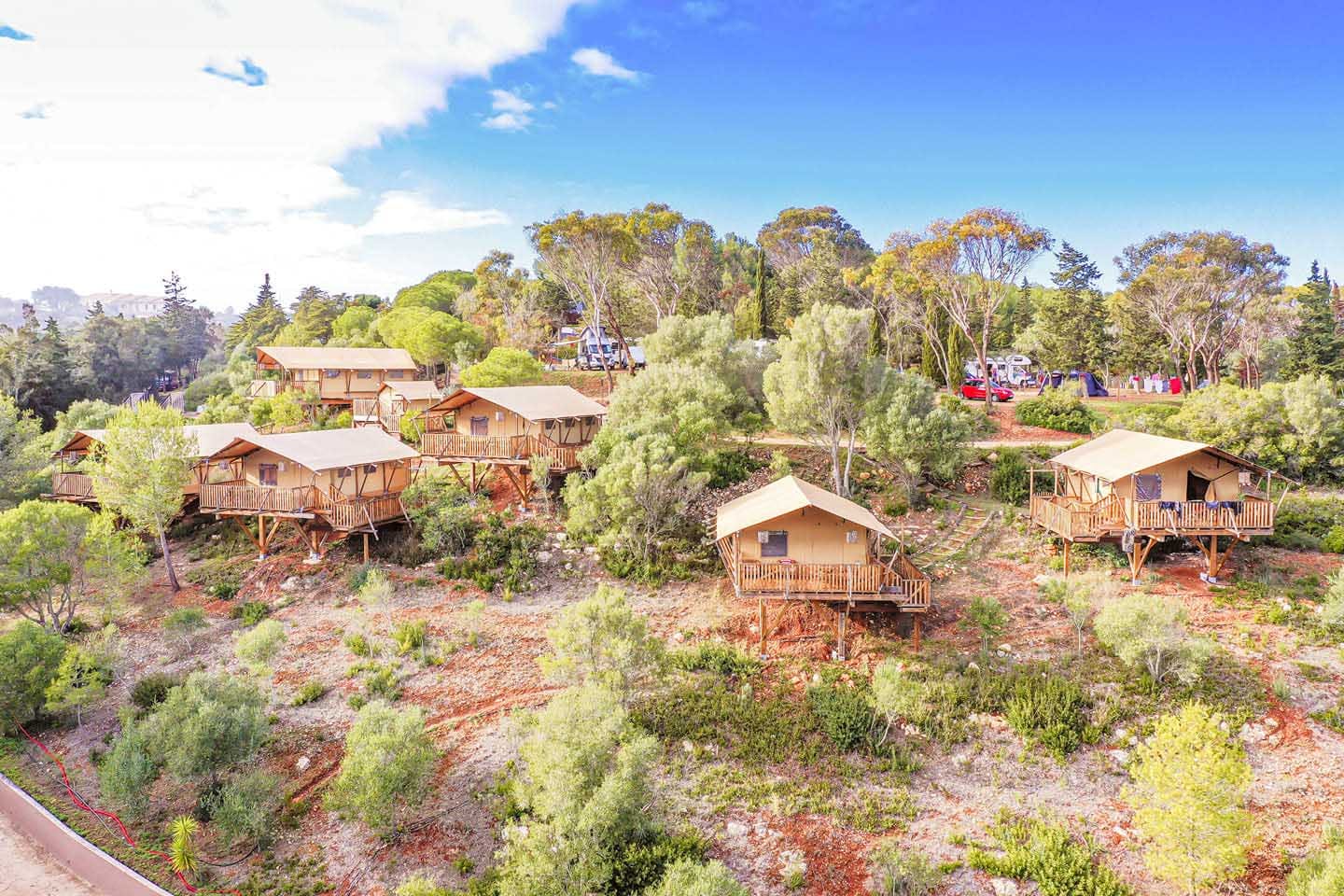 Salema Eco Camp, one of the best campsites in Algarve


Turiscampo Yelloh! Village
This big campsite is situated 5km west of Lagos and comes with plenty of amenities including bars, restaurants, fitness & wellness areas and is another great campsite with a pool and and Jacuzzi. There are 202 camping plots, including 42 luxury plots with water & sewer points and 3 bathing blocks. It's open year round!
This is a french owned chain with 17 campsites across Portugal. This one is a 10 minute drive from Sagres so bikes are a must if you want to head into town and experience the cool, surfy, hipster nightlife. This beautiful campsite is situated 1km from the beach nestled among pine woods, with recently renovated facilities and a warm atmosphere.
Perfectly located just north of Aljezur in the area famed for the best beaches in Portugal, this is a spacious campsite with many trees and fully equipped facilities. The proximity to great beaches such as Praia da Amoreira and Praia da Arrifana, gives it a privileged situation for those who like to enjoy good waters and practice water sports. Parque do Serrão is located in Aljezur in an area of ​​nature classified as a protected landscape, where you can be in close contact with nature, in a calm and relaxing atmosphere, providing moments of discovery and adventure in natural scenarios.

Alentejo Campsites:
Nestled in a natural setting and with all the essentials such as picnic and BBQ areas, swimming pool, water points, power points, free Wi-Fi and even pet baths, what else can you ask for? Camping Alentejo is always going to be a more remote experience than other areas of Portugal.

Parque de Campismo Praia da Galé
This campsite with direct access to the beach and an actual beach bar you'll be tempted to stay longer than you planned on. This peaceful gem is a favorite amongst those camping in Alentejo searching for a peaceful family atmosphere and pleasant living spaces. The many tall trees found on property offer abundant shade in case you're not ready to dip your toes in the Atlantic Ocean just yet.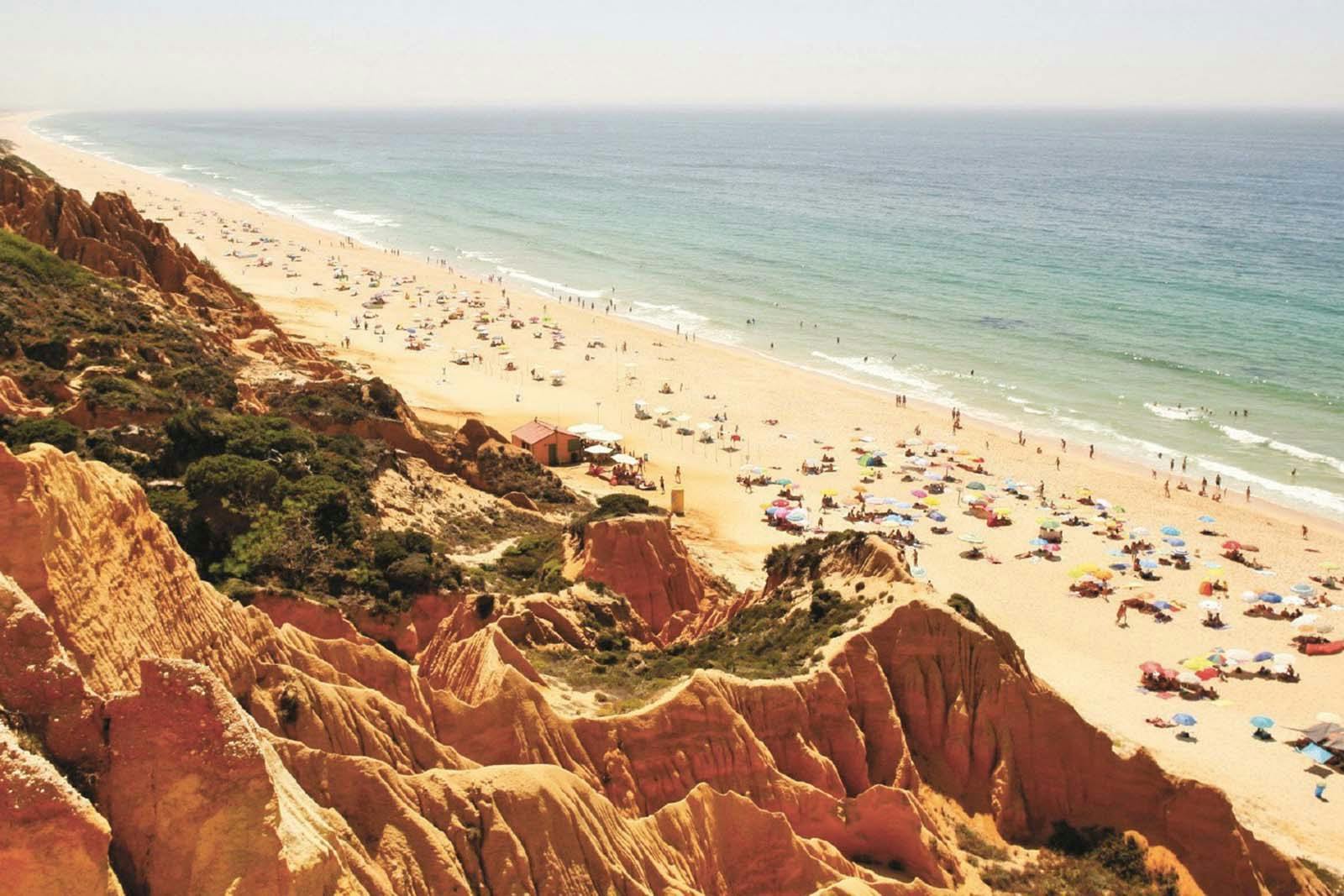 View from the top of the cliffs at Praia da Gale


Sao Torpes
São Torpes is located between Sines, a city known for the surrounding beaches (7 minute drive) and delicious food, and the quiet village of Porto Côvo. With plenty of activities on offer such as canoeing, skate & bicycle rental, and trekking tours this place will keep you busy for days.
This ecological farm offers a unique experience of camping in a rural space with a biological pool.You'll find walking routes and bicycle paths and the option for donkey rides through the animal, biological pool, olive grove, vineyard and orchard!
Bubulcus & Bolotas is for those who seek peace and serenity in a natural setting. It's a 30 minute drive from historic Evora and with its 7.5 hectares of Mediterranean forest, you really will be in the wilds. Electricity is 100% solar powered and all illumination is LED. Rain water is collected and stored for later use, and hot water is solar heated. 

Camping Lisbon:
Parque de Campismo INATEL da Caparica
Costa da Caparica is a delightful beach escape just a short drive from Lisbon. With an area of ​​about 9 heavily wooded hectares, an olympic sized swimming pool, and its beachside location, what's not to love? In the summer months, you can take the picturesque tourist train that runs along all the beaches of Costa de Caparica. There are plenty of great dining options nearby and no shortage of surfable waves. We love it because it's one of the most accessible campsites near Lisbon.
The 189 places are spacious, cemented and primarily intended for motorhomes. Most are located in a shaded area and are equipped with electricity, water, sewage and table with wooden benches. There are also separate pools for adults and children. The shopping area offers a cafeteria, bar, mini market, laundry and free Wi-Fi. Keeping every member of the group happy will be easy with the rare additional amenities such as children's parks, tennis courts and mini-golf. This is a very well equipped Lisbon campsite.
Situated 8km from Peniche, and an hour's drive from Lisbon, Urban Art Camping is a place where the experience of nature is inseparable from life linked to the sea, nautical activities, and where surfing takes on a big standout. This innovative concept tells a history of the region and its valences through urban art. Unlike many other Lisbon campsites, this place has some real character that's worthy of recognition.
Close to the beach and popular with the windsurfing crowd! This year round, full service location is a good launch pad for Cascais and a short drive from our campervan hire Lisbon base. It's situated in the midst of pine woods and behind the dunes in Guincho Beach. This is one of those campsites near Lisbon that is worth the drive and it allows you to avoid the often congested bridges connecting Lisbon with the southern routes.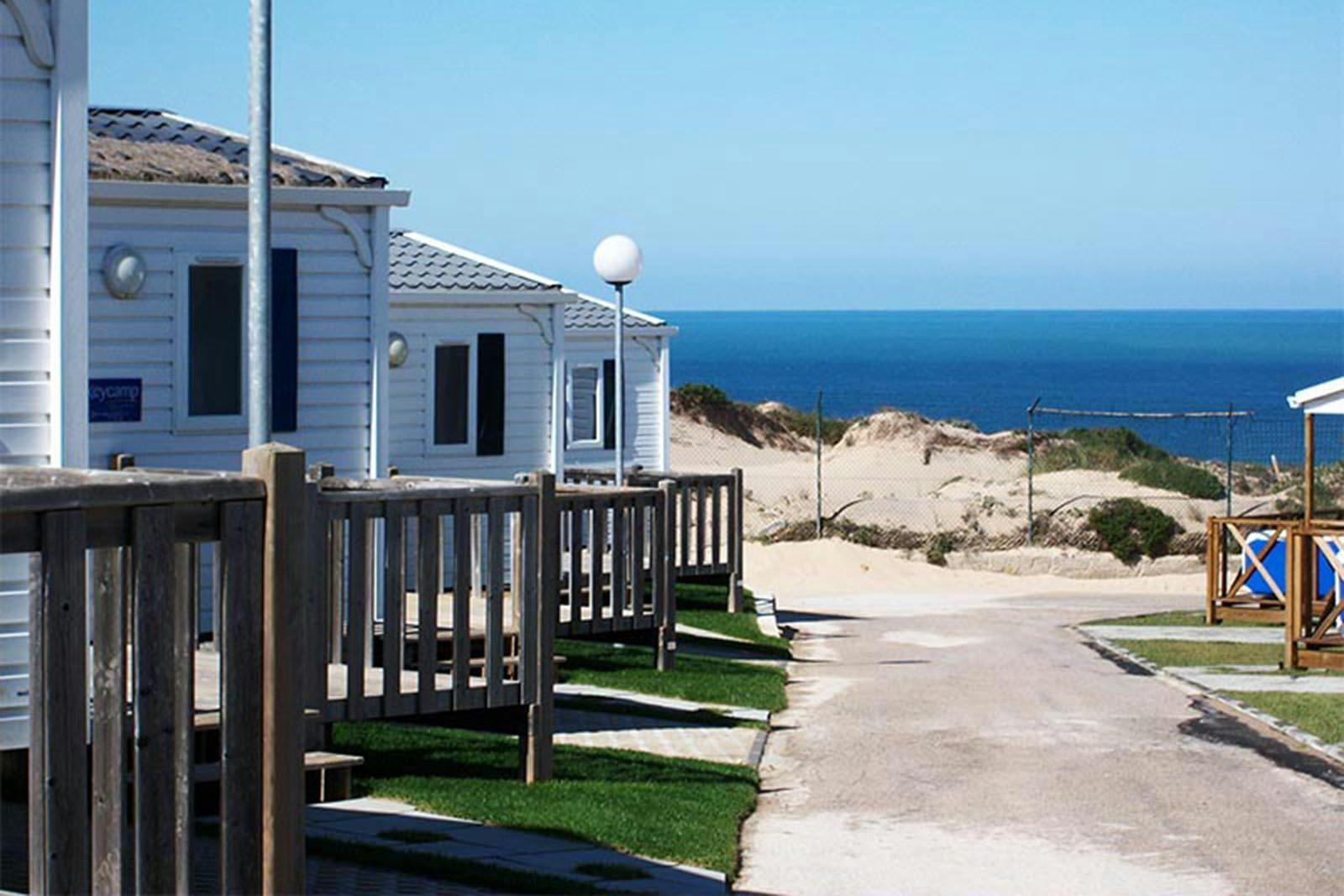 Orbitur Guincho campground outside of Cascais
Conveniently close to Lisbon and situated on Montargil reservoir, you'll surely want to enjoy the fresh-water beach or take part in many water sports on offer such as jet-ski, windsurf, water-ski, or sailing. With all modern facilities and a fine restaurant on site, there's plenty to keep you entertained.

Camping Portugal: the center
Discover the real, rural camping in Portugal. Stay overnight in your motorhome at a network of 'quintas', vineyards and artisan farms. Portugal Easy Camp by itself is not a campsite, but a platform connecting local owners of farms & vineyards with motorhome enthusiasts. Their mission: for motorhome enthusiasts to experience local products and take advantage of Portuguese hospitality in exclusive and safe locations. Their network of partners is growing fast so wherever you choose to go in Portugal, there's a very good chance you will find the perfect place to stay. Please note: your motorhome needs to be self sufficient and be equipped with a WC and have its own water and waste storage. All of our motorhomes are equipped with a WC. We offer portable WC's in our campervans free of charge by request.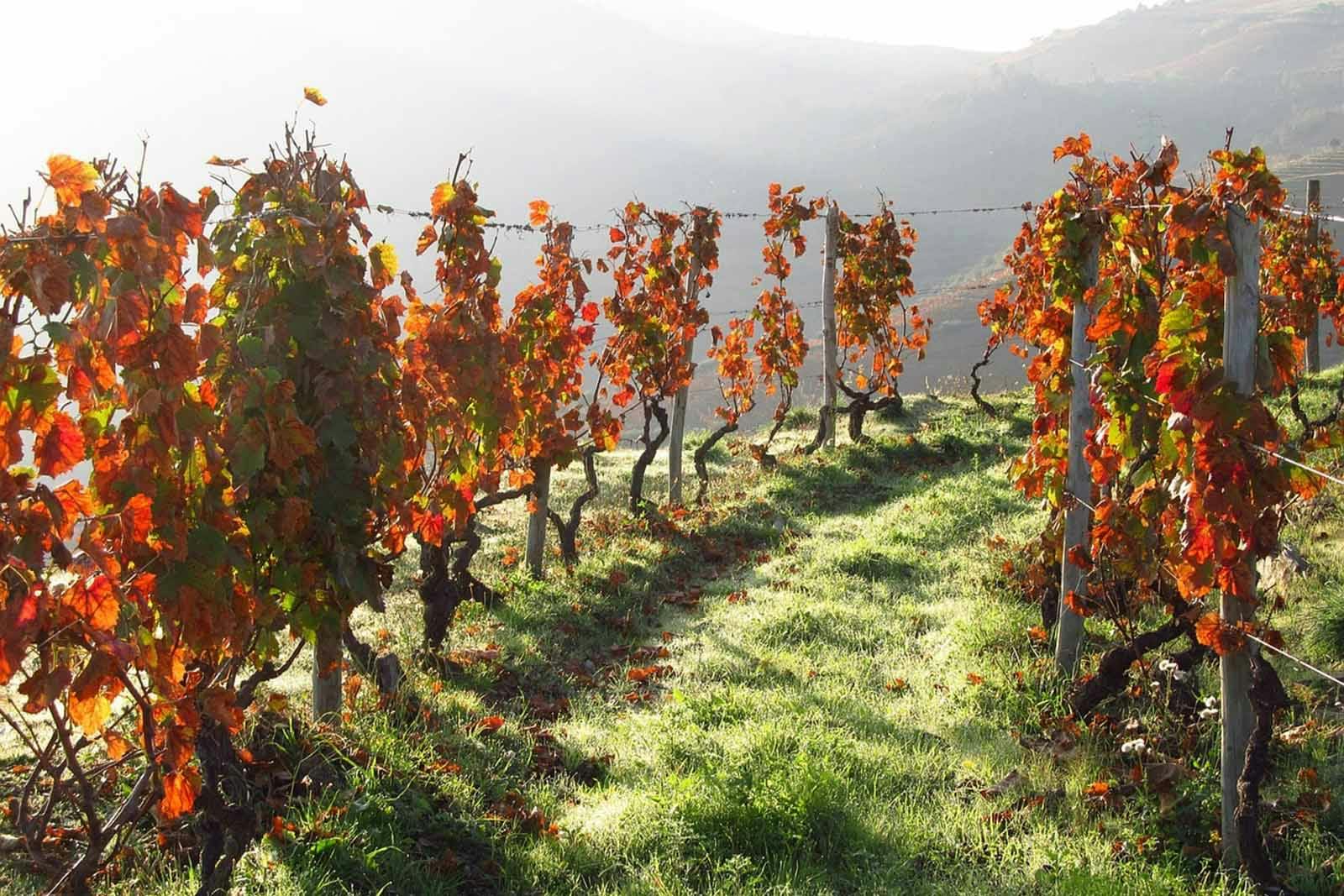 Camping among the vines with Portugal Easy Camp
Foz do Arelho is bordered to the north by the Atlantic and to the south by Lagoa de Óbidos. If you're looking for a culture fix while camping in Portugal, visit the thermal hospital, churches, chapels and museums, or discover traditional ceramic-ware. Alternatively, explore the beaches in Foz do Arelho and Salir do Porto or play sports on Lagoa de Óbidos, the largest lake on the Portuguese coast. Don't miss a chance to trek in Paúl de Tornada nature reserve on Berlenga island - the only marine reserve in the country, in the Serra do Socorro or in the Serra de Montejunto Natural Park.
This pine forest location is 1.5km away from the beaches of Vagueira and Areão, popular with surfers and bodyboarders. You cannot miss the Arte de Xávega, the region's traditional fishery. We also advise you to visit the pilgrimage chapels of Nossa Senhora da Misericórdia and São Antonio and the military tower (Torre Militar) in Vagos. Another reason to visit the region during your Portugal camping trip is its excellent gastronomy.
Camping Nazaré? This campsite located 2 km from Nazaré, in the upper part of a charming fishing village. Pine trees offer plentiful shade, while the facilities are clean and well maintained. We suggest you attend one of the exhibitions of traditional local dance, considered among the best in Portugal.
This quiet mountain campsite extends over 3 hectares of wooded land and shares a plot with a small freshwater lake. The lush landscape offers opportunities to slow down and relax. There is an onsite bar & restaurant, a BBQ area and a playground to keep kids occupied.

Camping Porto:
Lima Escape is one of the best campsites near Porto. If you're looking for a calm and peaceful mountain environment, this place is magical! Roughly an hour drive from Siesta Campers Porto, this place is quite accessible too. With its privileged location surrounded by rivers Lima, Tamente and Froufe, and with Serra Amarela in the background, this is a true nature retreat. 45 campervan spots and traditional camping areas coexist with 'glamping' areas consisting of romantic tents and charming wooden lodges.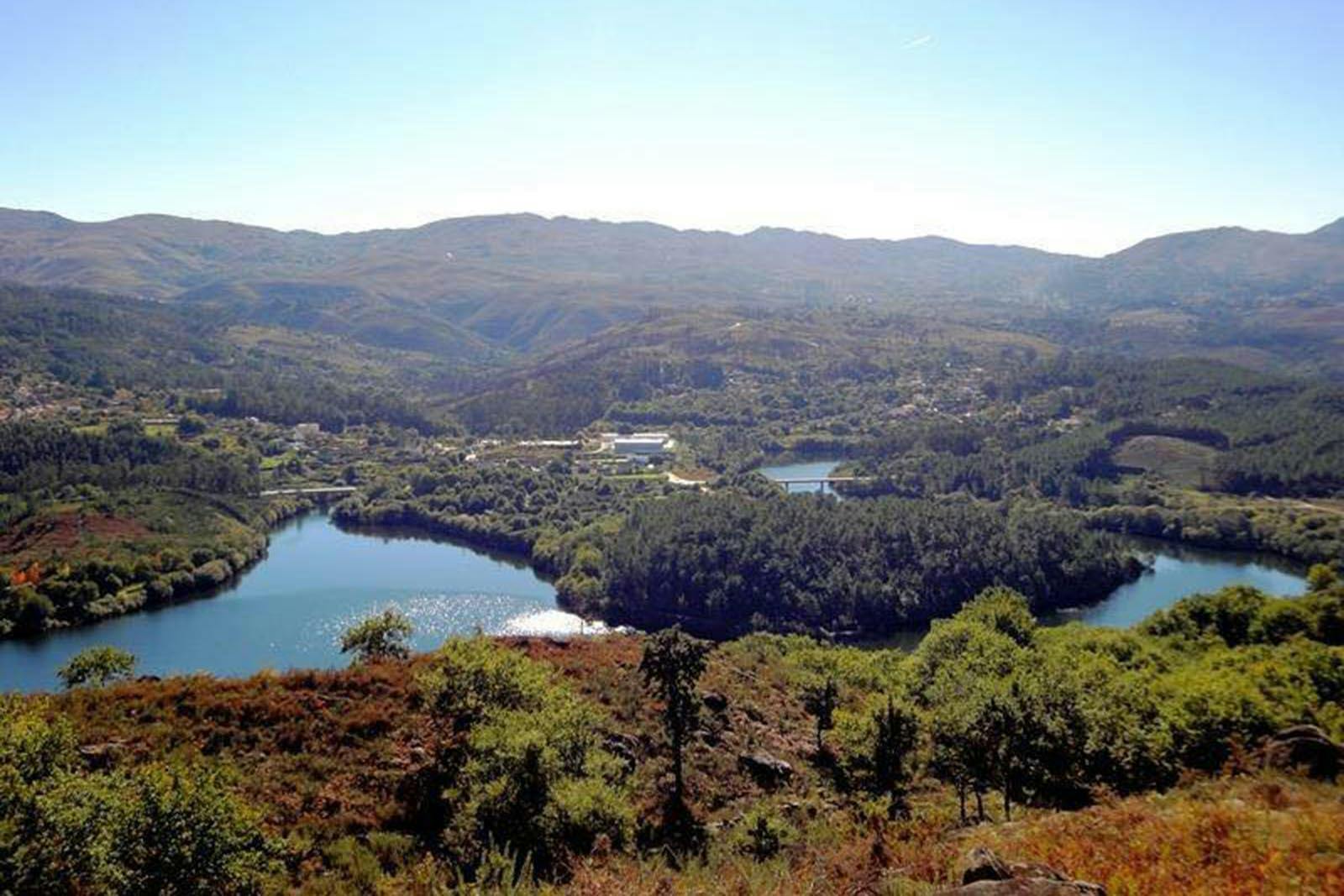 Lima Escape, one of the best campsites near Porto
No trip to Portugal is complete without a visit to Porto and this location strikes the perfect balance between nature and culture. The site is just 10 minutes away by car from Porto. You can also enjoy endless views of the Atlantic Ocean from the swimming pool - pretty cool! This is a great base to plan excursions along the coast or inland to discover unspoilt natural parks of north Portugal. 

Camping Rules & Etiquette:

Finally, our Top Campsites in Portugal guide would not be complete without a mention of some basic campground rules: 
Respect the land, the established regulations and your neighbors.
Keep it clean! Recycle, reuse and try to leave it better than you found it. This also includes: Do not empty your washing up bowl of water into the bush.
Quiet time means quiet. And easy on the banging techno, it's not a festival!