HIGHLIGHTS:
Coastal drama
Stunning nature parks
Endless surf breaks 
ROUTE:
From the wild rice fields of Comporta we continue our journey South to end in the Algarve's historic city of Lagos
Driving time: 4 hours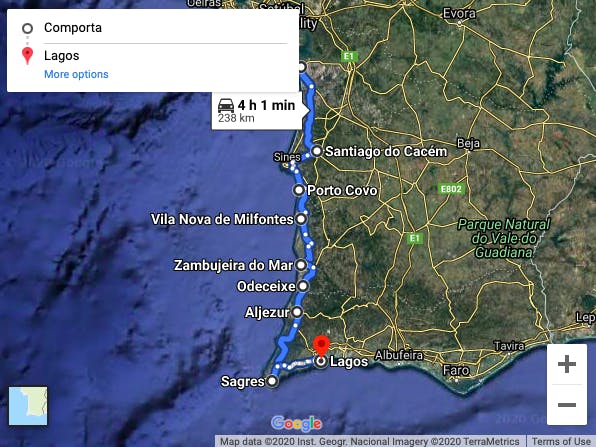 If you haven't yet checked out our Road Trip Lisbon to Algarve – Part 1 – Lisbon to Comporta, it's a great idea to do so now! Unless you're road tripping from Algarve to Lisbon, in which case, this itinerary can be enjoyed in reverse.
Assuming you're making your way down for from Lisbon, let's carry on. Head down this chilled-out coastal route, that winds through sleepy Alentejo villages and towns towards the Algarve, while soaking up the natural wonders of wildlife, lagoons, cliffs and beaches. 
Walk the clifftop and inland trails of the Southwest Alentejo and Vicentina Coast Nature Park, before catching some waves, touring some grottos, and delving into the past of one of Portugal's most historic cities. Time to get in your campervan and go! The South is calling!
Lisbon to Algarve Day 4: Comporta To Santiago De Cacém
Highlights:
Safari fun
Lagoon dips
Castles and Roman ruins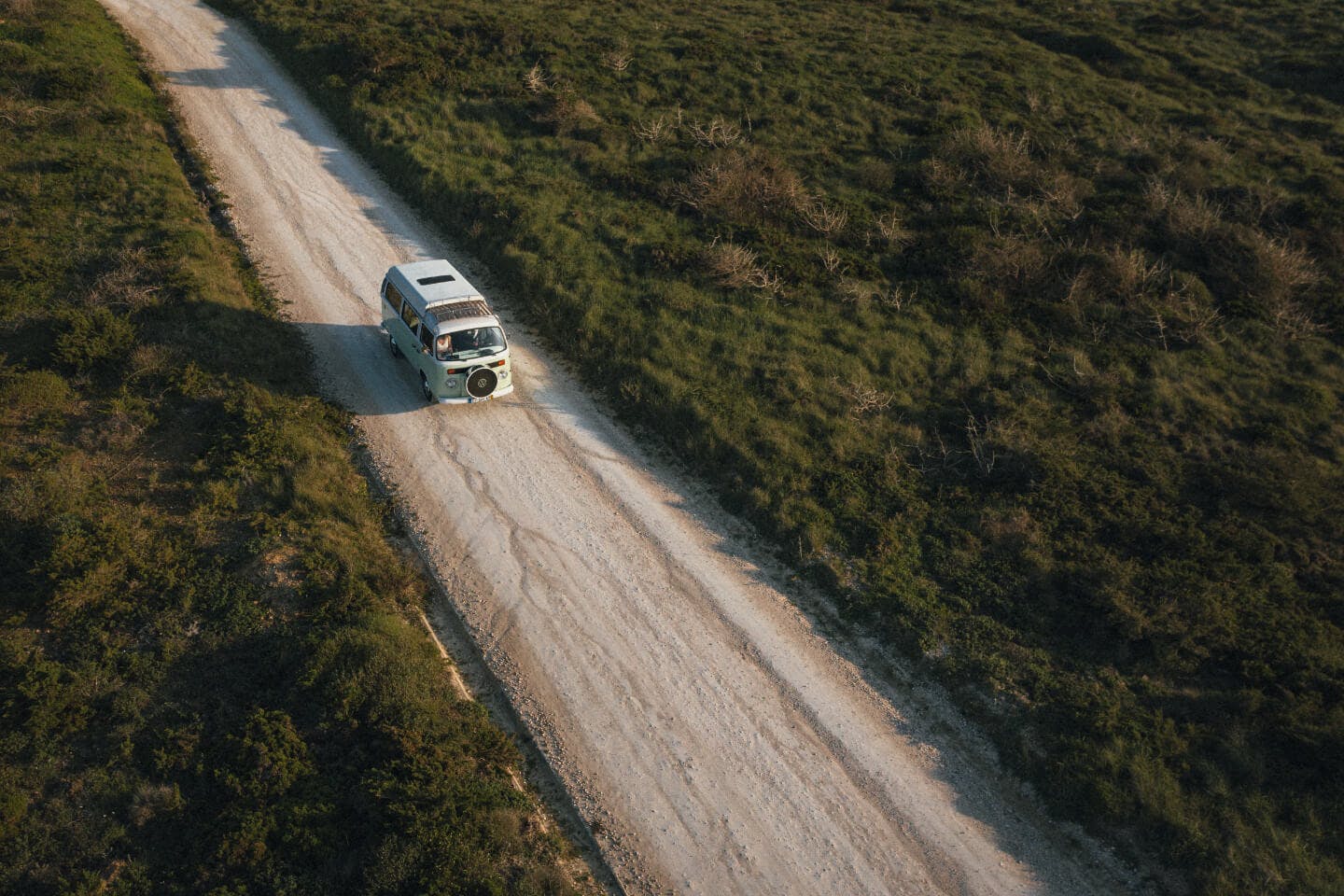 Once you leave Comporta, the landscape mellows, with the distant ocean certainly making itself felt, even if not in view. Reflecting the sparsely populated Lower Alentejo, the scrubland reveals the odd sleepy village or two (one that seems to serve nothing more than an imposing prison). Feel free to turn left, back to endless beaches (Carvalhal, Pêgo, Galé-Fontainhas do Mar, Aberta Nova, Melides). If you want some extra facilities, there are campsites along this stretch, including Camping Galé and Parque de Melides.
Further south, turn left for your first nature reserve, Lagoas de Santo André, a stunning lagoon, backing onto a beautiful beach. It offers a good option for setting up camp on your first day at Parque de Campismo de Lagoa de Santo André, and a good base to set out and see local sites, where you can: 
Lisbon to Algarve Day 5: Santiago De Cacém To Odeceixe
Highlights:
Beaches galore
Mouthwatering cuisine
Coastal villages & towns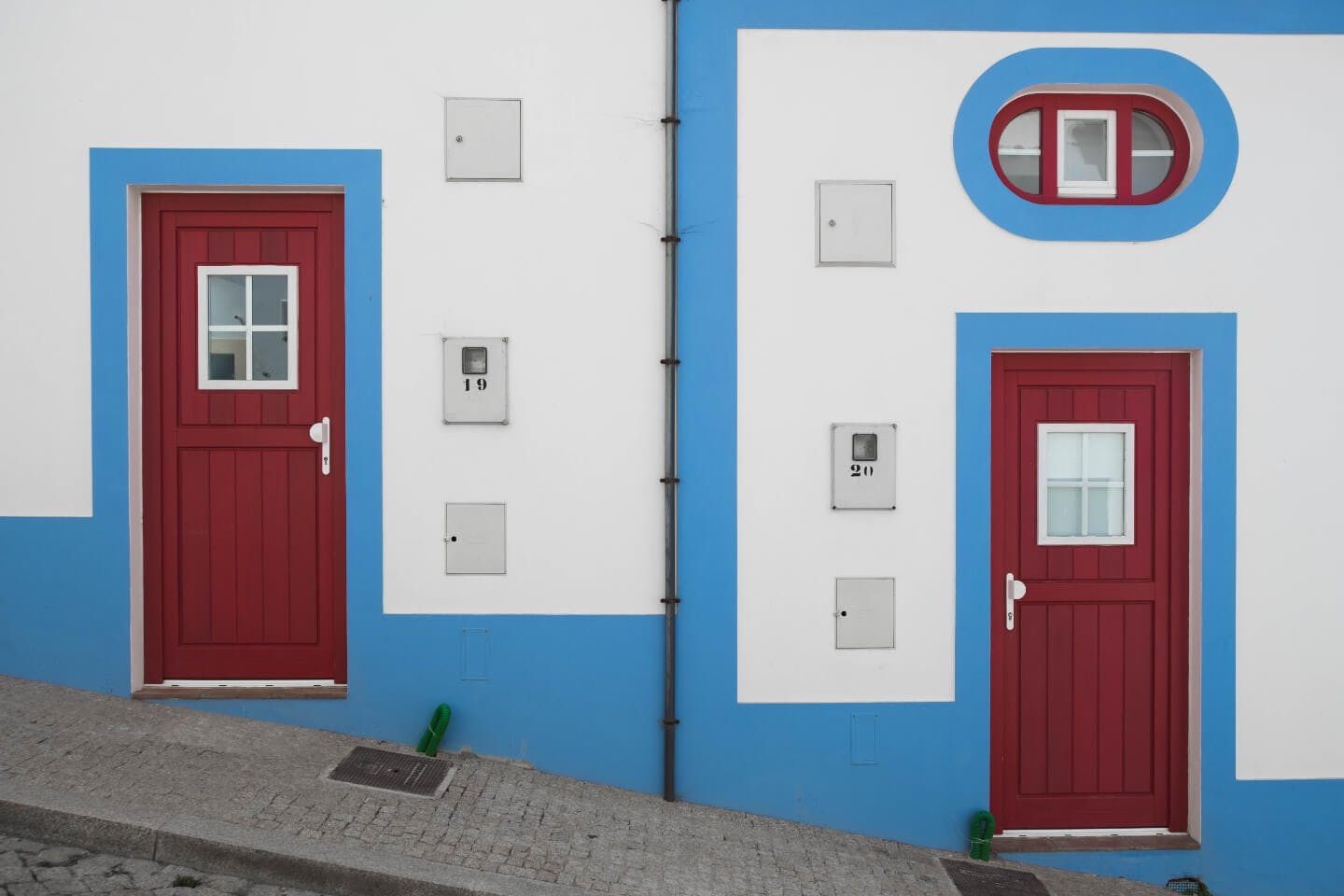 The day starts as it means to finish: at the ocean. Once past the industrial port town of Sines, all is forgiven as you slip onto the M109 B-road, to marvel yet again the Alentejo's incredible coastline. Hugging the Atlantic, enjoy a slow jaunt past numerous beaches (Morgavel, Aivados, Vierinha-Vale Figueiros, Samoqueira, etc) and coastal eateries before reaching the bustling village of Porto Covo, with its own selection of beaches. Time for a stroll and a coffee break.
Another great beach opportunity, Ilha de Pessegueiro, lies just south of Porto Covo, named after the island lying just off the shore. 
The journey continues, taking us ever southwards, this time to the town of Vila Nova de Milfontes at the mouth of the River Mira. After strolling the shops, and popping down to its beach, lunch is beckoning, in town or on the river/seafront, in one of the best foodie destinations in the Alentejo.
Continuing the theme, you may want to experience more of the same, in smaller format, with the last Alentejo coastal town before we enter the Algarve: Zambujeira do Mar. A great place to take a break, grab a drink and contemplate the sea.
The day closes just on the other side of the Algarve border, in Odeceixe. One of those unforgettable beaches, Praia de Odeceixe is formed in the final curve of a river as it empties out to the sea. With bars, restaurants, surfing possibilities and stunning views, this is the perfect place to set up camp.
Lisbon to Algarve Day 6: Odeceixe To Lagos
Highlights:
Europe's most South-Westerly point
Surfing paradise
Lagos: The best city in the Algarve?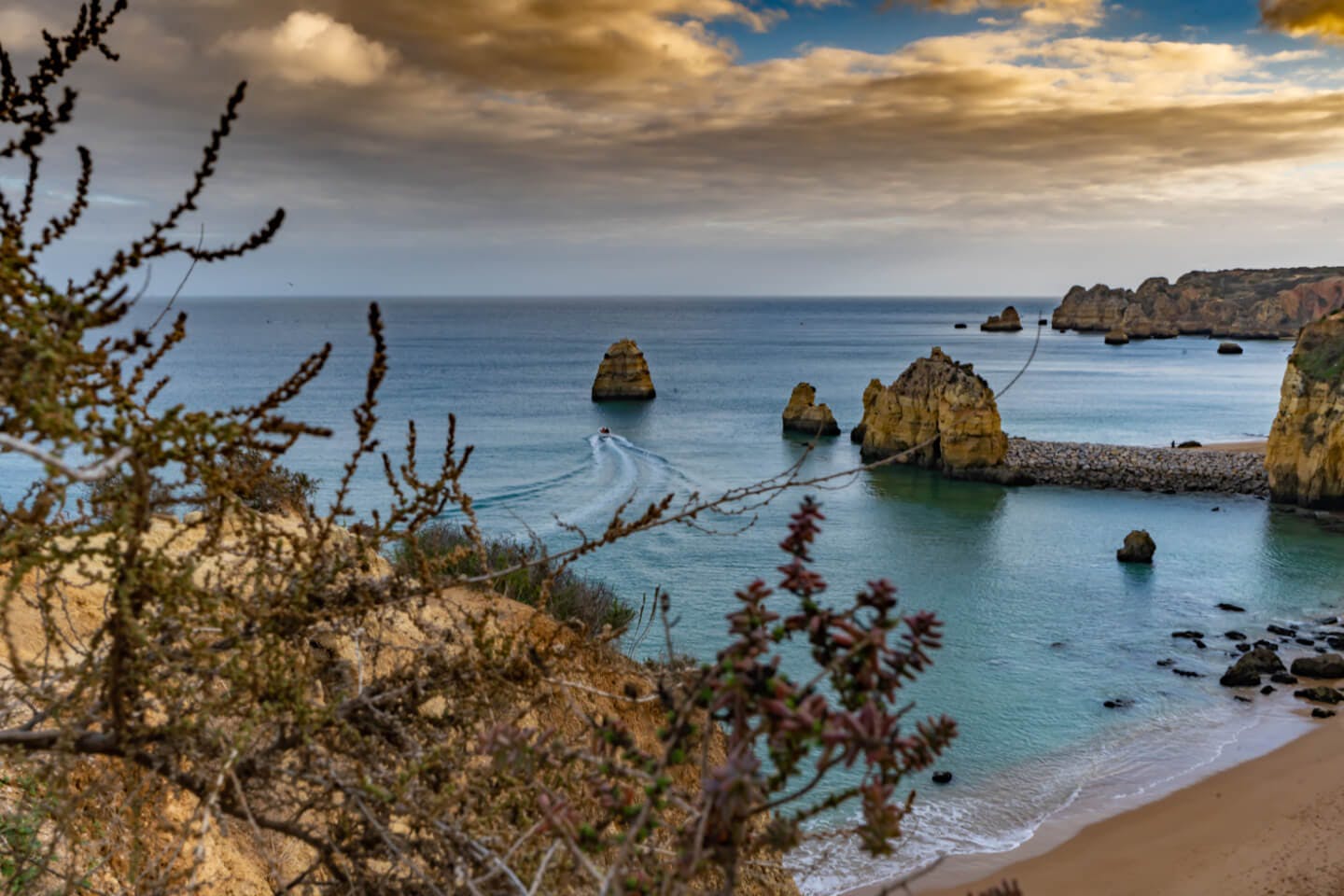 The Algarve's stunning west coast awaits on today's meandering trip down to Lagos. Famed for its rugged, cliff-backed beaches, great surfing opportunities and natural wonders. 
Leaving Odeceixe, following the winding, southbound road, our next destination is Aljezur, a small yet bustling, alternative-lifestyle-promoting town, serving the nearby coast, and an amazing set of beaches. Stop for a freshly-squeezed juice and shop for surf and beach gear. Local beaches are a highlight: Amoreira similar to Odeceixe, with a winding river, yet on a grander scale; Monte Clérigo with its wide expanse of sand and rock pools; or Arrifana with its dramatic cliffs.
The surf is definitely up has you head south with a choice of must-surf spots along the route. Even if you don't surf, these are great family beaches too, or ideal for keen walkers. 
Surfers (and families) flock to Bordeira/Carrapateira, and nearby Amado. The former is vast and scenic, yet facility-free, while the latter has a café, surf school and plenty of room to park up.  Further south, Cordoama and Castelejo are also neighbours, the first seemingly never-ending, and the second astoundingly scenic with its rock formations.
As you've been driving, indeed since north of Porto Covo even, you've been passing through the vast expanse of the Southwest Alentejo and Vicentina Coast Nature Park. Home to a wealth of wildlife and birdlife, this park also features a number of organised trails, known as the Rota Vicentina. Stop off for a hike into nature at any point.   
As we reach the very bottom of Portugal, and mainland Europe's most southwestern point, history combines with scenic beauty and surfing culture.
Cape St. Vincent and its lighthouse, ensure stunning views atop 75-metre high cliffs out to the Atlantic. The perfect spot to watch the sunset, munching on a sausage or fish & chips!  
Across to Sagres, the town itself, with its cafés and bars, has a real surfing vibe. Surf Schools are based here, taking their beginner students to south-coast beaches and the more advanced to the beaches of the west coast, such as Amado. If history is your thing the fortaleza is worth a visit, with its references to Henry the Navigator, the man behind Portugal's Age of Discoveries, who had a school of navigation near this spot.     
Heading east along the Algarve's varied southern coastline, you begin to appreciate the allure of this beach-rich region. Fine beaches prior to Lagos include: Salema, Burgau and Luz, each great for families, and with plenty of amenities. 
Lagos gives the perfect snapshot of the Algarve's wonders. Beyond its wall-enclosed historic centre, packed with great restaurants, cafés, shops, museums and galleries, beyond its palm-lined promenade, Lagos truly excels for its beaches. Many can be reached on foot from the city centre and include: 
The breathtakingly beautiful beaches of Pinhão and Dona Ana, boast picture postcard cliffs, coves, caves and rock formations. You can go on boat or canoeing tours of this craggy coastline.
The cliff-backed stretch of Porto de Mós and the ridiculously long sweep of Meia Praia, provide white sands and endless walks.  
If time isn't a constraint and you'd like to discover more of the Algarve, well, we've got just the thing for you. Next up, the Seven Day Wild Algarve Motorhome Road Trip Itinerary