Portugal aims to become the most sustainable European travel destination by 2027. We are certainly seeing a change coming from the Portuguese Tourist Board and EU incentives to encourage sustainable business development. Portugal is also leading the way with green energy with big investments in solar farms. We are on the right path but have a long way to go.
Responsible travel is quickly gaining worldwide awareness, and while jumping in a fossil-fueled van might not be your first thought for responsible travel, it can be a low impact way of holidaying in Portugal. We can all play our part and make small, impactful changes to play a part in the new sustainable vision that Portugal is heading towards.


10 tips for responsible travel in Portugal:
1: Go slow, enjoy more & waste less
Slow travel is at the very heart of Siesta Campers, our vintage vans trundle along at around 80 to 100km an hour. You've heard the saying it's the journey that counts and not the destination! Well, that's the vintage bus experience in essence. Life seems more relaxed at that speed and you take in the wonderful picture of life through that big expansive VW bus window. Portugal has such a slow pace of life and adapting to that speed puts you in a harmonious state with your surroundings.
No need to dive behind a bush when nature calls! We are the only rental company in Portugal that provides portable toilets with Solbio organic toilet fluid free of charge. We've put responsibility before profit! We've witnessed the devastating effects of hundreds of van lifers using the beautiful natural parks as open-air toilets, and believe us when we say it's not a pleasant sight. We want to paint a positive picture of campervan life in Portugal. Be careful not to leave rubbish bags outside your van at night, many of the beaches on the west coast have wild foxes that will rip them open and spew the contents along the beautiful coastline. You will find recycling points in large bins on the outskirts of many small villages and towns.
BONUS TIP: If you don't wish to stay at a campsite, most will allow you to empty your portable toilet and take a shower for a small fee.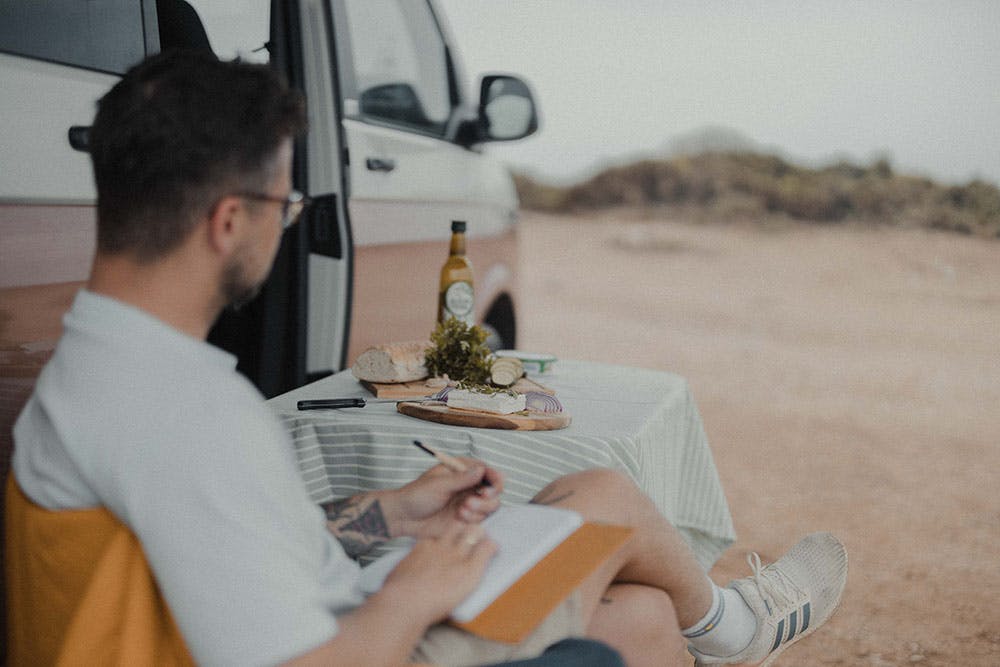 2: Banish single-use plastics
Every year, around 8 million tons of plastic end up in our oceans. There is nothing so wasteful as throwing away plastic after using it once. You won't find plastic cutlery or cups inside any of our campervans. Instead, we furnish our fully equipped vans with ceramic plates, mugs and glasses so you can dine in style.  Also, consider investing in a reusable water bottle that you can fill up from our base before you go. All supermarkets in Portugal sell recycled grocery bags. Ask for "um saco reciclado". You can even ask for one from our base before you go. Take this to the markets to fill with your veggies, When they are worn out the supermarket will provide another free of charge.


3: Respect the land & the ocean
Portugal has stunning coastlines and rich natural biodiversity, but human expansion and poor camping etiquette threaten sensitive habitats. Therefore, if you are planning to spend time in nature, arrive with knowledge and respect. Knowing where and where not to camp is an essential part of any overnight road trip. Before you set off, check out our helpful guides on Wild Camping in Portugal and our recommendations for the Best Campsites in Portugal.


4: Volunteer
For many, travelling with purpose is very satisfying. Make the most of your holiday by volunteering. Recently, we announced our partnership with Gone West to reforest Portugal. Come November 2022, we'll be ready to welcome the first batch of volunteers to help us plant a forest of native trees in a zone decimated by wildfire. Contact us if you'd like to get involved! Alternatively, organisations such as Oceano Azul Foundation schedule beach cleanups to keep Portugal's coastline and marine areas healthy. Our campervans offer the freedom to go anywhere, but if your travel plans don't line up with an organised event, feel free to pitch in on your own initiative!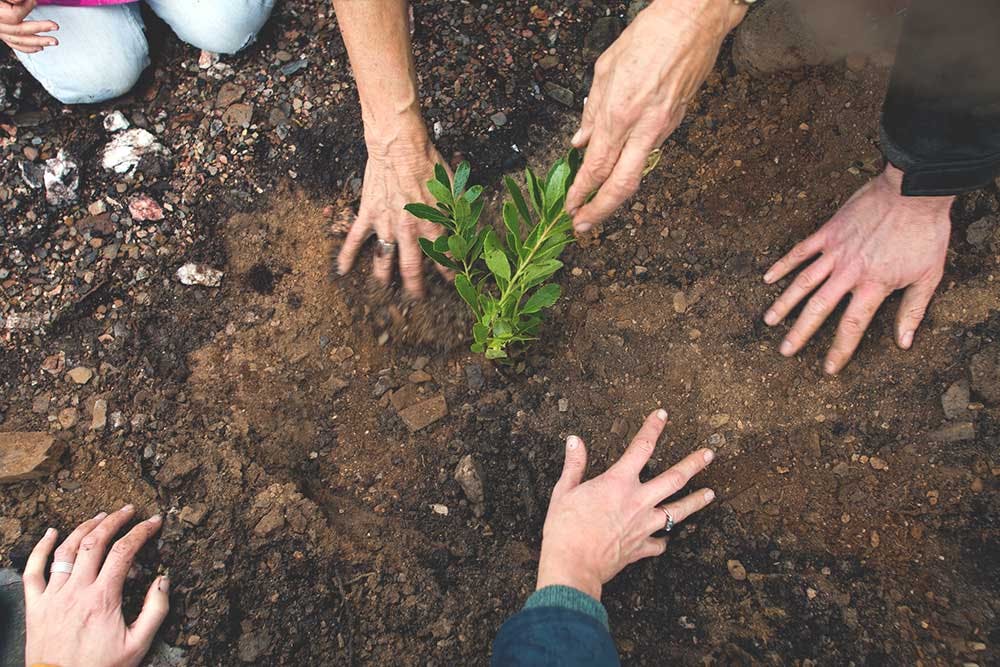 5: Please be sensible and obey fire safety rules
Open-air BBQs are super sweet. Though be aware that the dry Portuguese summer vegetation is very sensitive and wildfires pose a real threat. Each year wildfires cause long-lasting devastation all over Portugal. Be sensible and don't try to barbecue in a dense eucalyptus forest. Please take note and follow instructions from local government advice, fire department (Bombeiros) and campgrounds on how to handle fire and BBQ safely. Remember open fires are banned from May 15th until October.


6: Sustainable boat trips
Portugal has a very rich sea-faring history and during its Golden Era of Discoveries, no other nation on earth could match the Portuguese fleet. A boat tour in Portugal has got to be one of the top things to do on everyone's holiday list. These include amazing tours around the caves off of Lagos, in the protected nature reserve of the Ria Formosa and river cruises to the mediaeval town of Silves. These are all magnificent trips but there's nothing more depressing than seeing the rainbow swirl of fuel and the smell of exhaust gases as you explore these amazing environments. However, Portugal now leads the way in a totally new sustainable way to enjoy these trips with solar-powered electric boats. Portugal has recently held the world's first electric boat show in Lagos and now there are plenty of eco boat tours available and many of them with fully qualified marine biologists to provide insight into these amazing unspoilt natural habitats. Check out the Ria Formosa Eco Boat Tour.


7: Shop local
Portugal and its many businesses and communities are heavily reliant on tourism. There is no better way to support them than shopping locally. Purchasing locally-made products ensures the money stays in the hands of artists. Opting for locally made goods helps to eliminate the harsh impacts of transporting goods over long distances, it also gives you a meaningful memory of your adventure.


8: Eat local
Buy local fresh produce, in season. Head to the local markets (Mercado) and buy fresh vegetables grown by local farmers. Most provincial towns have a Saturday morning market that is open until midday. The sweet old ladies running the stalls are farmers and also buy from other local producers. If you are a vegetarian these markets are a real delight in terms of fresh organic produce. You will also often pass small roadside fruit and veg stalls, so you can stop and replenish your supplies without having to head into towns seeking big supermarkets. If you are over on the west coast during the last week of November try the sweet potatoes from Aljezur. They even have a festival dedicated to it.


9: Donate unused food & supplies
As hard as you may try to be a responsible travel master, the odds are you will have unused supplies. Bring them back to our base where we'll happily collect what can be reused and make them available for the next travellers. To help minimise the waste of food and other goods, we maintain pantries at our rental locations in Lisbon, Porto and Faro. What's available is always changing, but our responsible travel efforts are gaining momentum.


10: Wear sandals and drink wine!
Buy Portuguese wines with real cork stoppers. Not only are these wines relatively unknown outside of Portugal, but they are also unparalleled in taste, and come from small scale wineries. Cork oak forests are some of the most bio-diverse environments on earth. Endangered species such as the Iberian Imperial Eagle, Iberian Lynx and the Barbary Deer are all dependent on the ecosystem made possible by cork oaks. A harvested cork oak retains five times more CO₂ from the atmosphere than any other tree, helping to reduce the pace of global warming. The external bark is harvested every 7-9 years and once a cork oak tree has been stripped of its bark, it absorbs 3-5x more CO2 than usual in order to aid the regeneration process. The cork used by Birkenstock comes from production overages of the wine and bottling industries in Portugal. Rather than going to waste, Birkenstock and other companies repurpose this precious natural resource as a primary material for its soles. So kick back in your sandals, quaffing Portuguese wine while being surrounded by an aura of all-knowing eco smugness, knowing you are travelling responsibly and doing your part for the future sustainability of Portugal.