At Siesta Campers we recently announced plans to add the VW ID Buzz camper to our fleet. This will be the first electric campervan in our lineup and one of the world's first ID Buzz camper conversions!
Our journey began with a single classic VW campervan more than 20 years ago and we're very excited to explore what's possible in the EV market in our transition towards sustainable and electric campervan hire in Portugal.


What is the VW ID Buzz?
The ID Buzz is a new, electric van from Volkswagen released in October 2022. This has been a long time coming and we've seen many different prototypes sent to taunt us over the years. The final version looks pretty much like the prototype released in 2015. It's truly a rare thing to have a production model look like a prototype so this shows how VW are really pushing the design frontiers with this release.


What about the ID Buzz CAMPER?
This is where things get exciting! We chose to buy the ID Buzz 1st Edition which is not a Volkswagen factory ID Buzz camper version. Our in-house Siesta Campers team will design and build a slide-out camping pod and add numerous other upgrades to create a very exciting ID Buzz camper conversion!
The official VW ID Buzz California camper will be available in 2025. Until then, we have lots of room to play with to create the best ID Buzz camper. Follow the build process by giving us a follow on instagram and facebook. Stay tuned!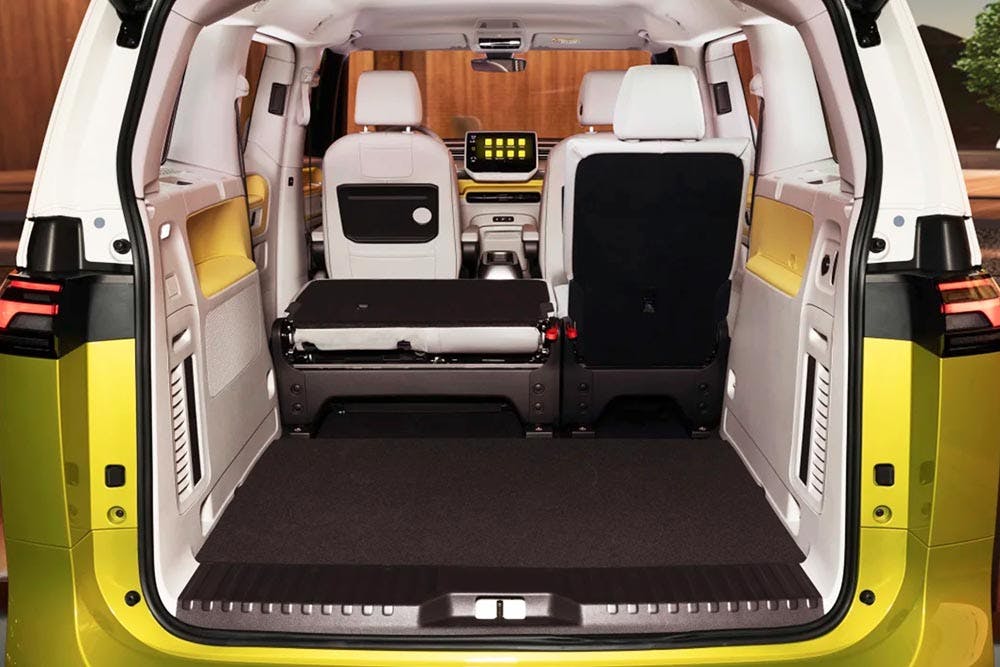 VW ID. Buzz interior.


Can you sleep in the ID Buzz?
Our VW ID Buzz camper will be suitable for camping and overnight trips. The folding seats and leveling mattress will offer enough space for 2 to sleep comfortably. The custom built slide-out camping pod will provide everything needed to prepare and store food. A variety of extras will be available to make the most of camping experience.


When can I hire the ID Buzz?
ID Buzz hire is coming to Portugal as soon as March 2023. We need a few weeks to convert the ID Buzz camper before it's suitable for overnight camping trips. Message us for more info.


Where can I rent the ID Buzz?
Initially, our first electric campervan will be available for hire in Faro, Portugal. It will be suitable for camping trips within the Algarve. We hope to roll out ID Buzz hire in Portugal countrywide in 2023.


The VW ID Buzz hire cost?
The ID Buzz hire will cost between 100€ to 250€ per night depending on seasonality and rental duration. We'll also offer a variety of optional extras and upgrades to make the most of camping in this exciting electric VW camper.


Does the ID Buzz have an electric or hybrid motor?
The ID Buzz has an all electric powertrain and will come with either rear-wheel (RW) or all-wheel drive (AWD) versions. 


What is the VW ID Buzz driving range and battery charging time?
An estimated driving range of the entry level VW ID Buzz is about 330 km's (205 miles). Our ID Buzz 1st edition has an estimated range of 415 km's (258 miles). The 200bhp rear mounted electric motor is powered by a 77kWh battery. According to VW, charging the ID Buzz from 5 to 80 percent will take 30 minutes when using a DC fast charger.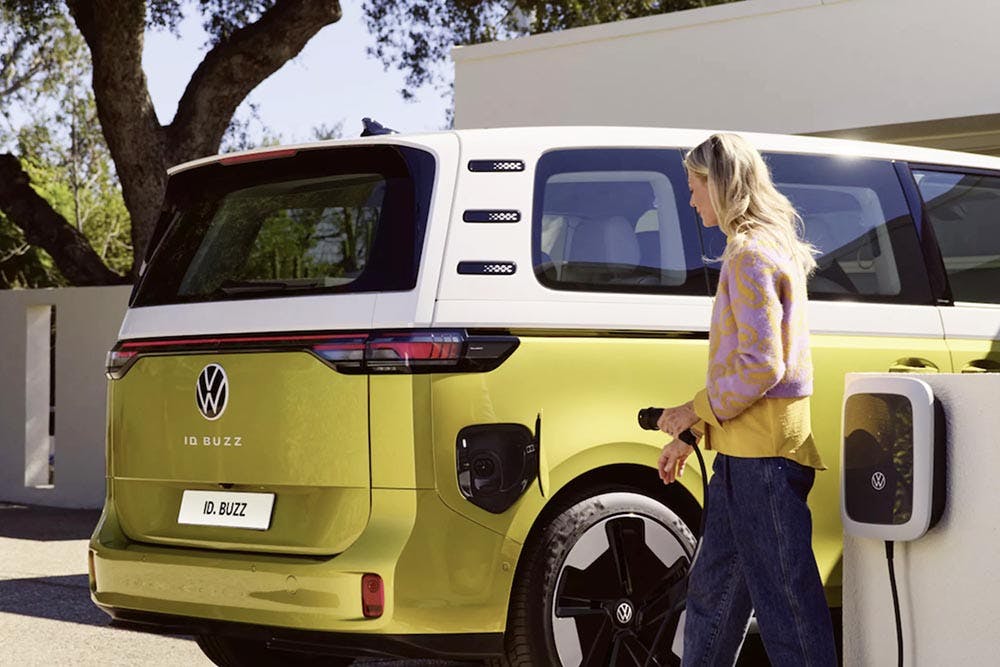 VW ID Buzz battery charging.


Where can I charge my ID Buzz in Portugal?
The number of electric vehicle charge points in Portugal is quickly increasing. However, many different providers means many different charge cards. At Siesta we aim to have charge accounts with all of the different energy operators so our customers can settle the final charging account with us directly at the end of their campervan holiday.
We also believe in staying at the wonderful campsites that Portugal has to offer. With an overnight stay your van should be ready to roll another 415km the next day. Please check out our recommendations for the Best Campsites in Portugal. We have negotiated some amazing discounts for Siesta customers.


What about the ID Buzz California model?
The later versions of the ID. Buzz campervan will feature a pop top roof to create additional sleeping space for a total of 4 passengers. We expect the ID Buzz California campervan to arrive in 2025. However, watch this space as we may develop our own pop top version of the ID Buzz before VW make their production model.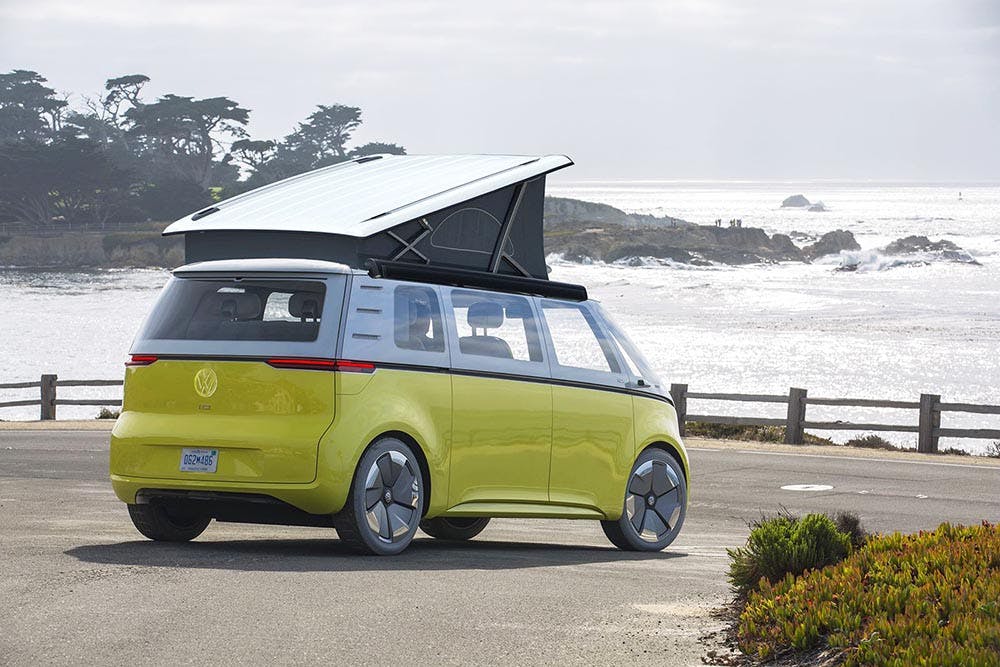 VW ID Buzz California with pop top roof.


Camping in an electric VW bus
The wait for this game changing electric VW bus is nearly over and we cannot wait to share the experience of ID Buzz rental with our customers. We imagine when our first ID Buzz campervans hit the road in 2023, they will turn many heads just as our classic campervans still do today. Are you ready for electric campervan hire? The future may be electric, but the vibe remains the same so, slow down, go wild and be loved.


Which version of the Volkswagen ID. Buzz can I rent?
At launch, Siesta Campers will offer a custom version of the ID. Buzz 1st Edition. This is the top of the range model.


What is the ID Buzz first edition model?
To create the hype VW have released the first edition as a collectors edition. We're not sure what sort of person collects electric vehicles but who are we to question their marketing strategy? It features massive 21" inch alloys, the bigger 12" infotainment screen including a full range of safety, security and convenience extras as well as comfort seats.


What about the ID Buzz 'Life' and ID Buzz 'Style' versions?
The entry level ID Buzz Life trim comes with LED headlights, a heated windscreen removable storage and a 10-inch touchscreen. The upgraded ID Buzz Style trim gets LED headlights along with interior ambient lighting and a full-width light bar in the back.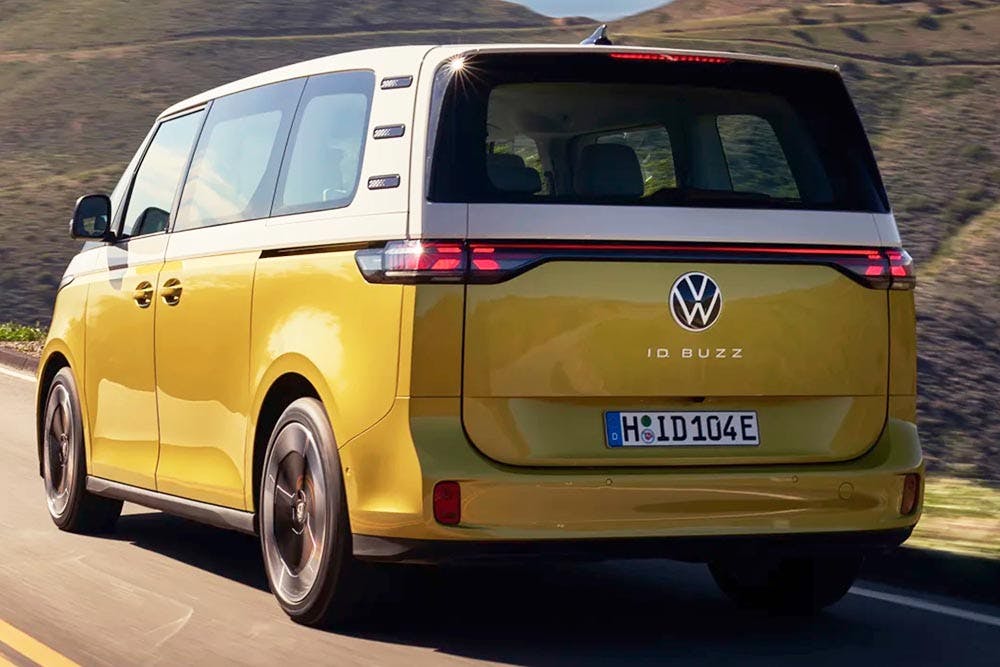 VW ID Buzz exterior.



What is the VW ID Buzz price?
Volkswagen released the starting ID Buzz price at £57,115 in the UK. Our ID Buzz cost us €65,000 for the VW ID. Buzz 1st Edition in Portugal. Due to extremely high demand we only have limited units available.


Where can I buy the ID Buzz?
At Siesta Campers we buy our campervans new and typically sell them after 2 years of use. Since Volkswagen's official ID. Buzz California won't be available until 2025, our conversions may be the closest best thing for quite a while. Please reach out to us if you're interested in buying one.


VW ID Buzz specifications
For those who'd like answers to the more technical questions about the VW ID Buzz, the below section may be particularly useful. Let's get right into it.
Motor: All electric APP 310 permanent magnet brushless motor
Power output: 201 PS (198 hp; 148 kW) (RWD)
Drive train: RWD or AWD
Battery type: 82 kWh lithium-ion (RWD; 77 usable)
Acceleration from 0-100kph: 10.2 seconds
Maximum torque: 310Nm
Maximum trailer load: 1,000 kg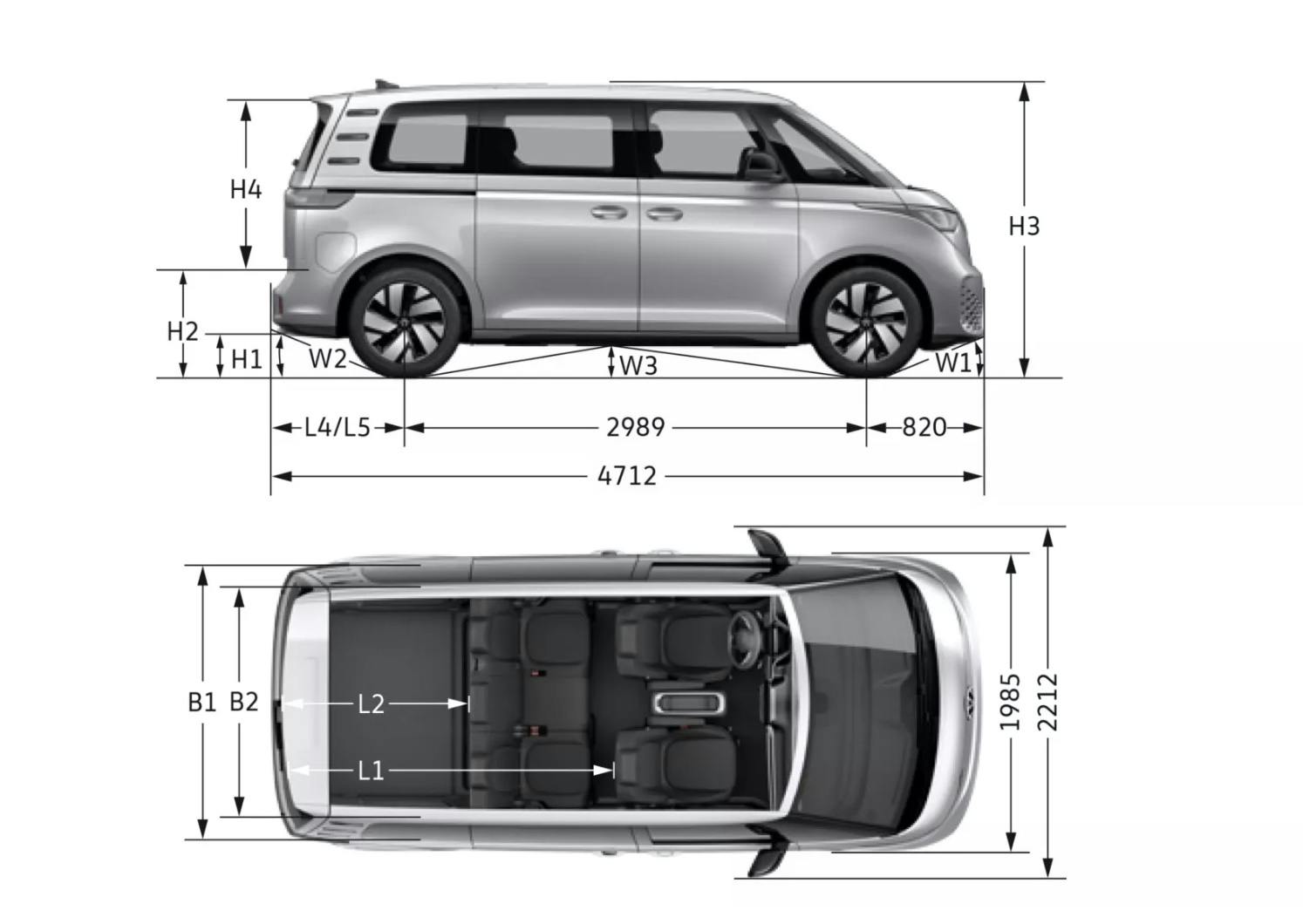 VW ID Buzz dimensions chart (mm)

The VW ID Buzz dimensions shown above are measured in Millimeters (mm). With a turning circle of just 11.1 meters the Buzz can easily steer through the narrow inner-city streets like those found in Portugal. Check back soon for more information about our launch of this reimagined Electric VW bus and follow along as we press on with our ID Buzz campervan conversion!