What can you do In Portugal In the Fall?
If you love the finest freshly cooked foods, take an interest in where the food on your table comes from and also like to have the best fun activities on your holiday, then read on.
Culinary experiences
Culinary Festivals
Hiking and Outdoor Activities
Mountain Biking
Surfing
Enjoy the empty Beaches:

The fall in Portugal is the perfect autumn holiday destination; firstly, you can enjoy fewer crowds and warm sunshine without the intensity of summer heat. The ideal temperature allows you to indulge in numerous activity-based and cultural adventures. As Portugal's wild nature comes alive with new colours and green life, the cities and towns also wake up to a new cultural season.
Culinary experiences
 The Fall in Portugal brings celebrations as the harvests are gathered, with fairs and gastronomic festivals showcasing local produce. The smell of roasting chestnuts fills the streets as street vendors wheel out their barrows and fan the flames for the tastiest street snack. This culminates in the festival of São Martinho on the 11th of November 2023, when you can find many parties throughout the country celebrating with red wine flowing and slightly salted chestnuts grilling on open grills. From rustic traditional parties in  Alentejo towns to Portimão's São Martinho fair, which dates back to 1662, with stalls, fireworks and live music. It's a great day to experience the best in traditional Portuguese hospitality.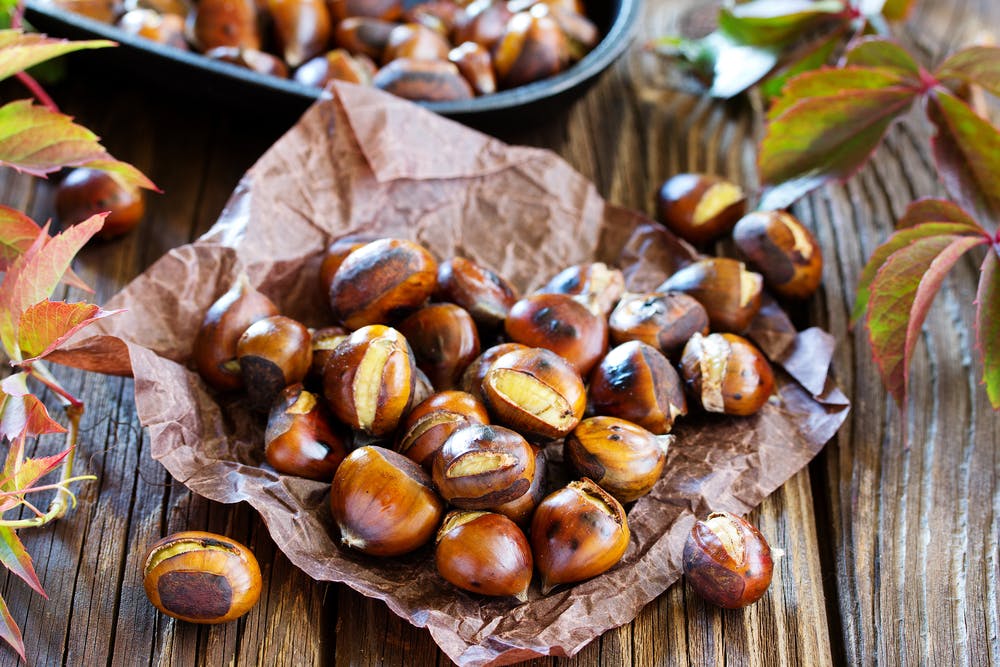 Fresh Roasted chestnuts- The delicious street snack in autumn.
Sweet potatoes
 Who doesn't love sweet potato? Hmmm..  roasted in the oven as they slowly become a lovely, sticky, sweet mush of delight. The Lira variety is picked only once a year, between September and mid-November. The soil quality and the particular climate produce a sweet potato of unparalleled taste and texture. It is sweeter, its texture is soft and not too stringy, and when eaten raw, its taste is like that of a chestnut. The Aljezur sweet potato is a certified gem celebrated for its distinct flavour, exquisite texture, remarkable nutritional richness, and boundless potential in the culinary realm. This prized potato is so revered that it has its own festival dedicated to it!  Here in the beautiful southwest corner, you can take a break from the best surf beaches and get replenished sampling the many delights of sweet potato, fried, roasted and even in the most delicious sweets. Don't miss our favourite, the sweet potato brownie.  Festival da Batata-doce de Aljezur
Pumpkins
We love pumpkins! As seasoned vegetarians, the pumpkin makes its way onto our family table at least once a week. As many crops are celebrated with their own festival, why not try the Festival da Abóbora in Lourinhã e Atalaia.
The Festival's main objective is to celebrate Pumpkin Culture and local Horticulture, allowing local producers to showcase the quality of their production capacity and the region's excellent natural conditions. Imagine the largest pumpkin you've ever seen at over 650kg in weight! Over the three days, in an area of ​​around 1500 m 2, there are exhibitions of more than 100 species of pumpkin, cooking and tasting sessions, craft shows and workshops.
Vinho
 The grape harvest season is one of the highlights of the agricultural year for wine tourism, and from the north to the south of the country, the doors of the vineyards will open with programs that allow us to get closer to this annual ritual of grape picking. There are around 4700 wineries in Portugal, so it's easy to find one!  With our partnership with Portugal Easy Camp, you can stay at some of the most beautiful vineyards in Portugal. We have partnered to offer discounts of up to 10% on these stays. If you want to indulge in the grape-picking camaraderie and experience it first-hand, you can book some fully immersive experiences with Harvesting Activities.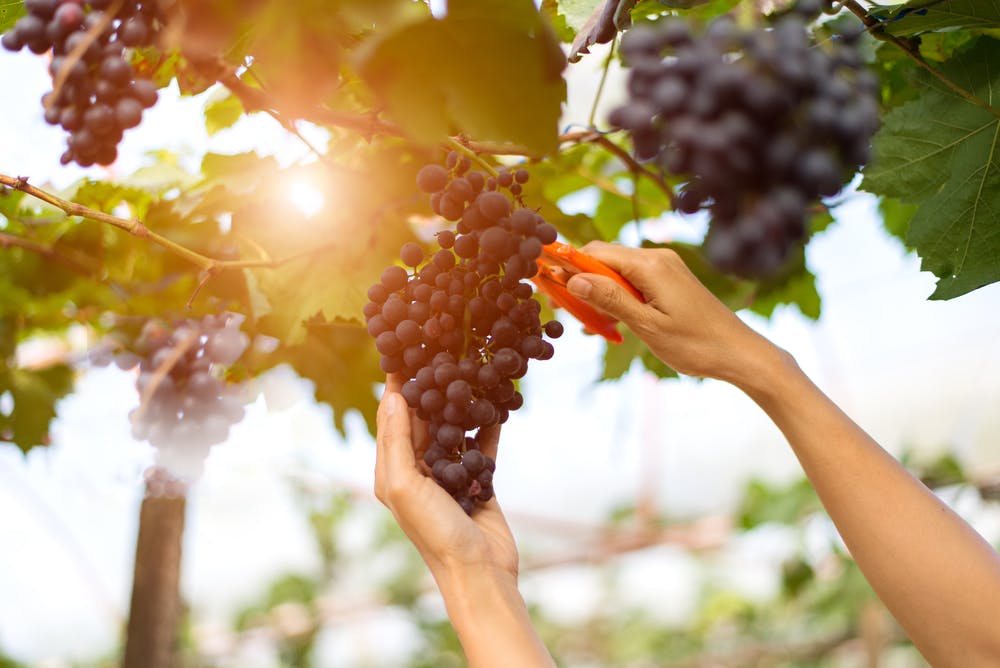 Picking fresh grapes in Portugal-Enjoy the camaraderie
Olive harvesting and tasting
The 2nd week of October brings a hussle of activity in the countryside in Portugal and Spain. It's a splendid sight to see families and friends get together and comb the trees with the "oliveiro" plastic rakes. You need a lot of olives to make a litre of olive oil. Siesta campers are blessed to have many olive trees at their ranch, and recently, just over  100 kg of olives, collected in one day, was exchanged for 12 litres of oil. Freshly pressed new season's olive oil is truly remarkable, with flavours reminiscent of fresh green grass, apples, vanilla, and minimal acidity.
It is liquid gold, and once you try it, you won't accept anything else drizzled onto your salad. You can experience many olive tastings and even watch the production. In the Algarve, you can check out Monterosa olive press. Monterosa olive oil has won countless awards worldwide for its spectacular olive oil. If you're in the mood for a rustic olive oil press experience, head over to the Santa Catarina lagar, where you can witness old couples rolling in with pickup trucks loaded with olives, ready to swap them for liquid gold! (Lagar de Azeite) Here, you can buy first-class extra virgin olive oil for €35 for 5 litres; it is one of the best you will ever taste and is where the siesta ranch exchanges their olives for oil.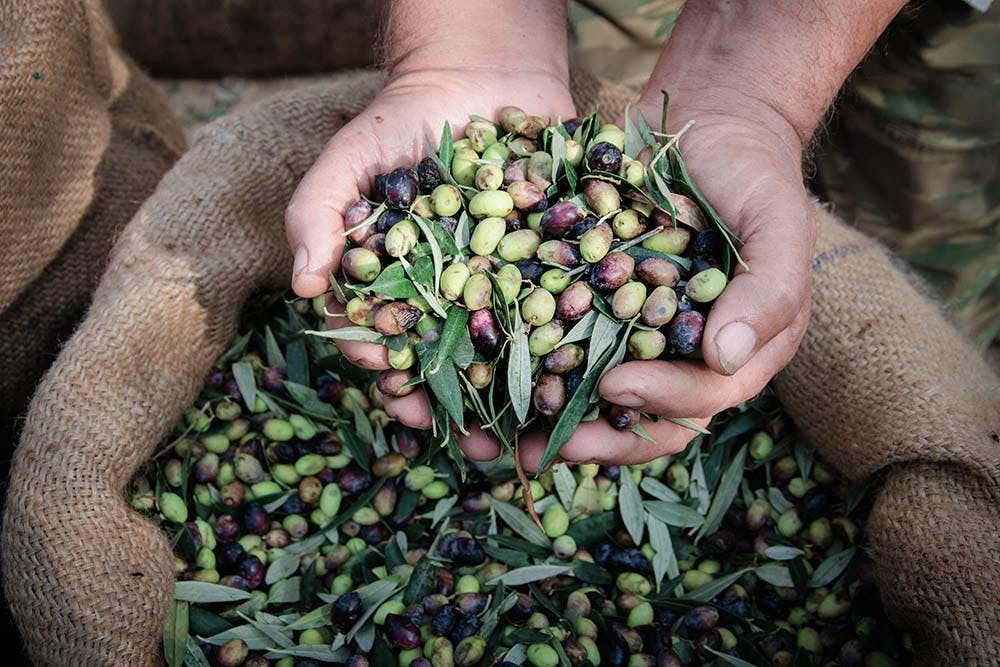 Fresh olives ready for the press
Combine eating and drinking with some autumnal surf action!
The warmest seas for surfers are in September/October. Consistent swells offer the beginner and intermediate great learning opportunities, and bigger waves are always just a drive away for those seeking more challenges. October brings the start of the big wave surfing season in Nazare. To stand at the lighthouse and behold the sight of the biggest wave you've seen in your life has become a remarkable right of passage for many surfers and non-surfers alike.  Likewise, the waves at Peniches Praia do Supertubos have magnetic awe-inspiring power, and Ericeira has become the Mecas for surfers, giving many practical options for surfers of all levels of abilities.
Mountain biking
Roll into any West Coast town from October onwards, and you'll see MTB riders everywhere taking advantage of the cooler weather and the numerous well-thought-out and mapped-out trails. They are all well marked out and divided into levels so that you can be sure to be matched to a trail that suits you. We've partnered with Portugal's biggest bike trail riding company  WERIDE.pt  to offer great discounts on their multi-tiered guided trails. 
Our T6 campers can also be fitted with a bike rack and bikes as an extra, so you can be flexible and choose from the many different bike routes or enjoy a cycle from your campsite into the nearest town for a great lunch and an exhilarating ride back. Don't miss our blog with more details on all Portugal has to offer for cycling enthusiasts:  MTB Portugal - The Complete Guide
Why not combine some wine tasting with a trail ride such as this  Ecopista do Tâmega ?  Two wheels is surely better than four when wine-tasting!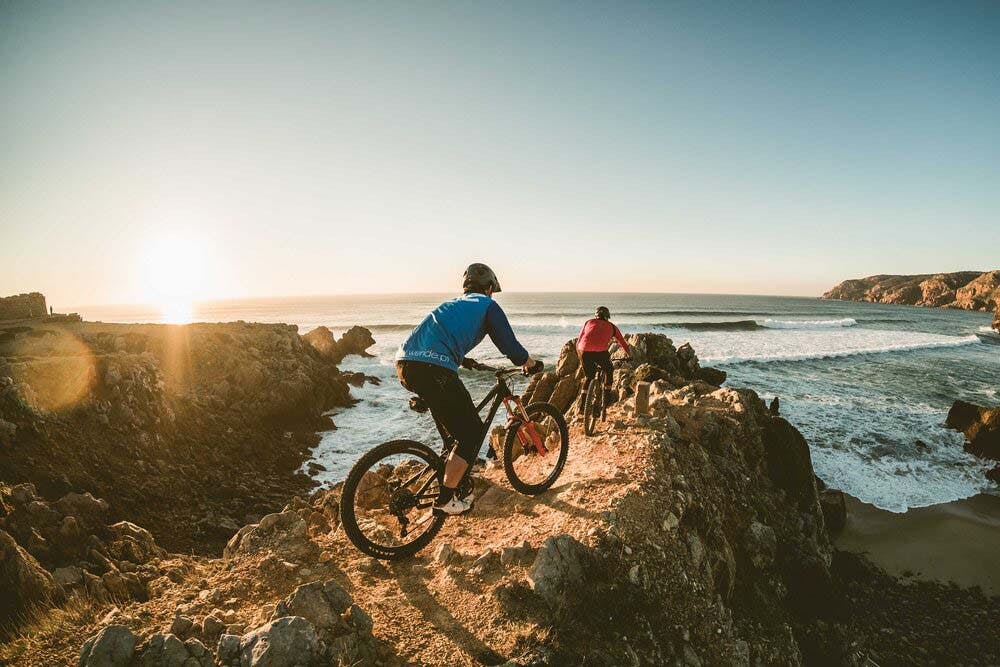 Exploring the best trails in Portugal
Autumn Hiking 
Fall in Portugal always brings the first rains to a very dry Portugal, bringing the landscapes alive with a beautiful array of colours, bird songs and revitalising flowing rivers. The daily sunrise/sunset cloudscapes are truly uplifting moments to treasure. This is the ideal season to get out hiking, not burdened by heavy clothing, and it's not too hot to enjoy striding out in the midday sun. Here are a few of our favourites: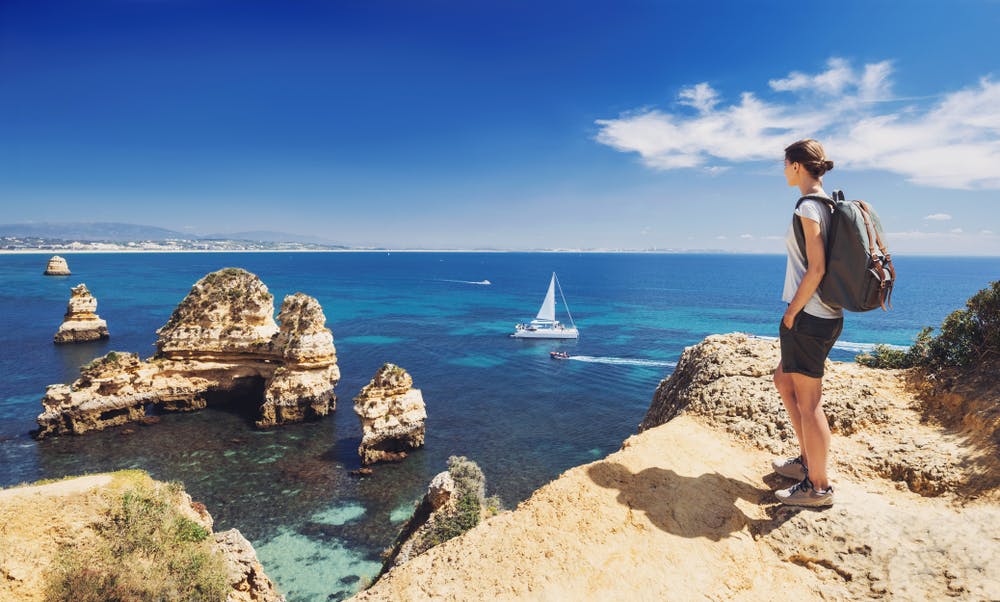 Autumn hiking, overlooking the trails on the Costa Vincentina
Start your hike in the South
The breathtaking coastal Trail of the Seven Hanging Valleys, near Lagoa.
In conclusion, the fall in Portugal proves it's not just a summer destination but an all-year-round paradise for those seeking a blend of culinary delights, cultural festivities, and outdoor adventures. Whether you're a surfer, a mountain biker, or a hiker, Portugal welcomes you with open arms, offering an array of outdoor activities to complement your culinary experiences. So, don't limit your Portuguese adventures to the summer; embrace the beauty and diversity of this stunning country in the golden hues of autumn.
 Portugal's natural beauty and welcoming people await you!