Portugal mountain biking might not be the first destination that comes to mind when you think of great downhill riding, but that's what makes it a hidden gem for cyclists looking for something off the beaten track. With its varied terrain, breathtaking landscapes and charming towns, the country offers mountain bikers of all levels an unforgettable experience. In this article, we'll cover everything you need to know about mountain biking in Portugal, with a particular focus on mountain biking in the Algarve. We will also offer you useful tips and answer recurring questions.


Getting to Portugal
If you are arriving from abroad by plane, you can easily access most popular mountain biking regions via the international airports of Lisbon (LIS), Porto (OPO) or Faro (FAO). From there, you'll need a rental vehicle or go on an organised tour.


Best way to get around: tour, rental car or campervan?
Organised tours are ideal for first-timers who need equipment hire or additional support in the field. If you are a seasoned cyclist and prefer the freedom and flexibility of a self-guided tour, renting a vehicle is by far the best way to access the trails, especially if you plan to explore all that mountain biking in Portugal has to offer.
However, before opting for a typical car, consider renting a fully equipped campervan from one of our locations in Lisbon, Porto or Faro. We're conveniently located near the international airports and our vans can accommodate up to 4 adults. Each camper comes with a refrigerator, gas stove, sink with a water tap, portable toilet and shower, everything you will need after a full day of riding. Bike racks are available, as are mountain bike rentals for those traveling light.



Best MTB Trails near Porto & Lisbon

Serra da Estrela - high altitude cycling
Halfway between Porto and Lisbon and nestled inland, the Serra da Estrela is one of the toughest areas for mountain biking in Portugal. Riders looking for challenging climbs and technical descents will be rewarded as you would expect with high altitude trails. With its spectacular views and varied terrain, the Serra da Estrela trails are a must on any Portugal mountain bike tour. It's best to acclimatize to the altitude before riding.

Douro Valley - most beautiful mountain bike trails in Portugal
The Douro Valley, known for its world-famous wine and stunning landscapes, is also home to Portugal's finest mountain biking trails. The valley offers a network of trails that meander through vineyards, olive groves and traditional villages, providing a unique and unforgettable cycling experience. If you're not in a hurry, discover the famous "Trans Douro" route, a 210 kilometer path that takes you from the Spanish border to Porto, the country's second largest city.
Pro tip: As you drive through Pinhão and Peso da Régua, stop and rest while enjoying a traditional dish and a glass of port wine.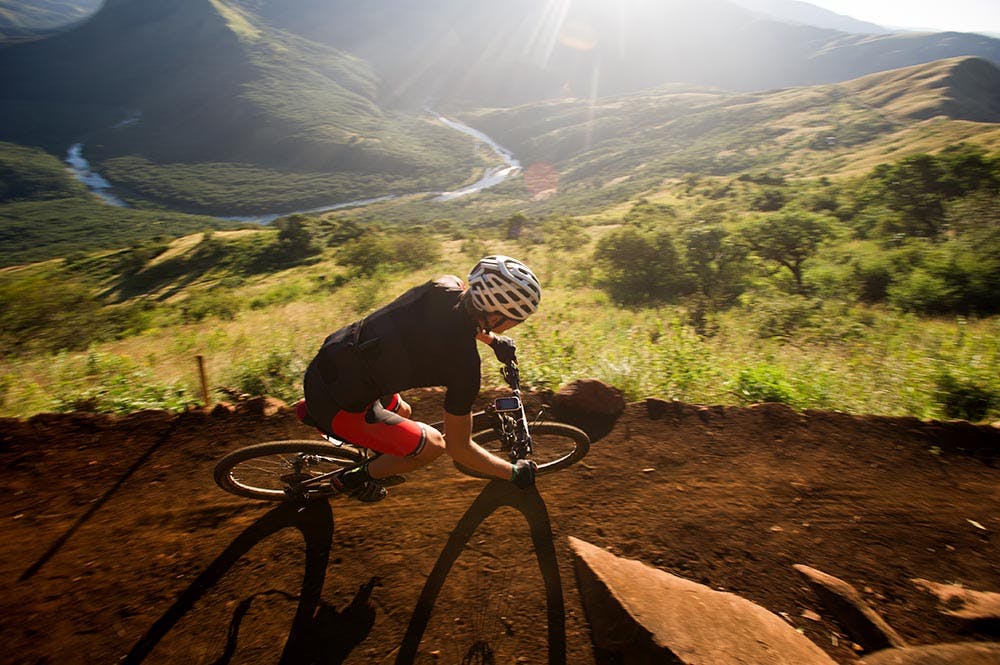 Mountain biking in Douro Valley

Serra do Gerês - untouched and rugged
Located in the north of Portugal, on the border with Spain, the Serra do Gerês features some of the best mountain biking in Portugal. Wild and unspoilt nature, technical trails and stunning views…riding here is an experience you won't forget. The rocky terrain and steep climbs of the Serra do Gerês trails challenge even the most experienced cyclists. It is located off the beaten path, and those who chosen to travel in a campervan will be very happy to have the option of extending their stay effortlessly. Don't miss one of our favorite trails: Gerês trail - Btt Rota da Geira Romana.

Serra de Sintra - best multi-day trip near Lisbon
Located near the charming coastal town of Cascais, Serra de Sintra is a popular destination for mountain bikers looking for technical trails and beautiful views with easy access to the coast and the region's many cultural sites. With its rocky terrain and steep climbs, the Serra de Sintra offers a challenge to even the most experienced cyclists. A higher elevation and unique microclimate provide refuge from the summer heat for anyone looking for a cooler place to ride during the hottest months of the year. We recommend spending a few days here. Discover the Sintra MTB trails.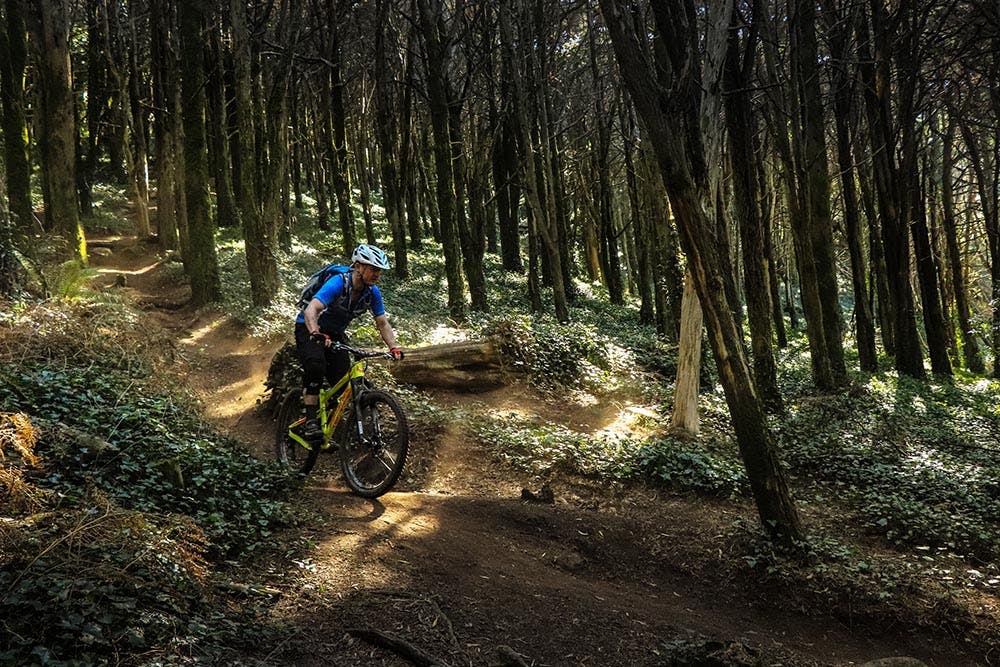 Sintra MTB trails are ideal for summertime riding in Portugal


Monsanto Forest Park - mountain biking in Portugal for beginners
Are you looking for a half-day or full-day excursion to practice your skills without going too far off the beaten track This is the spot for mountain biking in Portugal for beginners. Mountain bike trails in Monsanto are very enjoyable thanks to the park's natural beauty, proximity to downtown Lisbon, and accessibility. It's a great choice for riders looking for easier, flowing trails in what you can almost call an urban park. It's less than an hour's bike ride from town and is also accessible by public transport, making it a great day trip! If you opt for campervan hire in Lisbon, you'll be happy to know that there's top-notch campsite right inside the park.



Mountain biking in the Algarve
With a mix of sunning coastal paths, challenging trails and breathtaking views, it's no wonder the Algarve is a top mountain biking destinations. We love it so much that we decided to give it its own special mention. Among the many trails you can experience, we have chosen the top 3 not to be missed, from beginners to heavy climbers:

Ecovia do Litoral – the scenic route
The Ecovia Litoral do Algarve is the southernmost sector of Route No. 1 of Eurovelo, the European network of mountain bike trails that stretches all the way up to North Cape in Norway. It is a 214 kilometer trail that runs along the coast from Vila Real de Santo António to Sagres. The trail offers a mix of easy coastal paths and more challenging mountain trails, making it an ideal destination for cyclists of all skill levels. With its stunning views of the Atlantic Ocean and rugged coastline, the Ecovia do Litoral is one of the most scenic mountain bike trails in the Algarve!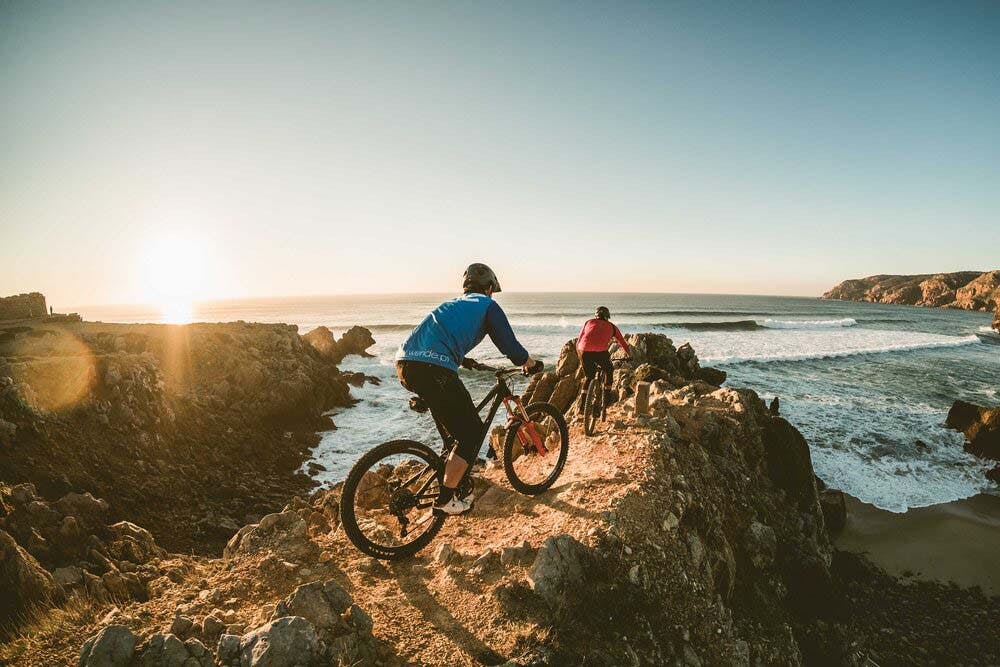 Algarve MTB tour with WERIDE

Vale da Lama – calling all experienced cyclists!
Beautiful eco farm located near Lagos which offers some of the best mountain biking in Algarve. The farm's varied terrain, which includes steep climbs, technical descents and flowing singletrack, makes it a popular destination for experienced cyclists looking for a challenge. Vale da Lama is a must visit for any MTB enthusiast.

Serra de Monchique - looking for a challenge?
If you're looking for something a little more challenging, head for the Serra de Monchique trails. You'll find some of the most technical trails in the Algarve here, with steep descents and rocky terrain that will put your skills to the test. But the reward is well worth it, with stunning views of the surrounding countryside.



Frequently Asked Questions

What is the best time of year to go mountain biking in Portugal?
In general, the best time to ride is during the spring and fall seasons, which typically offer cooler temperatures, less crowded trails, and greener landscapes. Summer can be a difficult time to ride in Portugal due to hot and dry weather conditions, especially in inland areas. Winter (December to February) can be a great time to ride in the southern regions of Portugal, where the weather is milder. However, in the northern regions, the winter can be wet and cold, which can make driving conditions difficult.

What type of mountain biking terrain is there in Portugal?
The mountain biking terrain in Portugal is very diverse, making it an ideal destination for cyclists of all levels and interests. Here are some of the types of land that can be found in Portugal:

Are there MTB tours or guides available in Portugal?
Of course, including on the islands and the trails and circuits that focus on the Algarve. These tour operators usually offer a range of tours for all skill levels. If you're looking for an organised tour check these guys out:

How difficult are the mountain bike trails in Portugal?
Portugal covers every level of difficulty you could be looking to find. Keep in mind that the difficulty of the trails can vary depending on weather and trail conditions. So it's always a good idea to check trail reports and ask locals or guides for advice before attempting a trail.

Are there mountain bike events or competitions organised in Portugal?
There are several depending on the type of challenge you are looking for, most covering both amateur and professional cyclists:

Are there rules for mountain biking in Portugal?
Although not required, it is always respectful to follow the rules with other adventurers. Mountain bikers should yield to hikers and other trail users, passing them slowly and carefully. Always respect nature by staying on designated trails and avoiding disturbing wildlife and littering. The road signs are to follow! Portugal is known for its hot and dry summers, which can increase the risk of forest fires. Be aware of fire hazards and avoid riding in high fire risk areas.

What type of equipment is needed for mountain biking in Portugal?
Like any sport, you should always put the embarrassment aside and use protective gear in addition to the mandatory helmet. Pay attention to a suspension and tires adapted to the type of terrain on which you will ride and do not forget a backpack well filled with the essentials: Water bottle, trail map or GPS device, repair kit for any eventuality (tools, spare tubes and pump in case of a mechanical problem), snacks to refuel, sunglasses for extra protection and a extra layer for the finish line.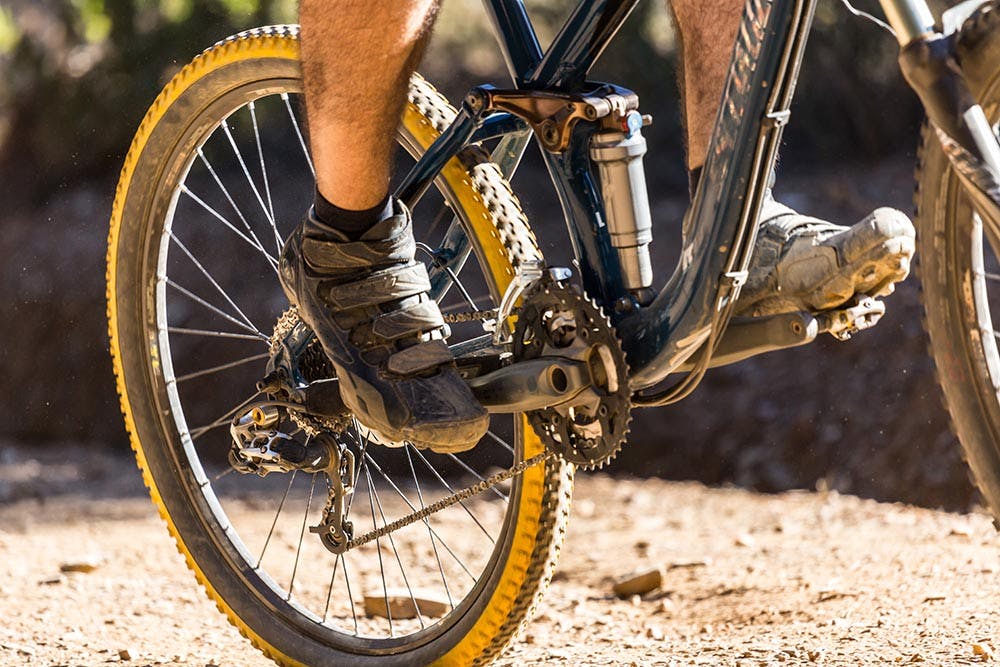 Before riding
Check weather forecasts and trail conditions: Portugal can get very hot in the summer months, so it's best to ride early in the morning or in the evening when the temperatures are cooler.
Be ready for the pitch: While many trails in Portugal are suitable for all abilities, some can be technical and challenging. Be sure to bring the proper gear, including a helmet, gloves, and sturdy shoes.
Respect the environment and fellow runners: Portugal's natural beauty is one of its greatest assets, so it's important to do your part to preserve it. Respect the designated trails, put your Waste and be courteous to hikers and other cyclists you encounter on the trail.



Conclusion
Portugal is full of great places to go mountain biking, from the rocky terrain of the Serra de Sintra to the mountain biking paradise in Algarve. With its varied terrain and stunning landscapes, MTB Portugal offers a unique and unforgettable experience for cyclists of all skill levels. So book your flight, pack your bags and come meet us at one of the Siesta Campers bases. Not only do you leave with a campervan set up to take you on any trail, but you can rent our mountain bikes and bike racks. Ready to hit the trails?