At Siesta Campers we've been building and renting VW campervans for 2 decades. Over the years, we've tested a variety of campervan essentials & camping accessories to find the highest quality gear available. If we need something that doesn't yet exist, we build it ourselves. We strive for perfection in everything we do and offer our customers the very best camping experience. Often this simply means comfort and peace of mind, so ditch your campervan packing list, travel light and enjoy the ride. Whether you want to hire a campervan in Portugal, or build your own VW camper, the below campervan essentials list includes our own tried and true recommendations that go into every van we build.

Campervan essentials & accessories:
We choose to build our campers in-house and know them inside and out. Unlike many of our competitors who simply purchase a finished product, we take pride in creating the safest, most comfortable and functional VW campers around. Even the VW-produced campervans like the VW California are improved upon as soon as we receive them, VW doesn't always get their campers right the first time! We improve things like the water pump, roof functionality and maximize comfort and ensure our fully equipped campervan promise lives up to the hype. When we say they're fully equipped, we mean it! All the items below are included in the rental price.

1: Fridge - Go beyond a slush filled cooler and soggy sandwiches. Instead, opt for a 12v campervan fridge, featured in all models. Our fridges vary in size from the massive 70L in a Grand California to the compact 25L in a Beach van.
2: 2-ring SMEV Italian gas hob - Practice your chef skills in the wild with a quality campervan cooker (5kg gas bottle included). This is a 2 burner cooker with an integrated sink. The onboard fresh water & waste water tanks make prep and cleanup a breeze.
3: Shower - All of our campers come equipped with a shower, with the exception of our California which comes with an optional solar shower.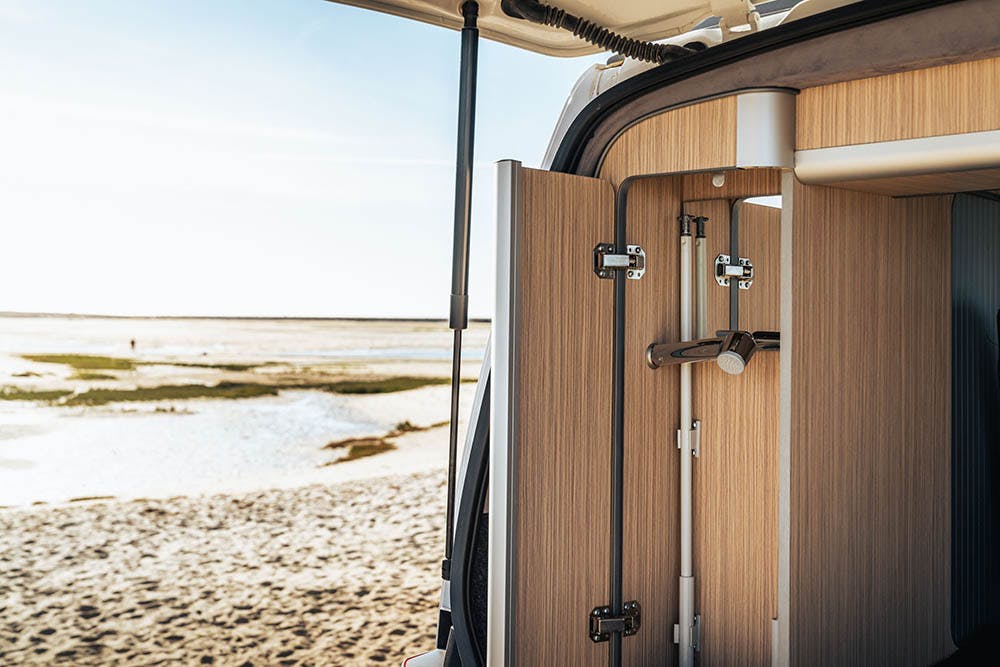 4: WC - Let's keep Portugal's sensitive habitats healthy. In 2022 we started offering portable chemical toilets free of charge with every booking as part of our sustainability efforts. Our Grand California & Siesta Pacific motorhomes are equipped with an interior WC. We also provide you with a totally organic Bio product to flush the toilet.
5: Leisure battery - Keep your gear juiced without worrying whether your van will start after a long stretch off-grid. Replenish with a campsite main hook up or during a long drive. Our Siesta Pacific has 2 big 110Ah leisure batteries and a 100w solar panel. A total game-changer for those wanting to work on the road!
6: Charging your gear - Many of our customers are surprised to find typical electrical outlets in the vans (while connected to campsite mains electric). The VW pacific has a massive 1000w inverter allowing you to use 240v while remaining unconnected from mains power in a campsite. All-new VW vans come with USB-C plugs so please bring your required adaptor. Keeping your gadgets charged is not an issue!
7: Swivel seats - Our modern campervans come with front swivel seats. These underrated VW campervan essentials allows for much better use of interior space!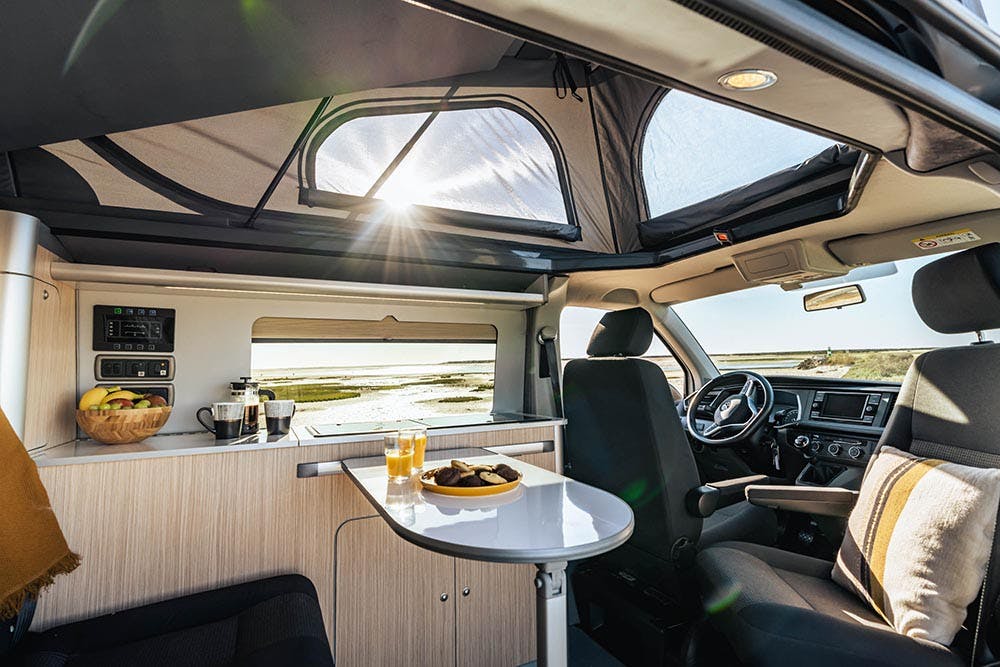 8: Security box - Keep your valuables safe. The base of the passenger seat in select vans contains a lockable storage compartment suitable for laptops, digital cameras and other valuables.
9: Motorway toll reader - We Include a motorway toll reader for paying motorways. (€15 activation fee per rental if you use the motorway)
10: Captain's log - Yes, you read that right. The captain's log is a very entertaining diary of past campers tales, top tips and doodles. Please add your adventures to the van's colourful history! (Classic vans only)

Our campervan packing list
Wondering what to bring camping? Beyond our tasteful equipment upgrades Our team diligently checks the campervan packing list prior to pick up. With so many of our customers arriving from outside Portugal, it's simply not feasible to bring with all the necessary camping gear from home. We've thought of everything so you don't have to!

11-22: Camping cooking set - Details matter so we made sure our camping utensils & cookware are durable, high quality and even feel nice to the touch. Our camping cooking set includes:
1 Frying pan & 2 pots
Kettle for boiling water
Salad bowl
Full cutlery set and chopping knives
Bottle and can opener 
Chopping board
Real glasses & cups (Life's too short to drink wine from a plastic cup) 
Ceramic plates & bowls
Cheese grater
A tea towel
Moka coffee pot
Pasta strainer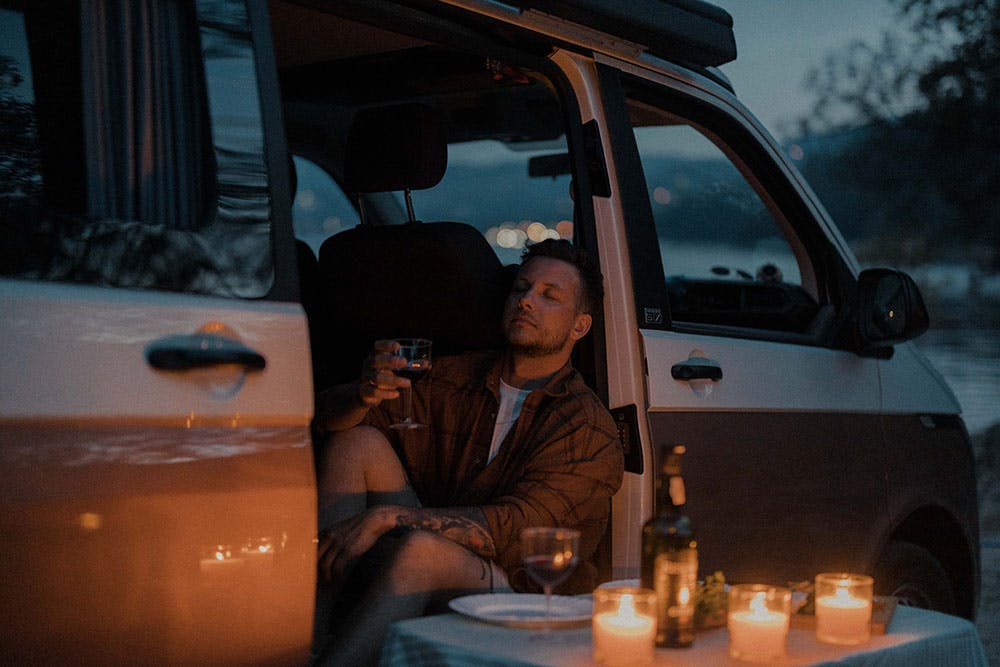 23-26: Sleeping in a campervan - Beyond the soft cotton sheets and fluffy pillows, you'll surely appreciate some hidden upgrades like thermal insulation to keep you cool during hot summer days and toasty during crisp winter nights. Noise insulation is another life saver when camping near a loud group. What can we say, we just build them better! You also get these camping essentials:
Freshly laundered cotton double duvet, bottom sheet and pillow set
Sleeping bags
Extra Blanket
Black out window screens & curtains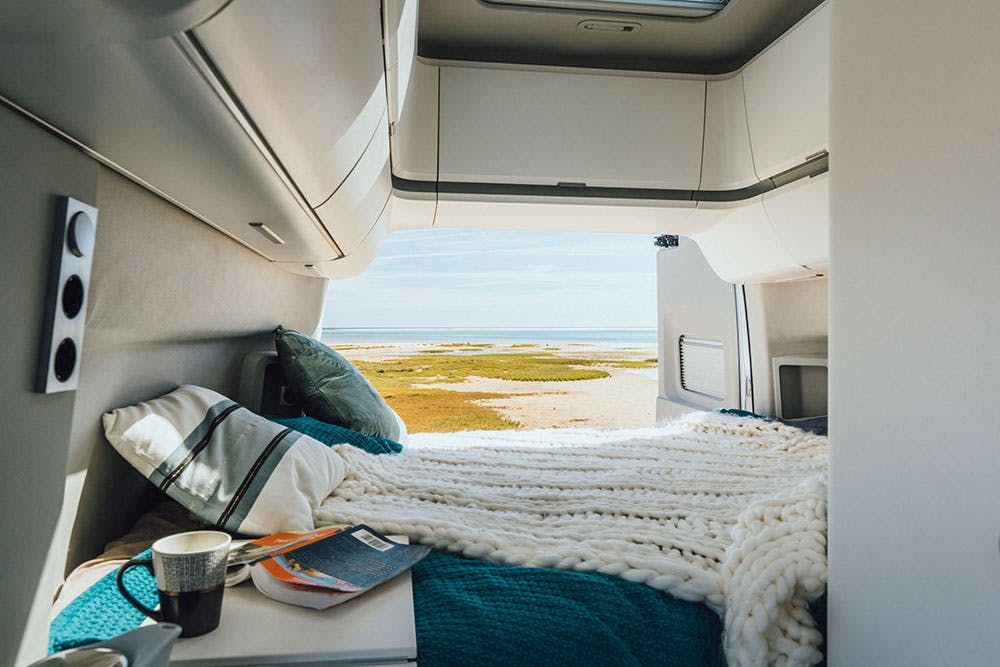 27-35: Camping gear - Campervanning can mean many things. For some, it's lazy nights by a campfire. For others, it's access to remote beaches and a hunt for the perfect wave. Whatever your definition is, at the end of the day, it feels good to wash up, relax and melt into a comfortable chair. With these, we've got you covered:
Folding aluminium camping table
2 folding camping chairs
A mains extension lead
Laundry line with clothes pegs
An outside rubber doormat
Large washing up bowl
Washing up sponge
Washing up liquid
A rollout sunshade that is an integral part of the van (California, Atlantic, Grand California & Pacific only.)

36: Protection plan - We include Basic coverage for free with every rental. We also offer Standard and Complete protection plan upgrades for greater peace of mind. Click here to see our protection plans.

Go beyond campervan essentials with our optional extras
Not all campervan hire is created equal and at Siesta Campers we offer the best vans and unmatched service. Our fully equipped vans are a joy to drive, relax and sleep in. If you feel certain key items may be missing from our campervan packing list, check out our optional extras for inspiration!