Glamping, the art of glamorous camping, has emerged as a captivating way to experience the beauty of nature without compromising on comfort. And when it comes to European destinations that offer an exquisite blend of luxury and natural splendour, Portugal stands out as a top contender. 
Glamping in Portugal has flourished in recent years, with a diverse range of accommodations that offer unparalleled comfort and awe-inspiring surroundings. From luxury tents and eco-friendly cabins to treehouses, geodesic domes and of course campervans, glampers can choose from a variety of unique and well-appointed options. These accommodations are thoughtfully designed to immerse guests in nature while providing luxurious amenities such as comfortable beds, bathrooms, and even private pools.
In this article, you will discover the best glampsites in Portugal from north to south, including sites around Porto, Lisbon, Alentejo and glamping in Algarve. Along the way, we'll highlight unique features and why it has become an increasingly sought-after trend for travellers seeking an unforgettable experience.


Glamping Portugal: TOP 12 from North to South
1. Lima Escape - best glamping near Porto
Nestled between the rivers Lima, Froufe, and Tamente, with a stunning backdrop of Serra Amarela, Lima Escape is one of the top Porto glamping options. The mountain environment creates a tranquil and peaceful atmosphere, providing an ideal escape into nature. With 70 tent places, 45 campervan places, 6 bungalows, 5 glamour tents, and 2 colour lodges, Lima Escape offers a variety of accommodation options to suit different preferences, plus a special area for campers and motorhomes and its own service station. Various activities and dining options are offered on site.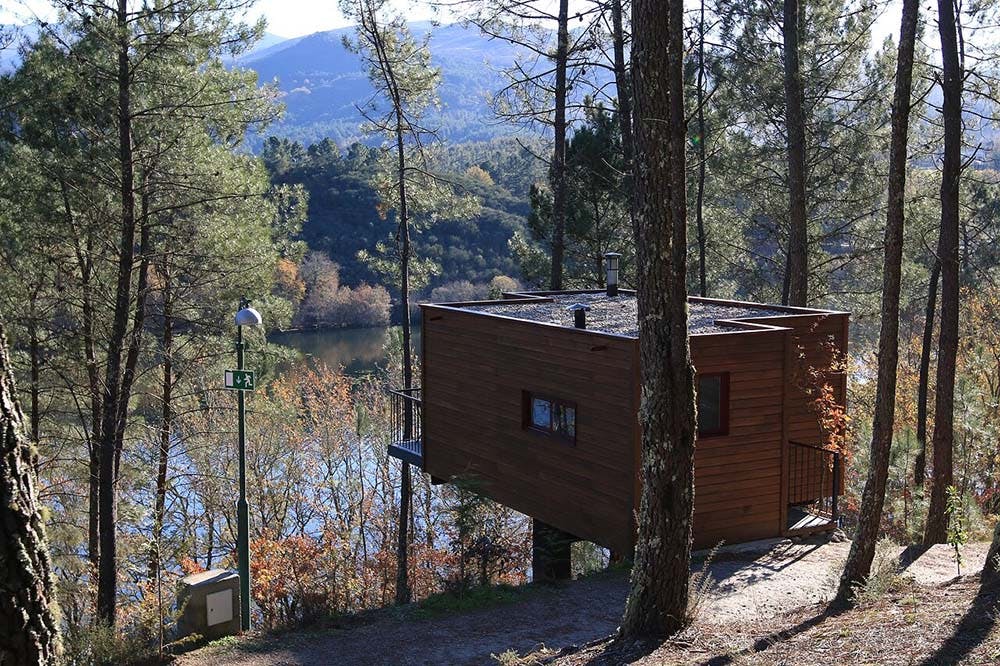 Lima Escape, north Portugal

2. Siesta Campers - Glamping on wheels
Campervans offer a refreshing and exhilarating alternative to traditional glamping. While stationary glampsites provide comfort and a connection with nature, campervans elevate the experience by combining top-notch amenities with total freedom of movement. With a fully-equipped campervan, you can explore the stunning landscapes of Portugal at your own pace, discovering hidden gems and picturesque locations off the beaten path. Enjoy the convenience of a comfortable bed, kitchen, shower and bathroom amenities on wheels, allowing you to create your own unique adventure. Chase sunsets, wake up to breathtaking views in different locations each day, and embark on unforgettable journeys across the Portuguese countryside. With rental locations in Lisbon, Porto and Faro, your perfect glamping experience is closer than you think.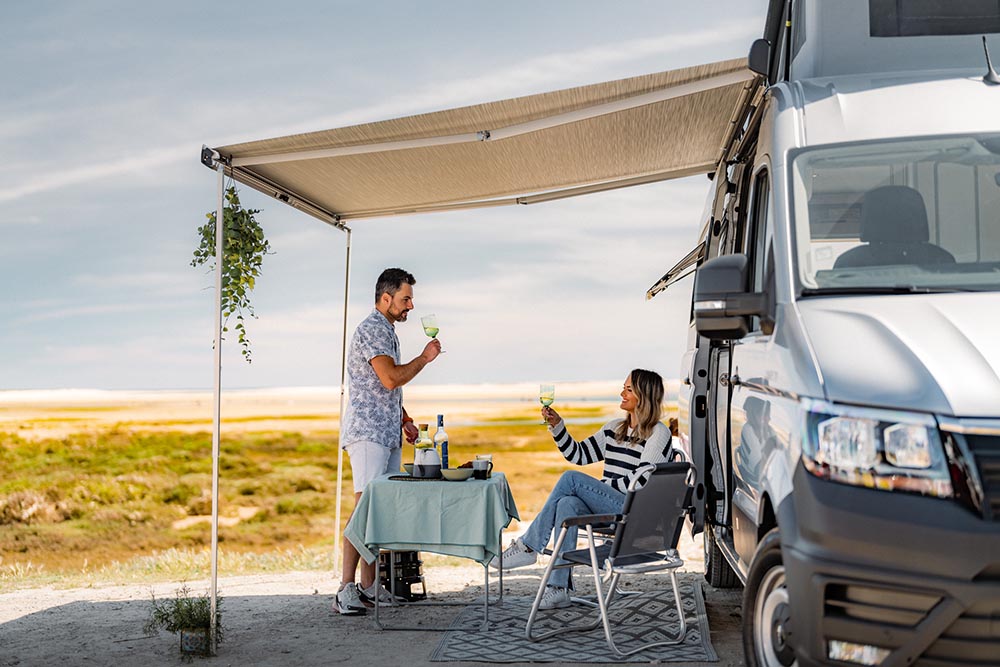 Glamping on wheels

3. Glamping Hills - perfect for families
Tucked away in the largest Transfrontier Biosphere Reserve in Europe, Glamping Hills offers a unique blend of glamour and camping in the tranquil village of Sta Comba de Rossas. With a strategic location near the Transmontana highway, this eco-friendly and innovative glamping site is perfect for families seeking restful and rejuvenating holidays. It offers breathtaking views of the mountains and castle ruins from the terrace, while Glamping Hills tavern provides delicious local specialities. Various family-friendly activities are available onsite as is a pool. Further afield, guests can explore the surrounding natural wonders through hiking and cycling adventures.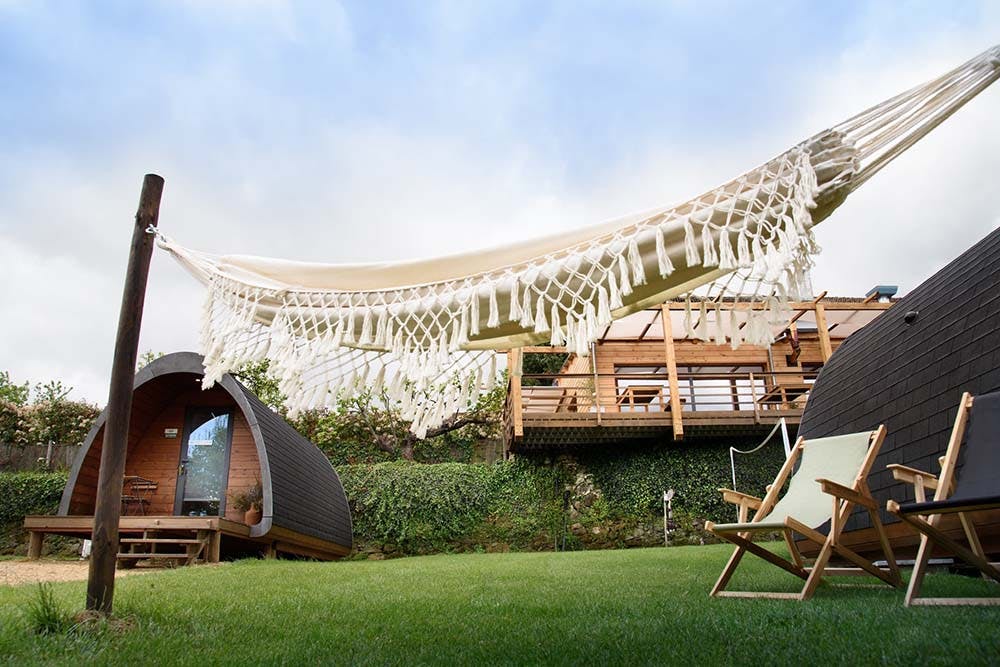 Glamping Hills, north Portugal

4. Senses Glamping - retreat into rural Portugal
Senses Glamping offers endless views of rolling hills, vibrant nature, and an unpolluted night sky. As part of a nature reserve, the valley teems with thriving wildlife, including a variety of mammals and birds. A river gracefully meanders through the grounds and a luxurious chlorine-free swimming pool is available. Surrounding the site, guests can explore quaint villages and rural Portugal. The venue boasts six types of accommodation, including a cosy cottage, bell tents, safari lodges, a yurt, a tipi, and wooden cabins. There's also an organic vegetable garden, restaurant, bar, and a yoga space.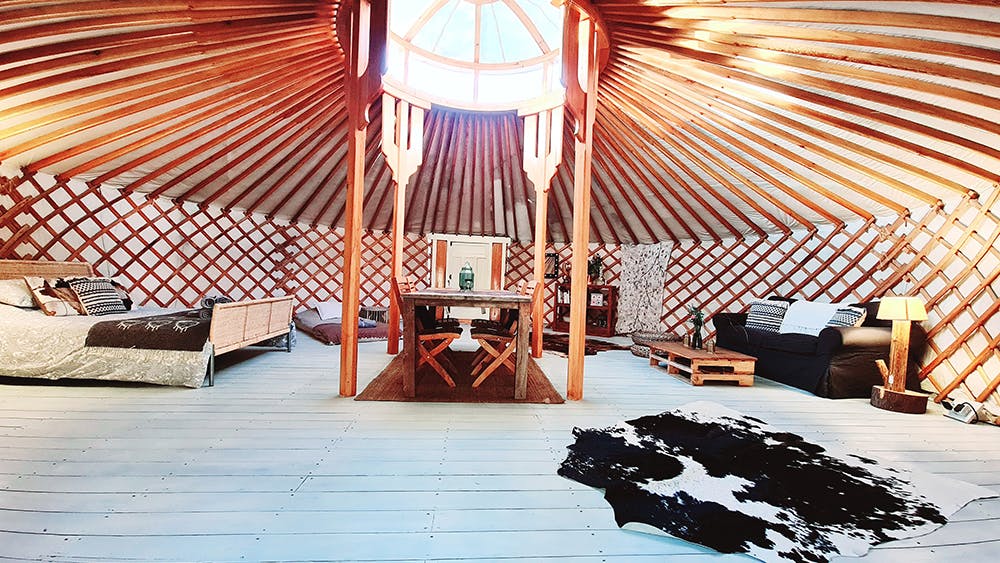 Senses Glamping, north Portugal

5. Arrabia Guest Houses - glamping in Douro Valley
Located in the mountains of Raiva, Castelo de Paiva, at Quinta da Eira, Arrabia Guest Houses offers a rural retreat in perfect harmony with nature. With a variety of accommodations, including cabanas, bungalows, shepherds huts, and glamping tents, along with private pools and jacuzzis, guests can indulge in a tranquil and luxurious experience. The breathtaking views of the Douro River, surrounded by olive trees, cork oaks, pine trees, and fruit trees, create a picturesque setting. Luxury at Arrabia is found in the simplicity and unpretentious way of living, where carefully designed accommodations blend seamlessly with the natural surroundings. Common areas, including a 12m x 6m pool, barbecue area, and private or shared kitchens, enhance the communal experience. Optional extras, such as breakfast baskets, jacuzzi usage, bicycles, and yoga classes, add to the overall enjoyment of the stay.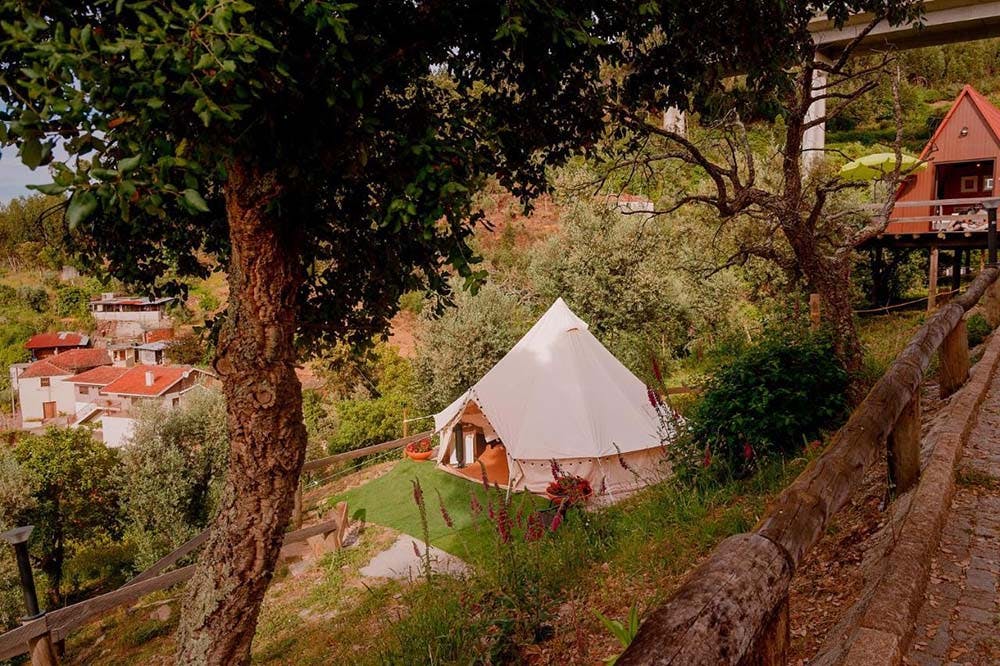 Arrabia Guest Houses | Glamping in Douro Valley

6. Terra dos Anjos - on the coast near Nazaré
This small-scale ecological retreat offers three exquisite safari tents that provide an oasis of peace and tranquillity. Situated between two family-friendly beaches, and only a one-hour drive from Lisbon and 20 minutes from Nazaré, Terra dos Anjos offers a unique opportunity to get pretty close to beach glamping in Portugal. Each spacious safari tent, measuring 54 m², features two cosy bedrooms with comfortable beds, a fully equipped kitchen, a modern bathroom with a refreshing rain shower, and a generous veranda. In the morning, guests wake up to the delightful aroma of fresh bread, courtesy of the visiting baker!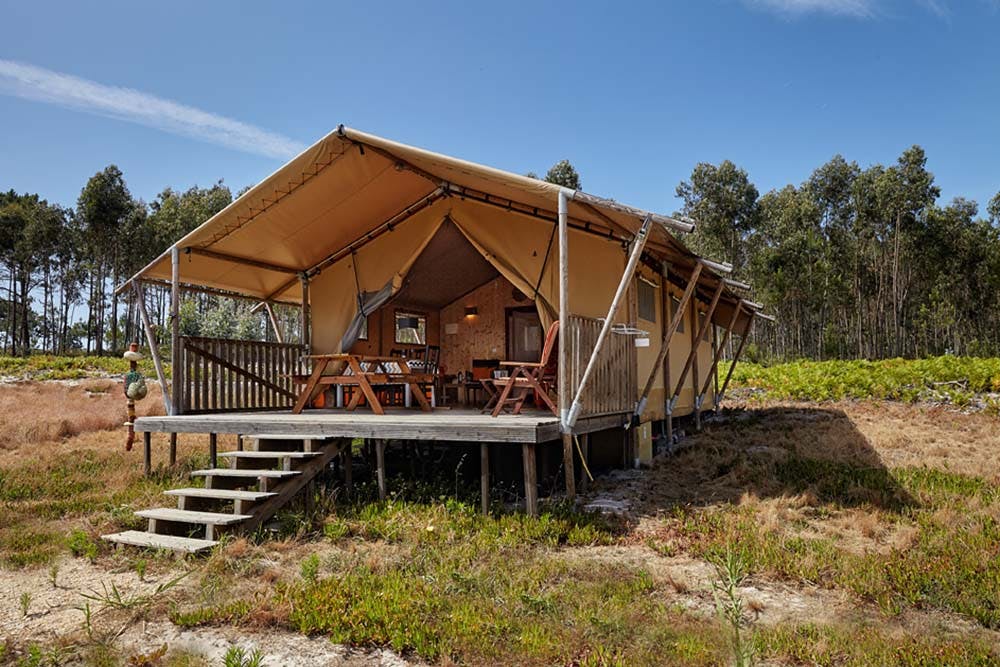 Terra dos Anjos glamping near Nazaré

7. ForestGlamp - beach glamping in Lisbon
Situated in Charneca de Caparica, ForestGlamp provides the best of both worlds - just 12 km away from the vibrant capital city of Lisbon, and a mere 3 km from the renowned beaches of Costa da Caparica, boasting 20 km of sandy shores. Each tent can comfortably accommodate up to four people, featuring two double beds strategically placed on different levels, ensuring privacy and a cozy sleeping experience. Inside, guests will find a private bathroom, complete with all the essentials including sheets and towels provided by attentive hosts. The kitchenette in each tent is thoughtfully equipped with all necessary utensils and crockery. Outside, a private Jacuzzi awaits.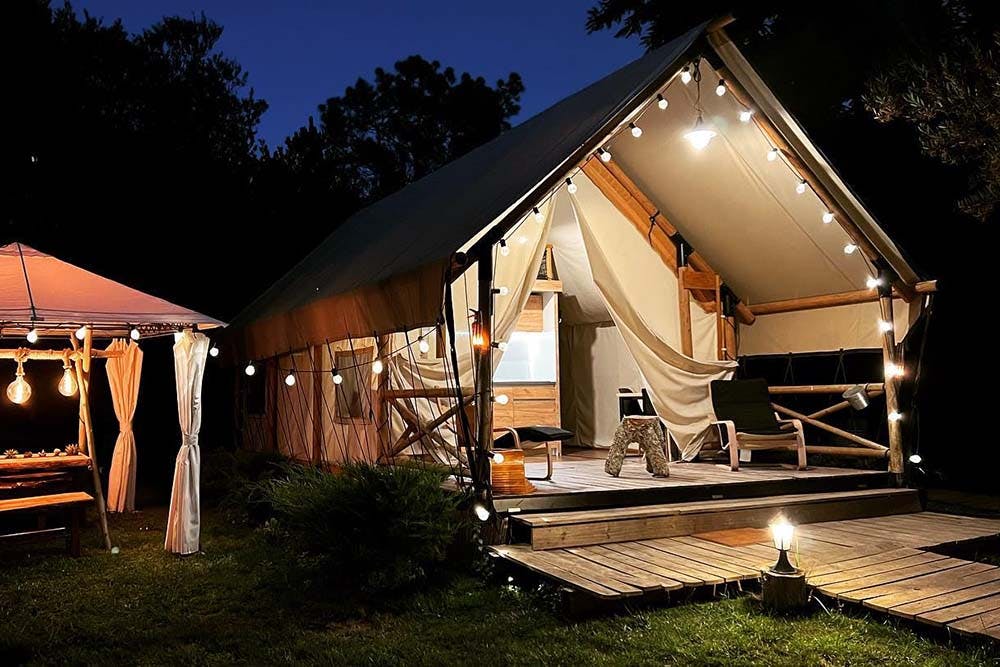 ForestGlamp

8. Sublim EcoLodge - a wild hideaway in Alentejo
Located between Comporta and Costa Vicentina, the Sublim EcoLodge is the first glamping ecolodge on the Alentejo coast. Seven Saharan Tents, each situated on a spacious 45m2 private terrace, allow for an intimate and comfortable experience. Guests can refresh in a 24-metre swimming pool, complete with a white sand beach. Signature dinner experiences are carefully crafted by passionate hosts, Manuel, Hélène, and Alexis.
Sublim EcoLodge, glamping in Alenjeto

9. ATERRA - humble luxury by the lake
Great spot nestled in a picturesque valley in Alentejo among woodlands, fruit trees, and lush grasslands. Guests can enjoy beautiful gardens that coexist alongside a small working farm. There's also a freshwater lake and a secluded beach. An expansive shaded area provides space for various activities and workshops, including yoga, dance, and meditation. ATERRA is a great choice for organised events such as weddings, retreats, and festivals.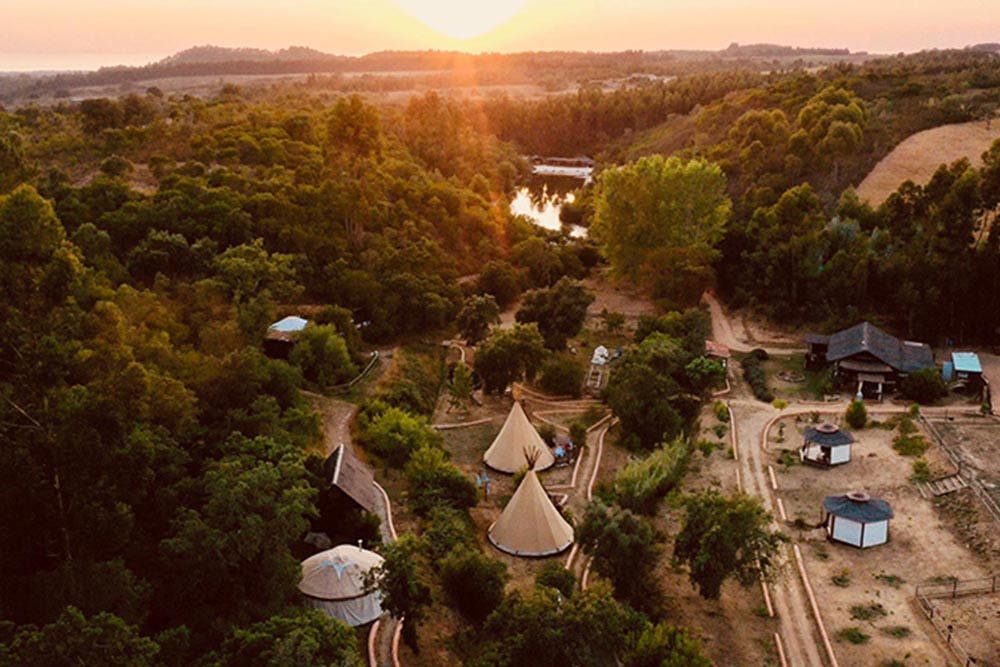 ATERRA in Alentejo

10. Quinta Alma - intimate ecological retreat & farm
Tucked away in the mountains of Monchique, adjacent to Aljezur on the breathtaking Atlantic coast of the Algarve, this magical off-grid growing organic farm is a hub for ecological and human regeneration. The 'Mountain Shelters' have been thoughtfully designed to minimise the barriers separating guests from natural surroundings. As an off-grid retreat, Quinta Alma is self-sufficient in terms of water and electricity. Each shelter is equipped with electricity and running water, but their design and use of natural materials eliminate the need for air conditioning or excessive heating systems.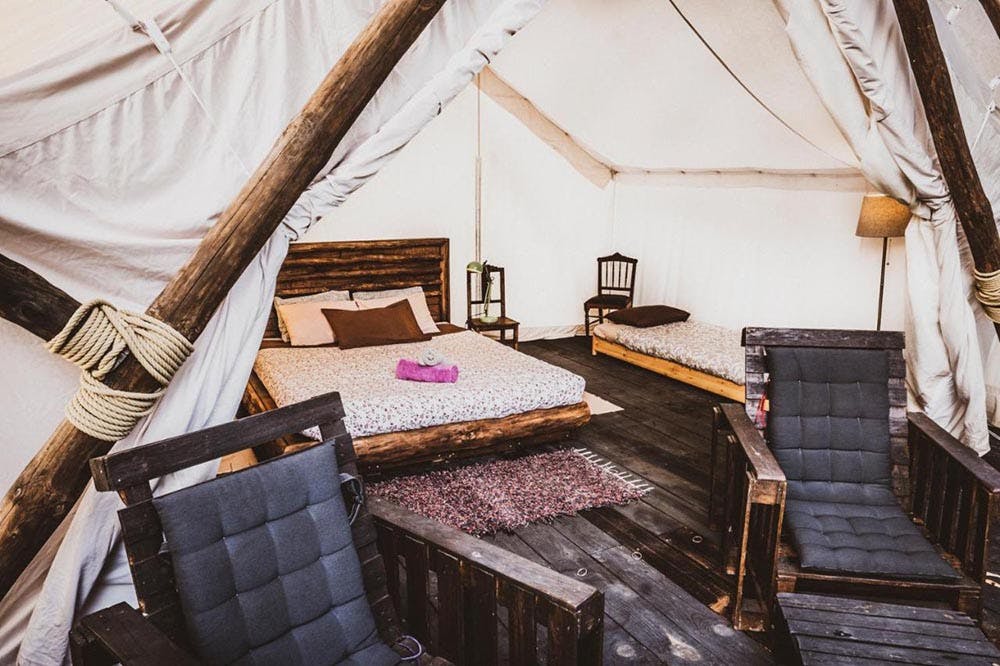 Quinta Alma ecological retreat and farm

11. Salema Eco Camp - 3 words: glamping Algarve beach 
For those looking for beach glamping in Algarve, Salema Eco Camp is as close as it gets. This well-established site offers Tipi tents, Woodys, and Willow Tree Domes featuring a double bed (or bunk beds for Tipi tents accommodating up to 4 people), outdoor furniture, electricity, and a mini-bar. While the tents do not have their own bathrooms, customers can use the nearby changing rooms. A communal kitchen is also available. For those seeking a more spacious and charming option, the Eco Lodge tents are a good alternative. These authentic wooden houses offer ample space for up to 5 people and come equipped with a kitchen, bathroom, and a terrace.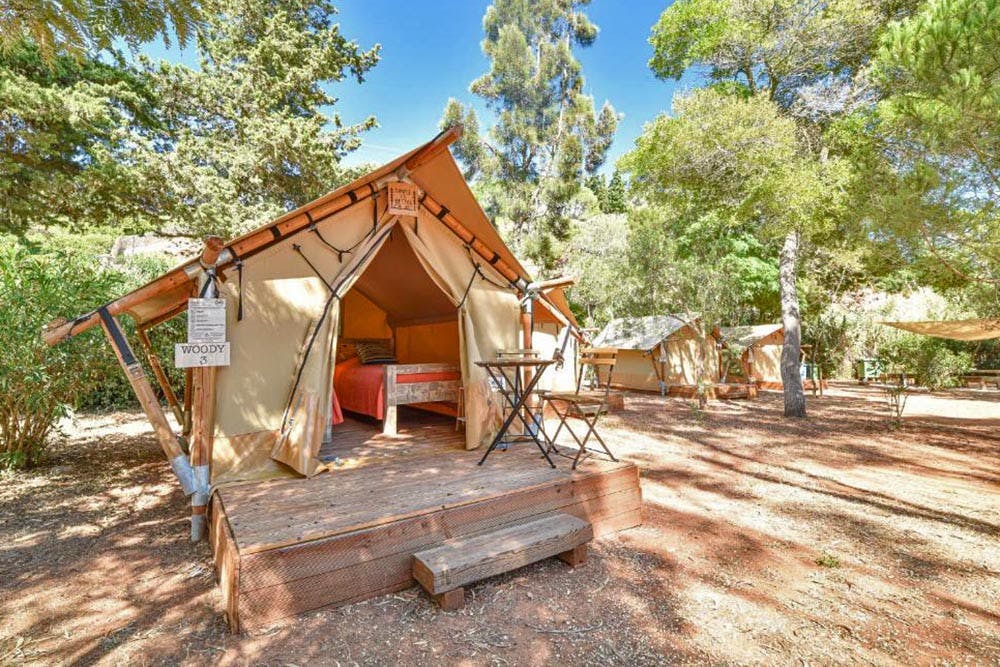 Salema Eco Camp, glamping in Algarve in a 'Woody'

12. Wavy SurfCamp - learn to surf while glamping in Algarve
A top choice for glamping in Algarve for those who wish to get in the water and push their limits. Located near the popular Tonel beach in Sagres, Wavy SurfCamp strives to create a space where individuals can thrive while prioritising sustainability and environmental responsibility. Accommodation consists of high-quality and spacious glamping tents that can accommodate up to 8 people, but are limited to only two, three, or four occupants. They offer a range of options including spacious normal glamping tents, normal plus glamping tents, and luxury glamping tents.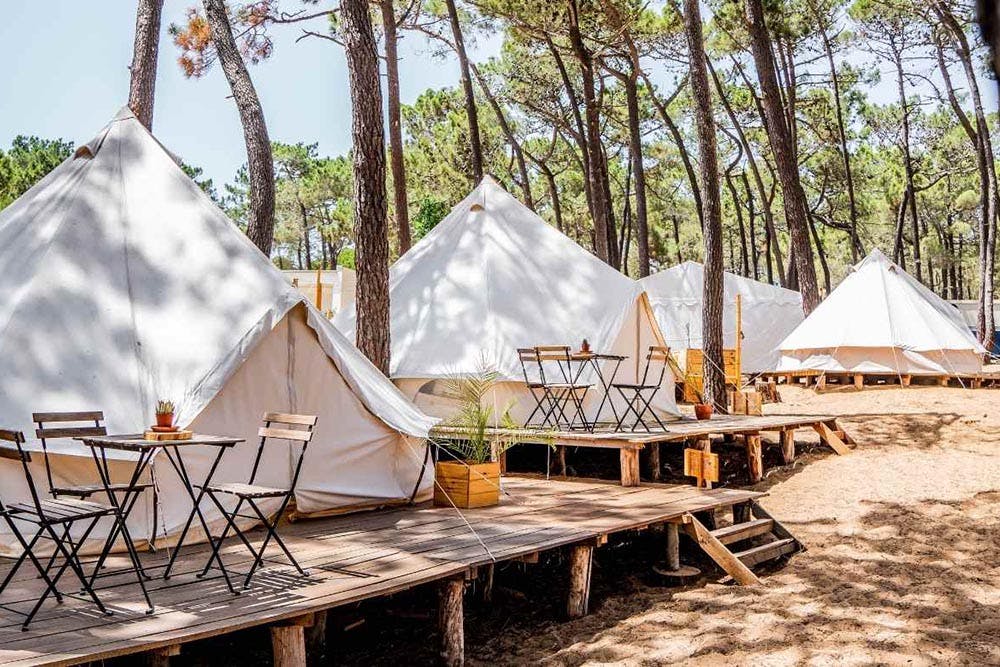 Learn to surf while glamping in Algarve at Wavy SurfCamp


Unique Glamping experiences
Portugal's glamping experiences extend beyond the luxurious accommodations. Many sites offer additional activities to enhance guests' stay, such as horseback riding through vineyards, kayaking along pristine coastlines, yoga & meditation or exploring nearby hiking trails. Furthermore, indulging in traditional Portuguese cuisine and experiencing local culture and traditions adds an authentic touch to your Portugal glamping adventure.
Sustainability and eco-consciousness
One of the remarkable aspects of glamping in Portugal is the commitment to sustainability and eco-conscious practices. Many glamping sites prioritise eco-friendly construction, use renewable energy sources, and incorporate eco-friendly amenities. These initiatives not only reduce the impact on the environment but also provide guests with an opportunity to reconnect with nature and support sustainable tourism.

Planning your trip
To ensure a seamless glamping experience in Portugal, it's essential to plan ahead. Research various glamping sites, consider the amenities and activities they offer and read reviews from previous guests. Additionally, booking in advance is recommended, especially during peak seasons, to secure your desired accommodation and dates. The best glamping in Portugal gets booked up quickly.


Portugal glamping FAQ
What is glamping?
Glamping is the art of glamorous camping. It has emerged in recent years as a captivating way to experience the beauty of nature without compromising on comfort.
What types of glamping options are available in Portugal?
Portugal offers a variety of glamping accommodations, including safari tents, yurts, treehouses, eco-lodges, cabins, vintage trailers and campervans. Each accommodation provides a unique experience blending nature and luxury.
Where are popular glamping destinations in Portugal?
Popular glamping destinations in Portugal include the Algarve region, Alentejo, Douro Valley, Sintra, and the Costa Vicentina. These areas offer scenic landscapes, beaches, vineyards, and cultural attractions.
Is glamping suitable for families?
Yes, glamping is a popular choice for families seeking an elevated camping experience. Many glamping sites offer private accommodations with comfortable interiors and top amenities.
Is glamping pet-friendly?
Some glamping sites in Portugal are pet-friendly, allowing guests to bring their furry companions. However, it is important to check with the specific glamping site beforehand to confirm their pet policy and any restrictions that may apply.
What amenities do glamping sites in Portugal offer?
Glamping sites in Portugal typically provide comfortable beds, private bathrooms or shared facilities, electricity, heating or cooling systems, outdoor seating areas, and sometimes additional amenities such as Wi-Fi, swimming pools, on-site restaurants, or outdoor activities.
Is there year-round glamping in Portugal?
Yes, glamping in Portugal is generally available year-round, as the country enjoys mild winters and pleasant summers. However, availability may vary depending on the specific location and seasonal demand. It is advisable to check with the glamping site for their operating seasons and availability.
How to find and book the best glamping in Portugal?
Do your research and read blogs and reviews. It is recommended to book in advance, especially during peak seasons, to secure your desired dates and accommodations. Act fast to secure the best glamping in Portugal.
What should I pack for a glamping holiday in Portugal?
Bring comfortable clothing and shoes suitable for outdoor activities, sunscreen, insect repellent, toiletries, a reusable water bottle, a flashlight or headlamp, and any personal items or medications you may need. Additionally, consider packing layers to accommodate changing weather conditions.

Conclusion
Glamping in Portugal has evolved into a remarkable travel trend that combines luxury and nature in an unforgettable way. With its breathtaking landscapes, stunning coastlines, and commitment to sustainability, Portugal offers a plethora of unique glamping experiences. Whether you seek relaxation on the beach, adventures in the countryside, or a rendezvous with wine and gastronomy, Portugal's glamping destinations cater to all tastes. Embark on an enchanting journey, immerse yourself in nature, and create lasting memories in this beautiful corner of Europe.