We each have our own parenting survival strategies, carefully crafted and structured over time around a steady routine, so how could this possibly fit into a campervan? How will your kids sleep without their usual 6.30pm bath, familiar beds, books and mobile chimes? More often, opting for the comfort of a hotel or Airbnb, with rooms, doors and the screen nanny, a place where you can easily pack up your routines and adapt them to another building, feels like the easier option.
At Siesta Campers, we've been restoring vintage VW buses and building new T6 campers for almost 20 years with my partner Loyd.  We have also been fortunate to experience many family road trips with our two daughters. Even though they have now grown from babies to teens, we all still love the feeling of packing up the basics  into a little home and driving off to either an old familiar favourite cove or roaming to discover new pastures. There is underrated freedom that comes from the lack of routine. Life in a campervan also provides a great opportunity to bond as you and your family navigate through practical yet simple tasks. At the end of a calm yet exhilarating day, there is a real joy and ease in bedding down in a small cosy space together. Children and babies seem to sleep very well in our buses, thriving in close proximity. As adults, we are blissfully released from being plugged into our habitual daily technological pacifiers, allowing us to truly be with our families and live in the moment.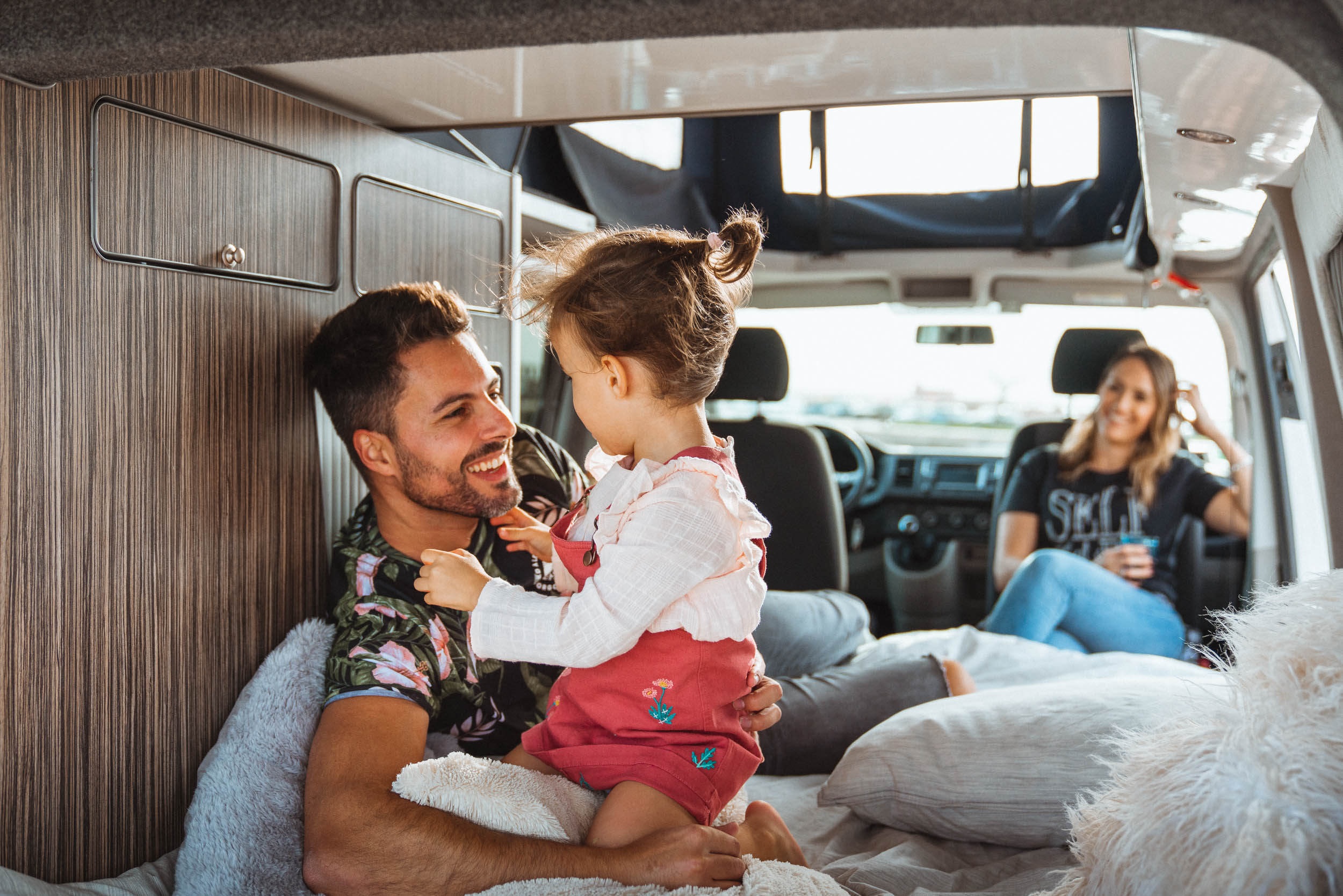 A better family road trip in 7 simple steps:
1. Pack lightly
Wondering what to bring on a road trip with family? We provide everything you will need for a comfortable family camping experience including cutlery, glasses, plates, bowls, warm bedding, cleaning supplies and much more. Our VW campervan fleet is very well equipped including refrigerators, cookers and showers too! You will need a lot less than you think when you are out on the road and it helps to have less luggage to live with in these compact spaces. Cases can be stored under the beds in all our campers. Soft bags are much better than the rigid hard suitcases. We can store any oversized items such as push chairs at our base to make your camping experience comfortable and hassle-free. Also, take a look at our list of available extras.
2. What to sleep on when camping
There is a double bed at the top and at the bottom in all of our family campers. Behind the back seat there is a space that becomes a safe and cosy cot  for smaller children ideal for afternoon naps leaving your main living space functional. In the classics, the slow pace of life combines perfectly with soft, colourful interiors to create a cosy camping experience for young  families. Our Siesta Atlantic vans allow for an optional sleeping arrangement for a 5th family member, with an additional cab bunk bed for your smallest child.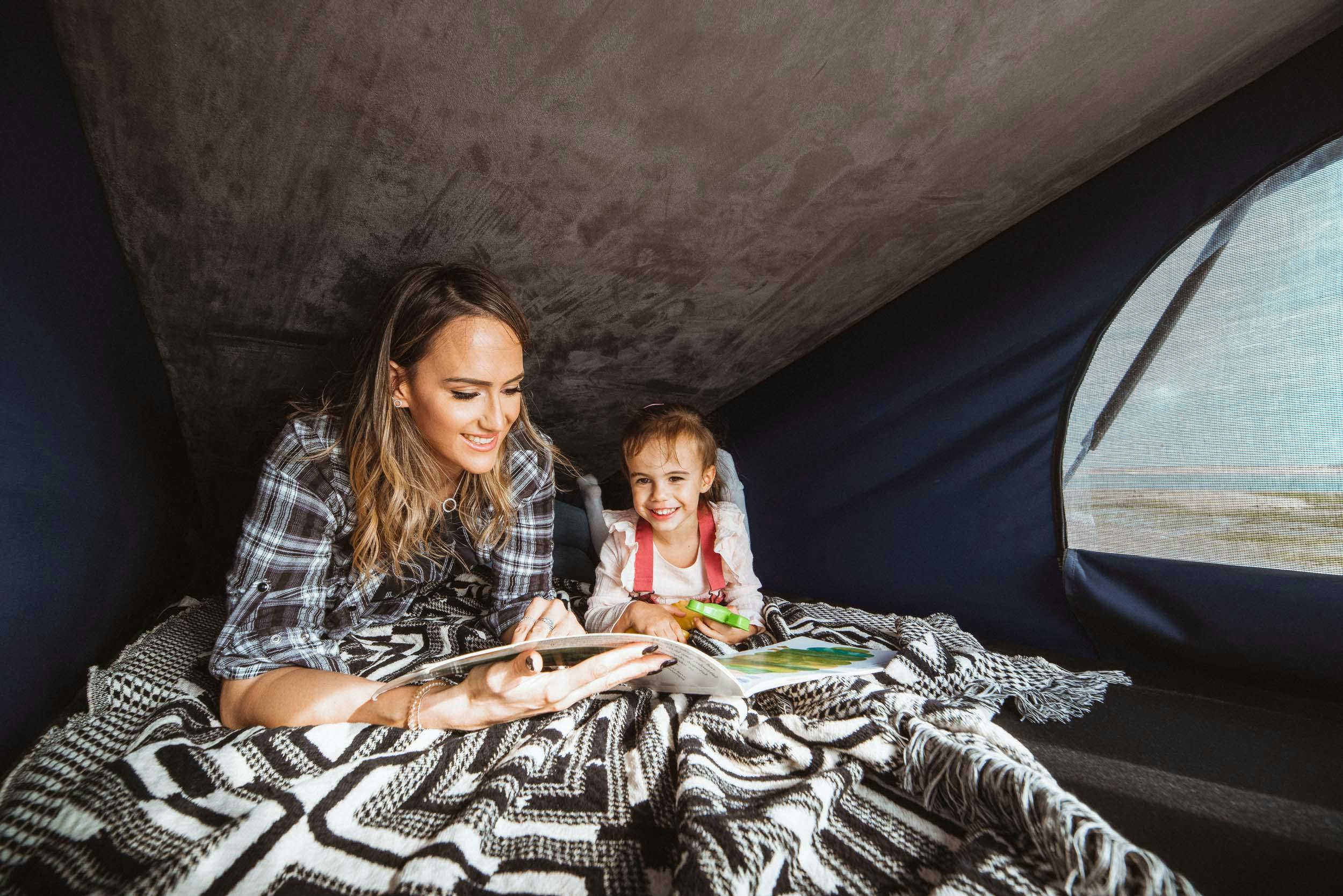 3. Cooking when camping
We provide a table that can fit inside, however you will be most likely dine outside. If you seat your smaller children on the edge of the sliding door, with your table alongside, they will be at a perfect, safe and stable height to dine with you. They also cannot escape before the meal is over! We can also provide high chairs for the younger campers. Our campers also come equipped with a refrigerator, sink, and a 2 hob gas cooker. Check out these vegetarian van life cooking recipes and advice for a little inspiration.
4. Campervan parking
All our T6 and T2 VW campers are suitably low to allow you entry into height restriction areas including some beach carparks and supermarkets. You can park where you need to be without having to haul all your beach supplies too far. You will have the freedom of easy maneuverability that only a compact camper can provide, so you can explore the many narrow streets in historic towns and easily travel down one way roads to access remote beaches. Easy parking is a real bonus for a family beach day! For overnight stays take a look at our picks for the best campsites in Portugal.
5. Sunshade is essential!
All our campers are fitted with a shade over the side sliding door, extending your living space. In the classic campers, this is a small clip on canvas. On the modern vans this is a pullout awning. These truly do change the feel and up the comfort level no matter the camping location.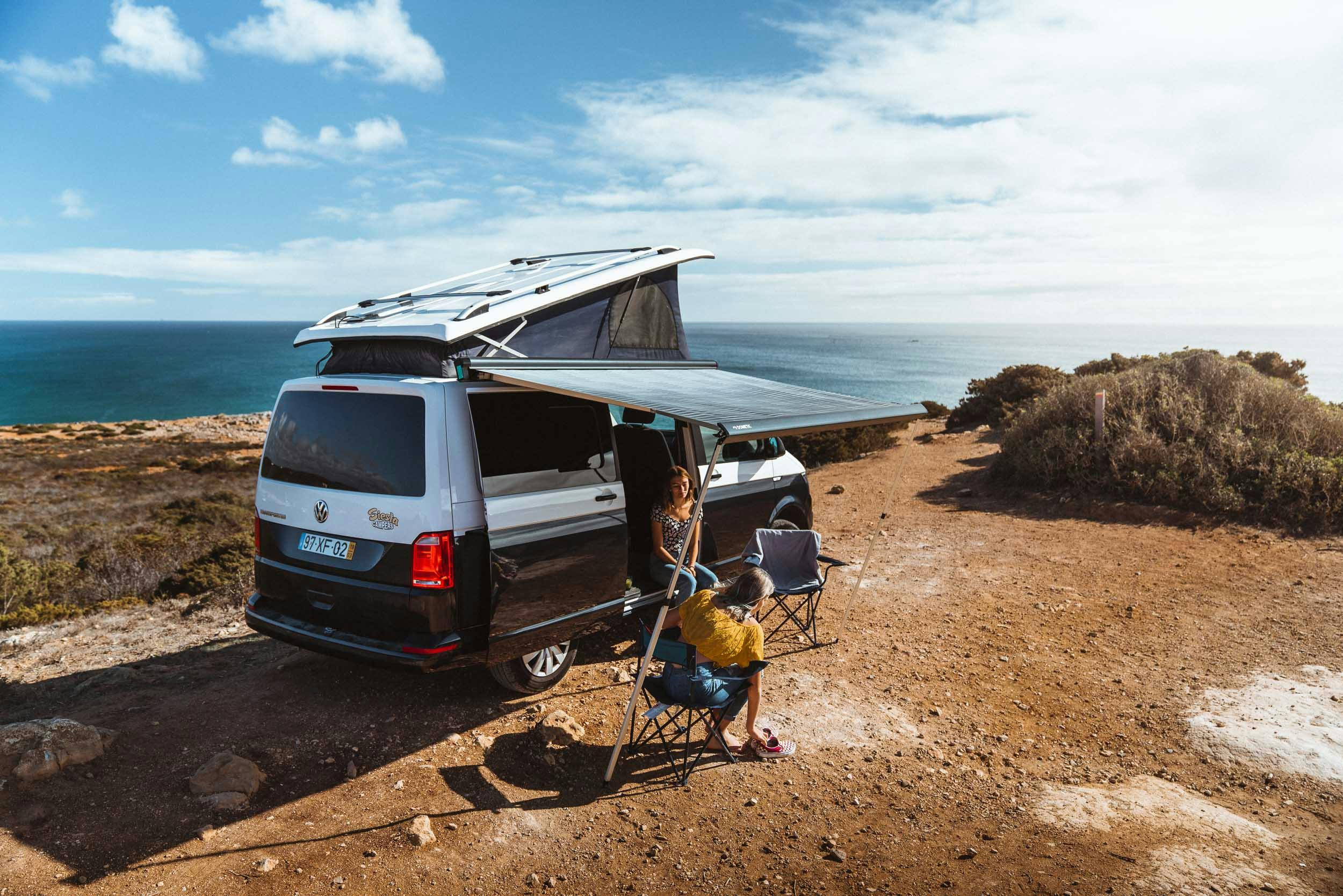 6. Restaurants
Portuguese culture thoroughly embraces children! It is perfectly normal to be out with your children and babies in restaurants, cafes and bars until whatever hour you wish. Restaurants are very accustomed to providing high chairs for your babies or toddlers and are usually very happy to accommodate any special requests.
7. Driving your campervan
We have designed some of our Siesta Atlantic campers for families of 5. You can switch off the airbags if your child is in the front in a car seat. The back bench seat is crash tested for safety and has 3 x 3 point seat belts and we can supply car seats that fit this safely. The vintage campers have one 3 point seat and one lap belt. It is possible to safely secure 2 carseats here. Before you choose the van, read how our modern vans compare with hiring a vintage VW campervan.
In the end, traveling lighter, with less to worry about will allow for a deeper, more meaningful trip with your loved ones and a better Portugal family holiday. Dedicate more time to spending quality time together and less planning. Let Siesta Campers worry about the details and let the journey begin!