Searching for the most beautiful beaches in Portugal?

As well as Fado music, grilled seafood and Cristiano Ronaldo, for most people, Portugal is also inescapably linked with stunning, sun-drenched beaches. With a seemingly endless coastline that stretches 1,700 kilometres, you would think there's more than enough sand for everyone, right? Well, with Portugal being one of Europe's most visited destinations, finding those postcard-worthy spots only the locals whisper about is becoming increasingly tricky.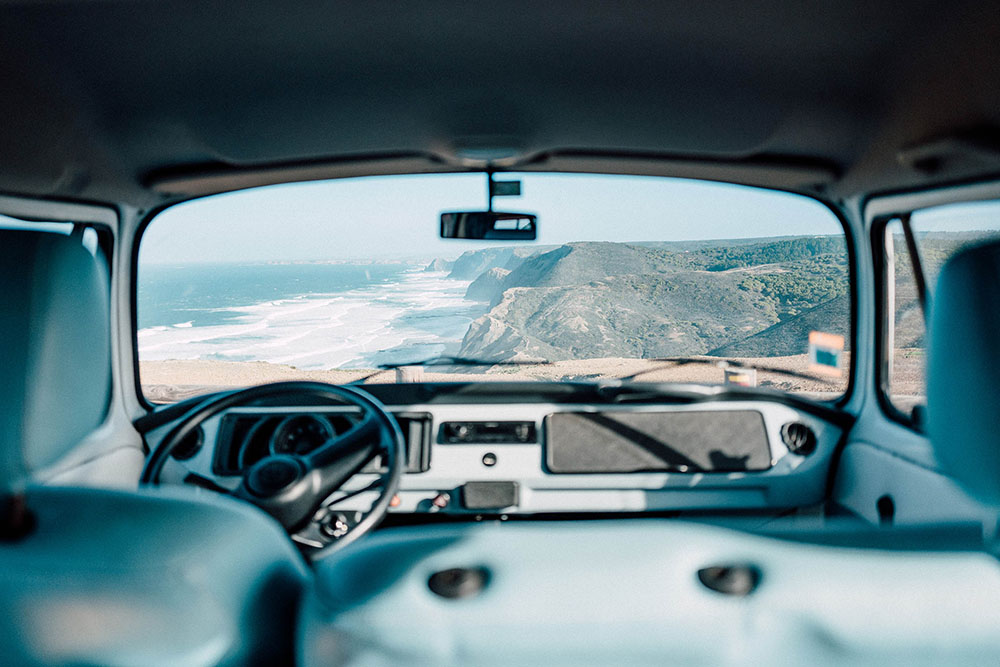 Portugal beach holiday in a campervan



Fortunately, the team at Siesta Campers have years of experience navigating Portugal's south and west coasts, in search of those elusive cliff-backed coves and secluded swathes of golden sand. Although the vast majority of Portugal's sun-seeking visitors head for the Algarve, the country is blessed with numerous beaches that are definitely worth pointing your van in the direction of. When you collect your campervan, our team will always offer you their extensive knowledge about top spots and amazing park-ups. We simply can't list all of the top spots here, but here are five you just have to see!


1: Forte do Paço beach, Porto - perfect for families
We highly recommend visiting Forte do Paço beach, which is the best of a number of beaches near Porto. Located one hour north of the city in the district of Viana do Castelo, this untouched 800 metre stretch of sand awaits beyond wooded hills. Shallow pools of sun-warmed seawater form under granite boulders create ideal paddling pools for your little ones, whilst the nearby ruin of an 18th-century fort, is every small pirate's perfect hideaway.

Driving directions to Forte do Paco beach
Staying overnight? We recommend heading to Park Camping Paço

Forte do Paço beach near Porto


2: Galapinhos beach, Setúbal - most beautiful beach near Lisbon
Drive towards the picturesque harbour village of Portinho da Arrábida, a stone's throw from the historic city of Setúbal. The reason for the drive is to experience one of the most unforgettable beaches near Lisbon, voted Europe's best beach in 2017 - Galapinhos beach!
This hidden treasure remains puzzlingly absent from the tourist map, which is almost suspicious once you've set eyes on its calm, crystal clear waters and white sand, back-dropped by the breathtaking wooded slopes of the Serra da Arrábida rising dramatically above the coastline. Protected as the Parque Natural da Arrábida since 1976, this popular hiking spot for Lisbon locals in the know, is also home to eagles, buzzards, wildcats, badgers, and polecats.

Driving directions to Galapinhos beach
Staying overnight? We recommend heading here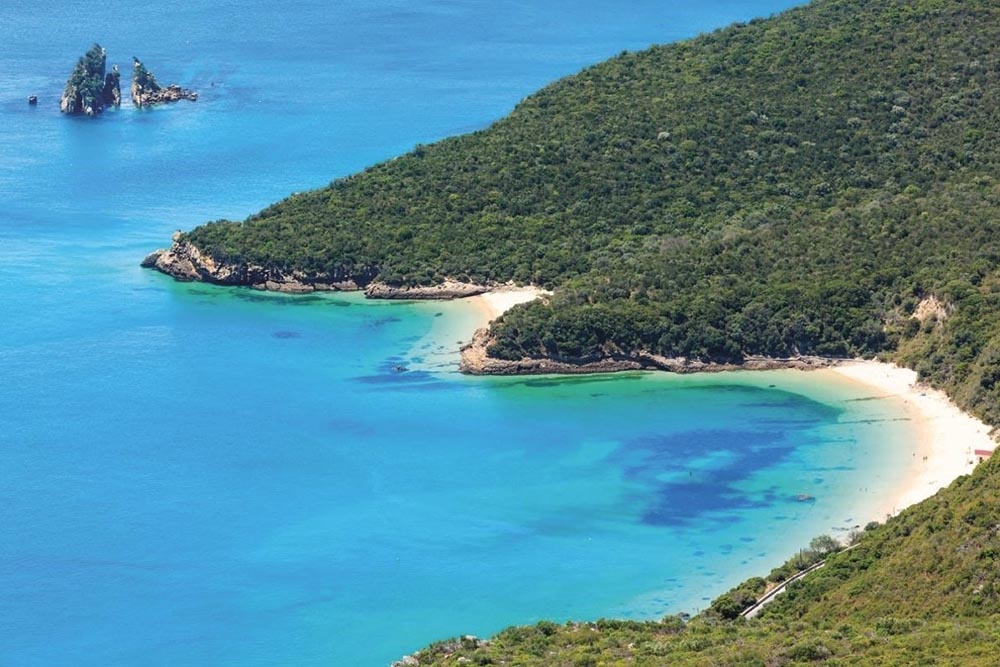 Galapinhos beach near Lisbon


3: Samouqueira beach, Alentejo - great for campervans
Alentejo, located to the north of the Algarve is Portugal's less developed and sparsely populated tourist hotspot. It's been described as Portugal's Provence or Tuscany. However, what this region has in spectacular abundance and quality are beaches. If you're coming down for a taste of Portugal beach holidays, experiencing Alentejo must be part of your itinerary.
The south Alentejo coast is hugely popular with the locals, who return here for its rolling hills, ocean-carved cliffs, and unassuming villages built around dramatic bays. The former fishing village of Porto Côvo is most deserving of your attention for its charm and proximity to numerous Portugal beaches, including the extremely pretty Samoqueira Beach. It's so named because of its exceptional rock formations and caves that warrant admiration and exploration during low tide.

Driving directions to Samoqueira beach
Staying overnight? Check out Parque de Campismo da Ilha do Pessegueiro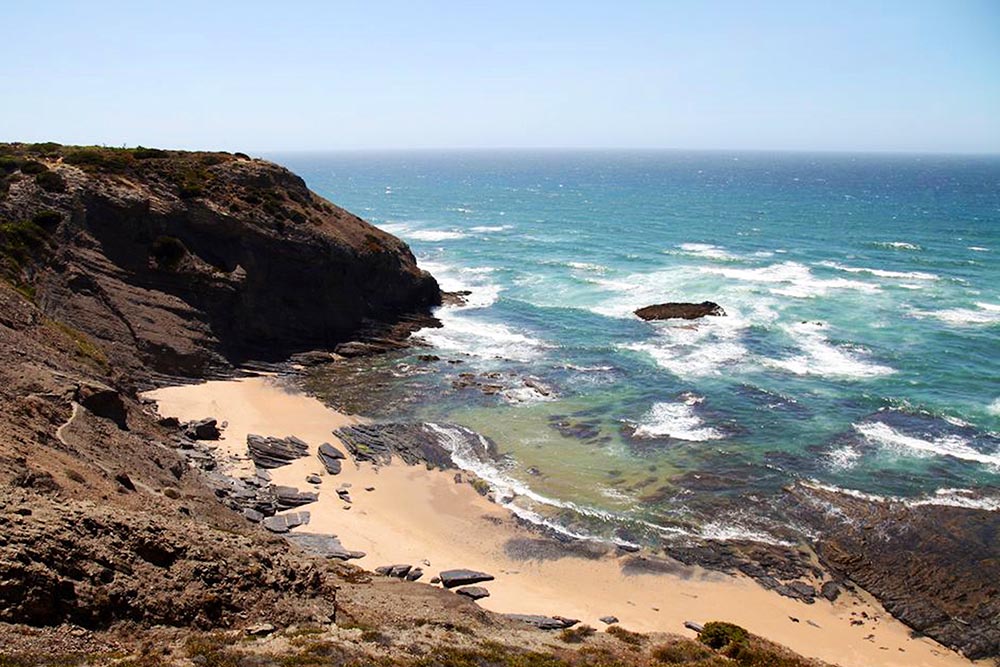 Samoqueira beach in Alentejo


4: Bordeira beach, Algarve - our favourite beach
The Algarve is home to some of Portugal's, and therefore Europe's, best surfing. To the surfer crowd Bordeira beach is spoken about with reverence yet surprisingly, most other people tend not to have heard about what is unquestionably one of the best beaches in Algarve.
Head towards Carrapateira, a short drive north from Sagres or south from Aljezur. A couple of kilometres below the sleepy village of Carrapateira, you'll find Bordeira beach in all its wild glory. Backed by huge sand dunes, limestone cliffs and a river. Its three kilometres of continuous golden sand and crashing surf is a sight to behold. The surrounding cliffs are easily accessible by tarmac road and offering ample opportunity to park and admire the sunset, or sunrise if you don't mind running the risk of a wild camping fine from the GNR.

Driving directions to Bordeira beach
Staying overnight? We recommend heading to Salema Eco Camping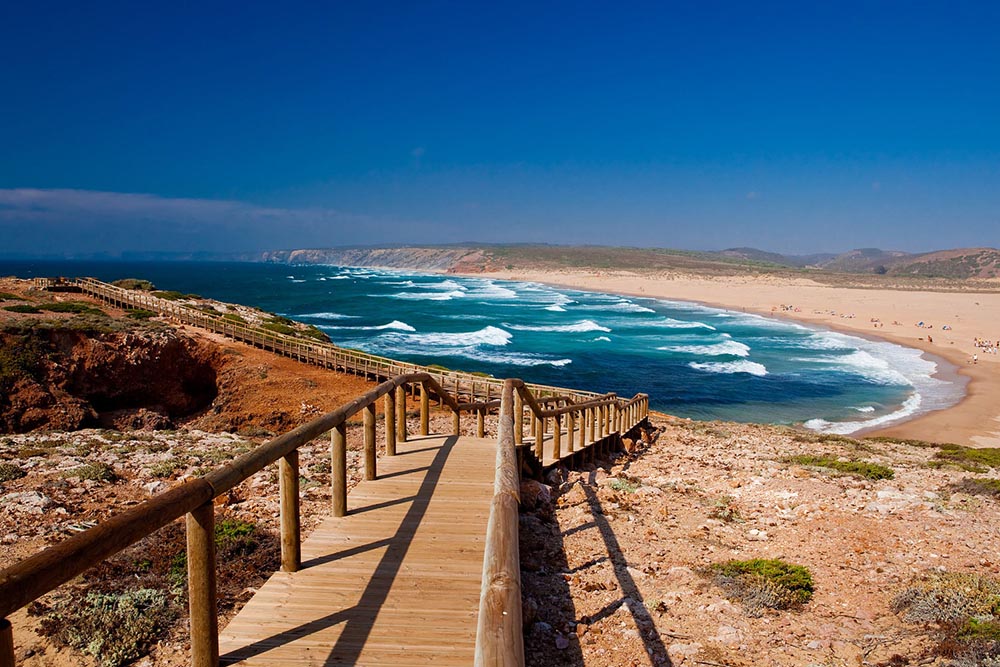 Bordeira beach


5: Barril beach, Algarve - famous anchor graveyard
A mere 40 minute drive from Faro, you can find one of the eastern Algarve's best-kept secrets: Tavira Island (Ilha de Tavira), a sandbar island that stretches southwest from Tavira, reaching almost to Fuseta. This one is one of our favourite Algarve beaches! Located within the Ria Formosa natural park are the impressive dunes of this barrier island, which safeguard an area of flooded marshland from the power of the Atlantic.
After parking your campervan in the car park, it's a pleasant walk along a pine tree-lined footpath that leads over the salt marshes to the 11 kilometre stretch of seemingly endless sand waiting to reward you. You can even jump on the mini open-sided train and arrive at the beach for a mere 2 euro ride. This is a must if you have young children.
Further exploration to the west side of the island will take you through the anchor cementary, a striking reminder of the tuna fishing industry that once supported the area before tourism. The naturist-friendly Barril beach with its soft white sand and calm, blue waters offer an idyllic hideaway to unwind and dive into a good book.

Driving directions to Barril beach
Staying overnight? We recommend heading to Camping Ria Formosa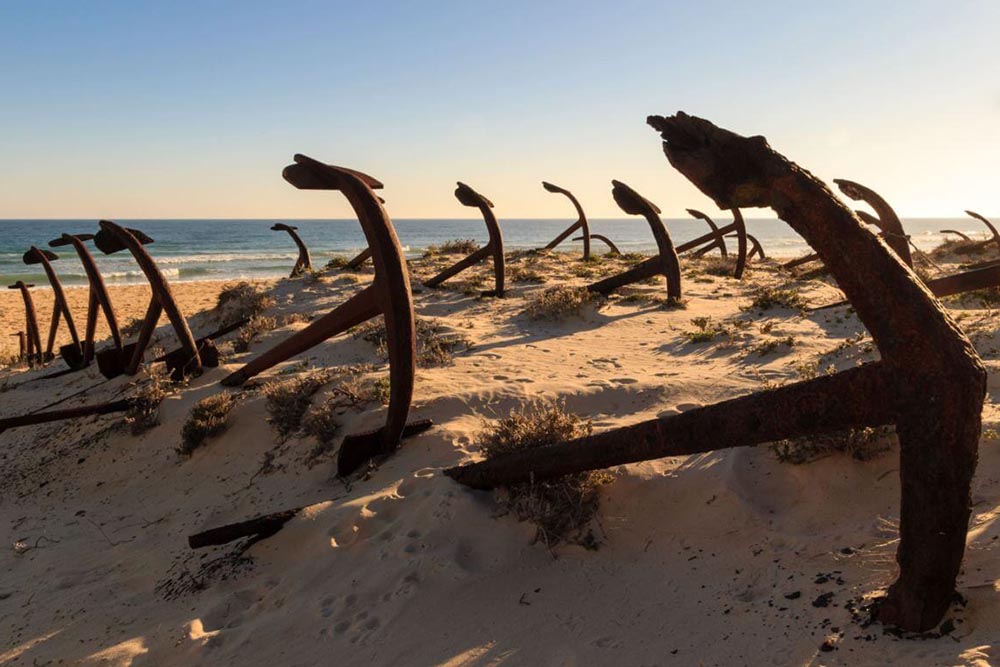 Barril beach anchor graveyard


Portugal beaches: Conclusion
Have you stayed on any of these beautiful beaches with a campervan? Have we missed any secret locations you've visited Portugal beach holiday? Let us know and be sure to give us a shout whenever you are in the area!