Mission : Sunset Lisbon
With so much choice of where to head as dusk approaches, you can't help but wonder how to make the most of mission: Sunset Lisbon. We have years of experience in exploring Lisbon and the surrounding areas by campervan. We've narrowed an extensive list of potential spots into our favourite picks to ensure that your campervan hire in Lisbon and the resulting hunt for the best sunset spots in Lisbon is a success.
Driving around Lisbon can be a bit tricky due to the narrow streets and elevation changes. For this reason our recommendations for Lisbon sunset spots are not only beautiful, but also accessible with a larger vehicle such as a campervan.
Pro tip: you're planning on spending a few days in the city, these are some of the only locations to offer free parking in Lisbon.


Our favourite Lisbon sunset spots:
1. Belém
Whether your trip is a rushed visit or a more relaxed break, a Lisbon sunset session in Belém is a must. Drive southwest from Lisbon's centre, heading to the ferry terminal, which is an ideal (and totally free!) place to open a bottle of wine, watch a beautiful sunset and spend a cosy night in your campervan right in the heart of Lisbon. There aren't many free parking spots in Lisbon. You're welcome.
After a fantastic sunset and a restful night's sleep, it's time for breakfast. You could rustle something up in your van's fully-equipped kitchen, or you could head to the Pasteis de Belém for a coffee and one of their famous pastries, made fresh each day to their secret recipe.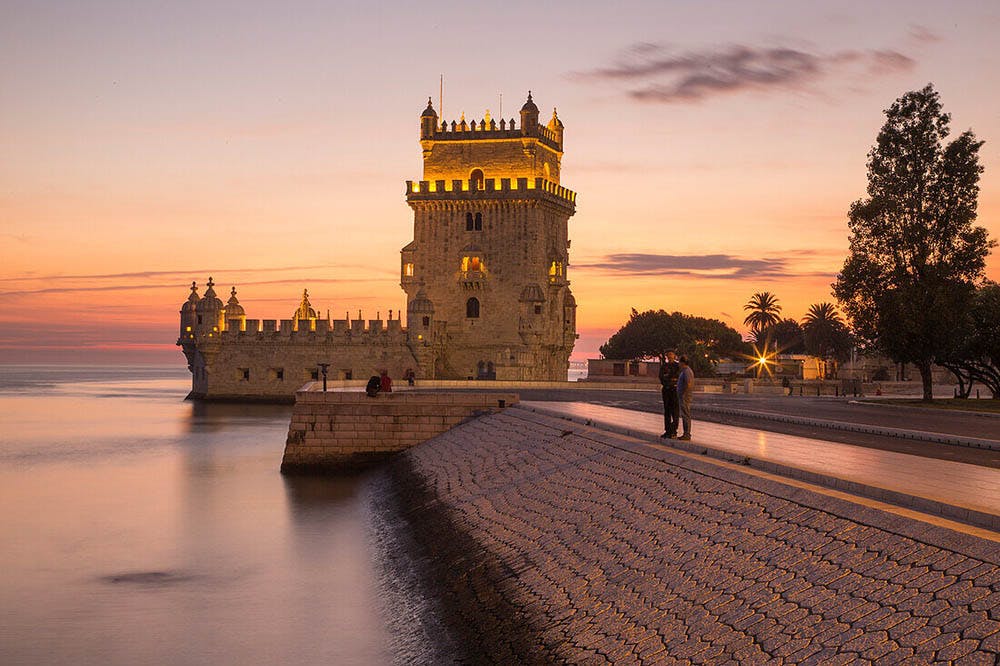 Sunset at Torre de Belém



Time for a little culture next! Conveniently located a mere stone's throw from your Lisbon sunset spot is the Museu Coleção Berardo. This wonderful gallery of modern and contemporary art is Lisbon's most visited museum and is free all day Saturday and is just over the road from your parking spot at the Ferry Terminal.

If you have a little extra time in Belém, we also recommend: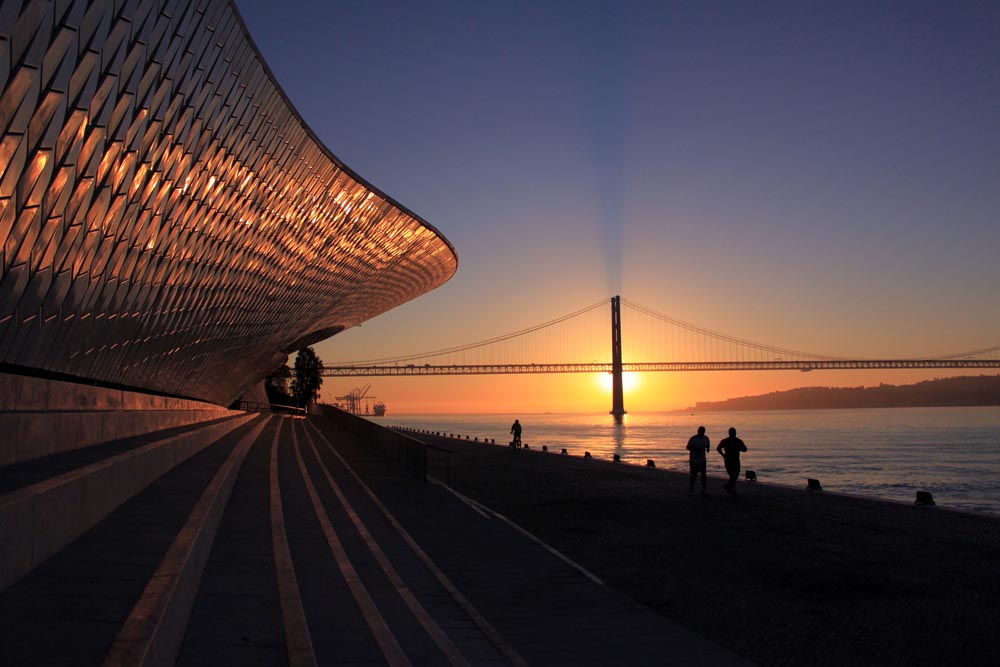 Ok, this one is a sunrise shot, but it's equally beautiful facing the other direction!


2. Alcântara
If you like a little nightlife to accompany mission: Sunset Lisbon, we recommend driving your campervan to the Alcântara waterfront. This once thriving port on the Tagus River is now a busy hub of trendy bars, waterside restaurants and clubs.
Housed in the converted warehouses of Santo Amaro Docks, near Lisbon's iconic 25 de Abril Bridge, this location is equally suited for afternoon coffee by the river or dinner and drinks to get your night started.
If the previous night's fun didn't leave you too worse for wear, you might like to indulge in a spot of retail therapy. Walk or drive over to the Lx Factory, which has been called 'Lisbon's trendiest quarter', and check out a huge variety of cool cafés, restaurants, shops (including Lisbon's prettiest bookshop, Ler Devagar) and other interesting cultural and artistic projects.

Considering spending another 24 hours in Alcântara? Check out:
Museu da Carris – Everyone loves watching the distinctive yellow trams wind through Lisbon's narrow streets, right? This is the place to get up-to-speed on their history and Lisbon's public transportation.
Ponte 25 de Abril – Drive your van underneath Lisbon's famous  '25 of April Bridge' to take a photo or two of one of the city's most enduring landmarks. Bonus points for managing to squeeze the Cristo Rei monument in the background of your selfie!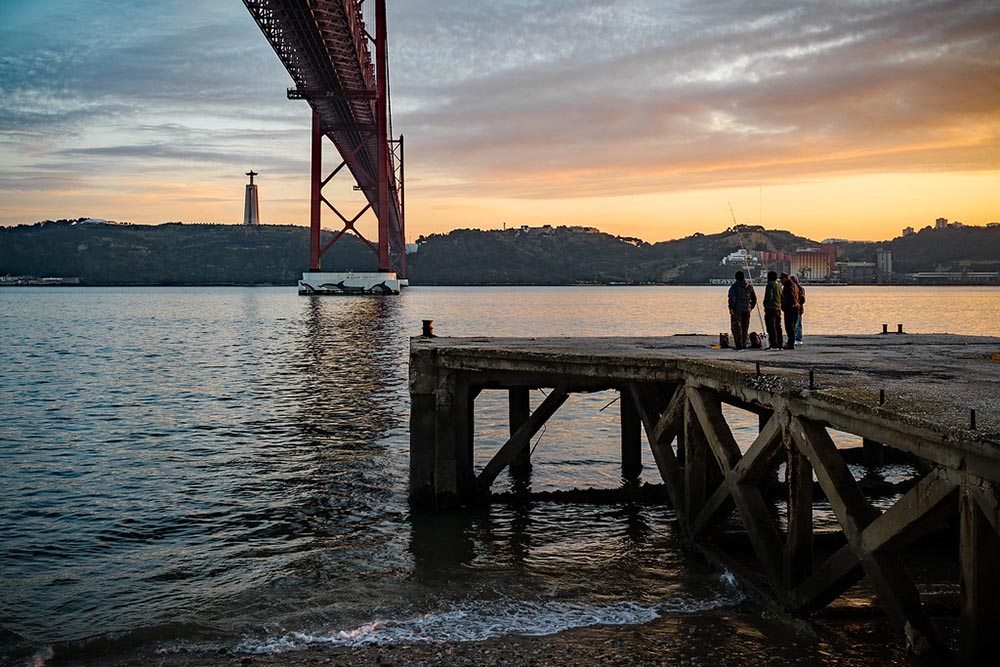 Sunset in Alcântara with Cristo Rei and Ponte 25 de Abril bridge


3. Monsanto
Looking for a more remote sunset spot in Lisbon? We recommend Parque Florestal de Monsanto. Within its 10km of natural beauty, you will also find the Parque Municipal de Campismo de Monsanto, a great place to park your campervan overnight.
Wondering how to top your night's stay in Monsanto? How about grabbing a coffee and taking a scenic walk to Lisbon's old aqueduct! The Águas Livres Aqueduct is one of Lisbon's most iconic sights, steeped in historical significance and architectural magnificence. Missed by most, it's possible to walk across the walkaways of the aqueduct, which offer incredible views for little physical effort.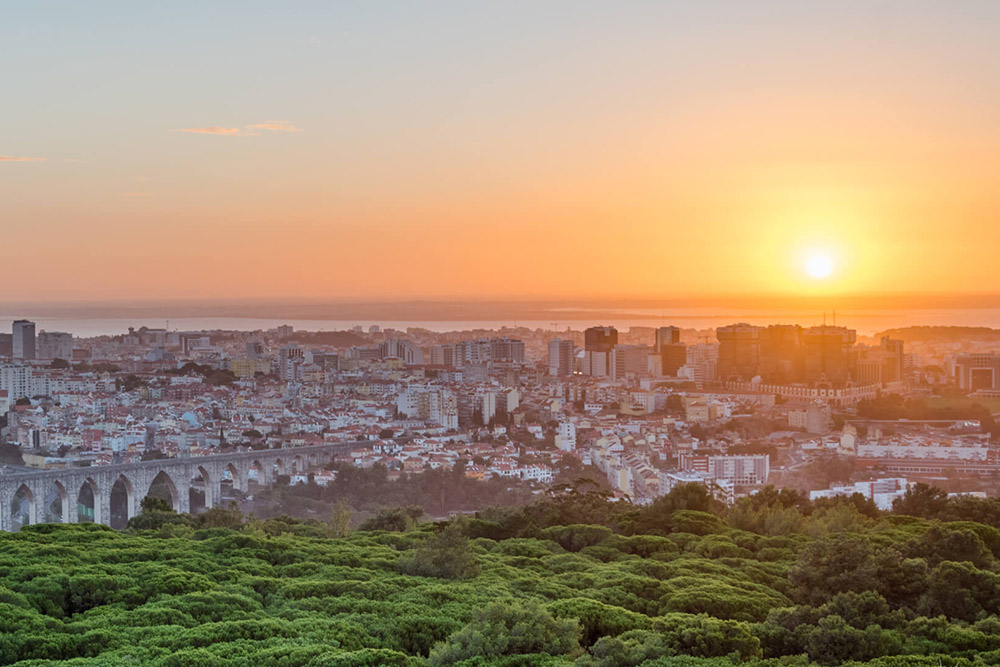 Sunset at Monsanto


Before leaving Monsanto you could also:
Cycle into the city – Swap four wheels for two and see some of Lisbon's most picturesque parts at a slower pace. Many of the trails weave through a healthy forest and offer wonderful city views.
Restaurante Panorâmico de Monsanto – If you're feeling a little adventurous you could drive up to the long-abandoned restaurant. It may no longer be open for business but it still serves up arguably the Lisbon sunset.


4. Miradouro da Senhora do Monte
Another incredible spot to watch the sunset in Lisbon is the Miradouro da Senhora do Monte in Graça. It requires a bit of skilled driving and finesse to get to and the parking lot nearby is small and often full of tours, but once you get there, all worries melt away just like the cotton candy hues on the horizon. This is the highest viewpoint in Lisbon and offers sweeping views of the entire city, the nearby castle, Christ the King statue and the Ponte 25 de Abril bridge.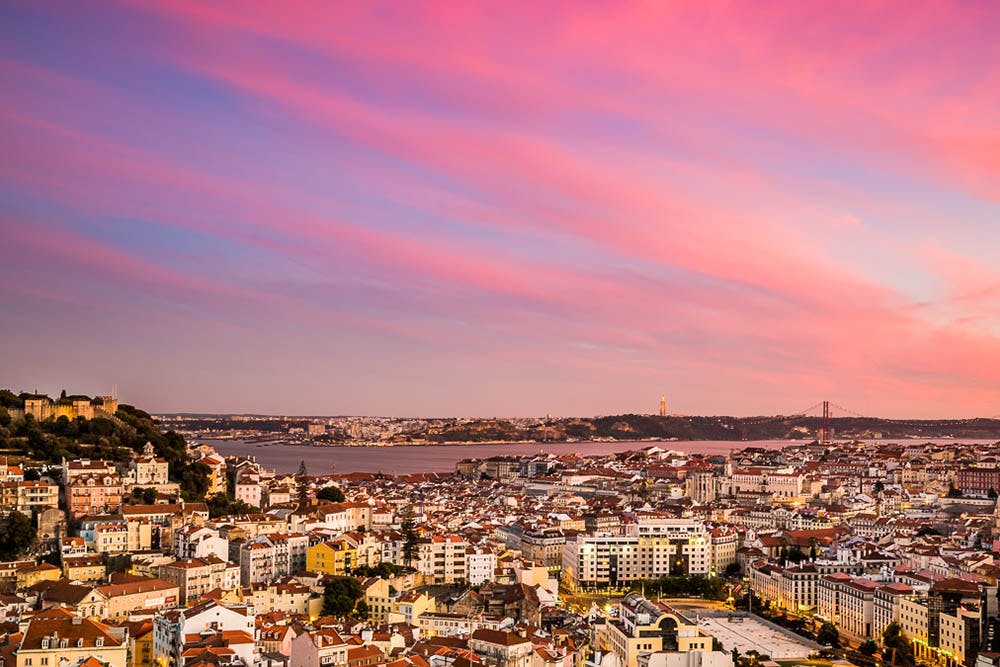 Miradouro da Senhora do Monte sunset


Sunset Lisbon: Conclusion
With countless beautiful sunset spots in Lisbon it's not easy to pick the winner. For our customers exploring the area in one of our campervans, make the most of the free parking in Lisbon and throughout Portugal, the choices are endless and often better than the paid alternative. From incredible inland spots to hidden coastal retreats and enclaves, those in the know are able to enjoy the best of the country's amazing scenery. Drop us a line to let us know your favourite places to watch the sun go down all year round.