Converting a van into a campervan in Portugal can be both thrilling and challenging. With our expertise in converting vans into campers since 2007, we are well-versed in navigating the intricacies of Portuguese paperwork.
In this comprehensive guide, we'll break down the process into manageable steps to help you successfully and legally transform your commercial van into a comfortable campervan using a VW Crafter as an example. It's not for the fainthearted, and just forget comparing Portugal to how it's done in other EU countries; it will just make you mad!


Before you start your van conversion in Portugal
We highly recommend enlisting the assistance of a Portuguese-speaking friend. Treat them well, they're going to need a lot of patience. If you find the task overwhelming, there are two alternative options you might want to consider:

Option 1: Let us take the stress out of the process
We can take care of the full process and help you to legalise a van in Portugal. We offer a service to help with your existing camper build or help you through the project. We will guide you using our engineers and assist in entering the legal process. The fee for legalising an existing camper build, without any necessary changes, starts at €700. If you import a van into Portugal, you will have to pay the ISV (vehicle import tax) charge on top, this can be up to €2000 or more depending on the model and CC. We can quote you the actual price you will need to pay in ISV.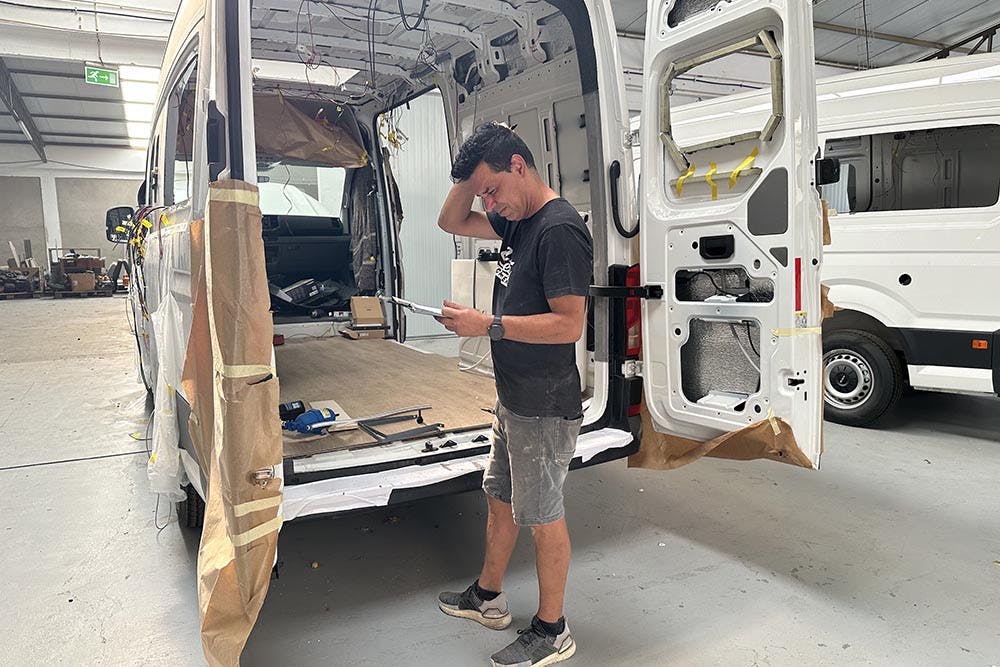 Avoid the stress and let us help you legalise your van in Portugal


Option 2: Leave it as a commercial van
You can leave your van registered as commercial. This option is great for the weekend warriors willing to sacrifice a bit of comfort for peace of mind. You'll also still maintain the ability to use your van for commercial purposes as needed.
You can put a skylight in no problem, as this is ventilation. The furniture MUST be removable and not permanently fixed. With our removable camper conversion kits, everything comes out in minutes with quick-release hand bolts. When you go to the inspection you must remove the furniture. The inspection centre will refuse to inspect if they see it has fixed fittings inside. If you opt for removable campervan furniture, You must always leave the bulkhead between the front seats and the rear compartment.
If you mess with the van too much internally, like clad it with wood etc and add too many fittings, the police may stop you and they have the right to impound the vehicle and ask you to remove all interior fittings and subsequently fine you.
You can add windows. You can even add a pop-top roof if your livrete (log book) states 'com ou sem tecto de abrir' which is technically a sunroof. Many vans have this as standard on the livrete.
The best part of this approach is if you run a business in Portugal, you can put the van through the business and claim the VAT as it stays a commercial van. We sell all the lining equipment and insulation and 12v kit to make your low-cost camper.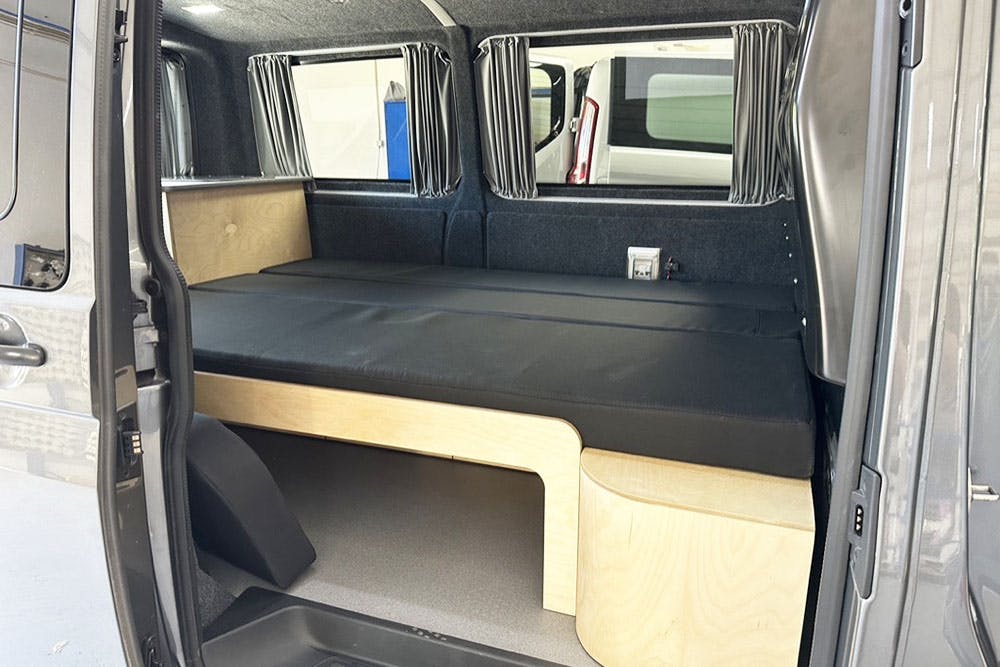 Commercial van with a removable camping kit


Government bodies involved in legalising your van conversion
IMT (Instituto da Mobilidade e dos Transportes) - Transportation authority responsible for all transport-related matters, including taxi licences, Camper hire licences, and import processes.
Autoridade Tributária e Aduaneira - Tributary & Customs Authority handles import duties and ISV payments.
IRN (Instituto dos Registos e do Notariado) - Notary ensures the vehicle log book is in your name at the end of the process.
Centro de Inspeção - Inspection centre for booking your inspection B.


Campervan classifications in Portugal
It's quite difficult to find good and reasonably priced commercial vans in Portugal. If you can't find anything you may want to consider importing from Abroad. If that's the case, skip to the next section. If you already own one and choose to press on with the van conversion there is plenty to go over. First, there are 2 classifications for campers in Portugal:

1. Especial dormitorio 
This was introduced in 2017, and we have our suspicions it was introduced to appease a rather large international camper hire company whose origins are based in Portugal. They are very well connected in Government and we believe this was to legalise their concept of, well, let's say, crap camper conversions without proper camper conditions. Think of a bare-bones conversion with a few cupboards in the back and a bed similar to image above. This has a cheaper tax to pay than a regular campervan. We don't recommend this approach, as it's too much hassle for too little reward. 

2. Autocaravana
We will focus on the camper legalisation under this category: To gain the autocaravana classification, the van must have the following:

Bed: Can be a seat or rock-n-roll bed that turns into a bed. This cannot carry passengers unless it is TUV certified for your model of van. It will also need to be installed by a certified company. We install Reimo seats, and our technicians have been certified in Germany by Reimo. This is important for your insurance! If you should be unfortunate enough to be involved in an accident, the insurers may want to see details of the seat installation. At the end of your campervan project, you will sign a document called the terma de responsabilidade; this is the document that says, 'I take full responsibility for this conversion and all of its safety elements.' so you want to be able to sleep at night knowing it's up to code and safe. If you've got a bench seat that will never take passengers, then no problem; just make sure it's well fixed down.

Cooker: This can be an electric induction hob or gas cooker. If you go down the gas route, the gas installation has to be certified by a gas engineer. Call around your local gas installers and ask if they certify a gas installation for campers. They will usually come out to you. Once approved they will put a sticker near the installation. In Portugal, it only needs it once, no need to renew.
Make sure the installation conforms to EU gas install regulations. These include a gas-tight storage locker with a gas vent drop-out. The installer will take the serial number and conformity number from the gas cooker so make sure you leave it visible for the installation inspection. A gas stop valve that is easily reached in an emergency. A solid gas pipe that is fixed with adequate brackets. The bottle must be secured in position. The inspector will pressure test it and look for a quality install.

Sink & water tanks: The sink should come equipped with a plumbed-in freshwater tank and a waste water tank. According to our engineer, inspectors want to see that you are capable of being autonomous in the van for 24 hours. They are looking for properly installed fresh water and grey water tanks with drainage that goes straight to the tank and won't make a mess.

Cupboards & storage: They ask for sufficient storage. There are no specifications on this other than they want to see some cupboards so things aren't flying around the van as you're driving, which can be especially dangerous in case of an accident.

Table & seating: They want to see a table and bench seat set up, so you can sit at the table. Of course, we supply all the components needed to make the perfect conversion and we can give you essential advice.

Windows & ventilation: Both must be present. If you want tinted windows, now is the time to add this to the project. They will be looking for CE-certified windows. Remember, window tints in Portugal need a project and must be on the livrete!

W.C. The IMT are really insistent that all campers must have a W.C. and rightly so with the amount of crap on the west coast these days. This can be portable, but they want to see it in a contained unit.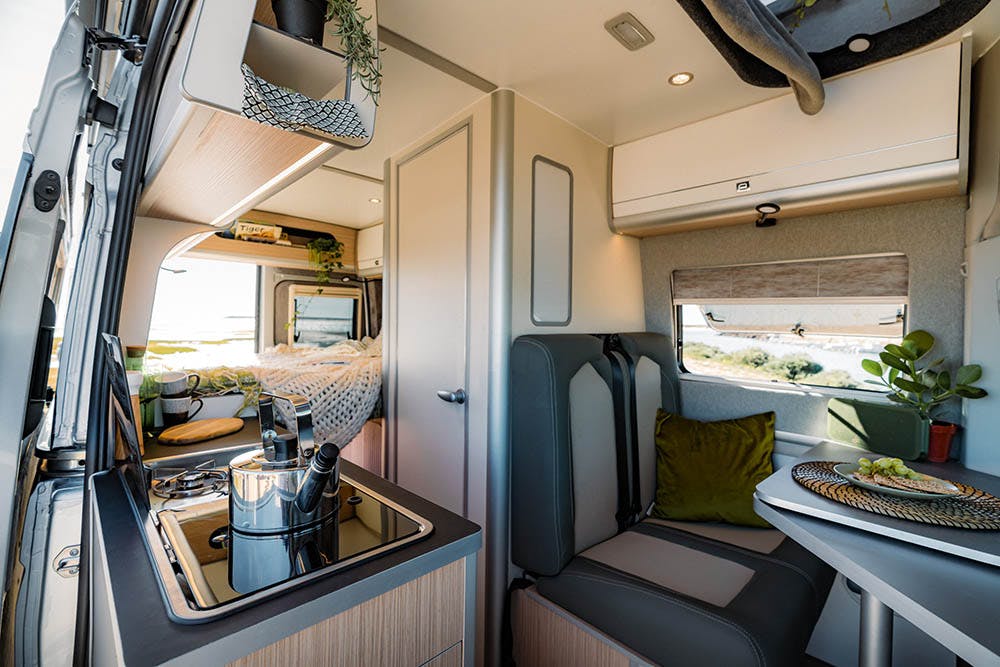 A legal van to campervan conversion by Siesta Campers


How to legalise a van conversion by yourself
1. Meet the engineer
This is the person that gets your project through the IMT. You will always need the use of an engineer to successfully complete the project.
The engineer is usually buddies with the guys down at the IMT so this person is the one that gets it approved. They have to be approved by the IMT and be a member of the Ordem dos Engenheiros, the regulatory and licensing body for the engineering profession in Portugal, to create the project for the IMT. They will usually tell you to do the conversion how you want it, taking into account the requisites above and when it's done they will come and draw up the plans in CAD.
The engineer will ask for photos all around and the interior. He will take interior dimensions and ask for the certifications or TUV of any safety critical equipment like seats, the pop top roof, awnings etc.
He will need the certification for the gas and the certificates for any seat belts installed. Seats will need headrests with TUV certificates.

2. Enter the Project at the IMT
Book your appointment at the IMT to hand in the project from the engineer. You will receive a document that the process has been submitted, and you can legally drive the vehicle until the IMT calls you for an inspection. The inspection process is random, and they could call you up to 8 months or more after the inspection. The inspection is a bit unconventional in that you will be called up to your local IMT centre, as they don't have inspection facilities. You will be asked to park on the side of the road near the centre while the head engineer at the centre comes out with his clipboard and sits in the van, nods his head in approval or shakes in disapproval and then signs it off, which is good, as you've already been using it for 8 months. He may send you away to correct something he's not happy about, and then subsequently you will need to make another inspection.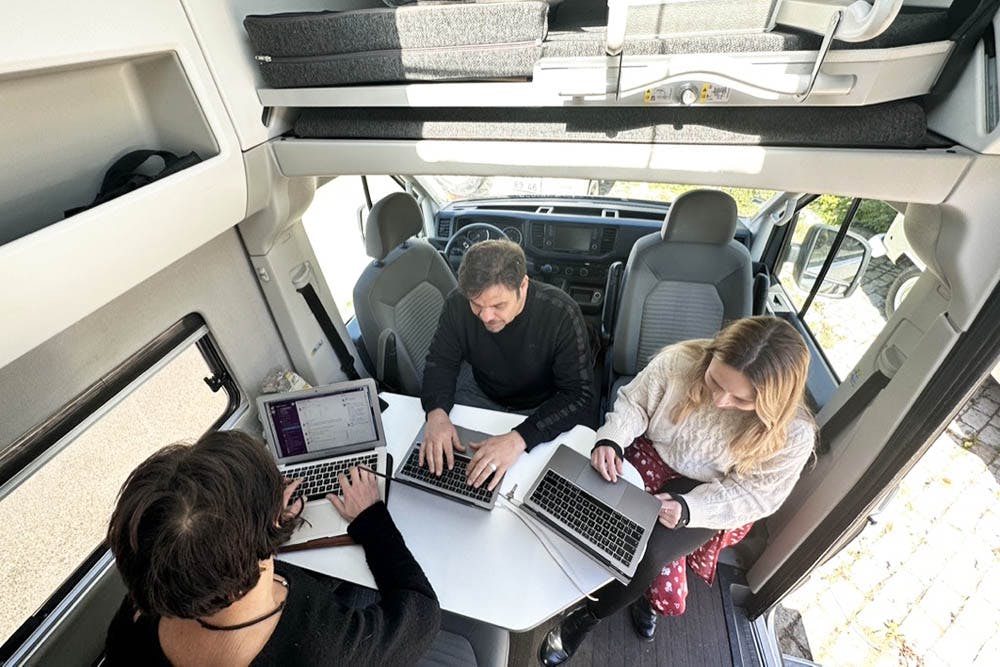 IMT inspection


3. Pay Customs
You will then need to enter the process into Customs (Alfandegas), once you have submitted the project into the IMT from your engineer. This has to be done online and is no easy task. Buy your Portuguese friend a beer at this point, they're going to need it to get through the clunkiest interface ever. Occasionally the system may be down. It's all a bit random.
One thing we have found is that you can call your local Alfandegas office and they are much more helpful than the IMT office. They're slightly less stressed than the IMT and will give you the time you need to get through the process. You can no longer do it in person and it must be completed online.
You're paying the difference in tax from a commercial base vehicle to an autocaravana. At present, campers pay 30% of the tax that a normal passenger vehicle pays, that's a lot cheaper!
The ISV on a 2 year old commercial VW Crafter is €1000 (2023 price). The camper tax on the same vehicle is €2,300 so you need to pay the Alfandegas the €1300 difference for the change. The government has declared that they will scrap the benefit of the reduction of taxes on campers and it will gradually become the same price as a normal passenger vehicle. They will stage this over the next four years, so 2024 will pay 40%, 2025 60%, 2026 80%, and 2027 100%. This means a VW transporter campervan will pay around €9000 in taxes. Yes, that's right it won't be worth doing. Better hurry!
This is the DAV (Declaração Aduaneira de Veículos) from the Alfandegas. You can get all the info you need here. You need to pay the DAV before the project is approved as you have 21 days or will receive a fine of 120€. You will need to pay the DAV before receiving the new livrete (vehicle log book). There's one person the state doesn't like you not paying and that's the tax man.

4. Return to the IMT with the paid DAV
Once you paid the DAV return to the IMT. You need to make an appointment online once again to enter proof of the finalised DAV. No payment is needed at this stage.

5. Register the vehicle at the IRN office
Usually, you will need to wait 2 weeks before you can go to the final stage at the IRN. You have up to 90 days to complete the final registration at the IRN office.

6. Pay the yearly road tax
The yearly circulation tax in Portugal, IUC is around €60 but depends on the size of the engine and the emissions. The next step, wait for the livrete to arrive. If everything goes well, you're done!


Need to import a van to Portugal before you convert?
If you're considering importing a van from outside Portugal, you'll be happy to hear commercial van imports cost a fraction compared to passenger vehicles. Use an online simulator to calculate the ISV (imposto sobre veiculos / vehicle tax) and get a clear idea of the tax payable before importing. Reminder: this tax benefit will be phased out over the coming years. Here's how to import a commercial van into Portugal:

1. Gather documents
Download Form Modelo 9 online.
Find the COC (certificate of conformity). The COC was only introduced on vehicles newer than 1993. You will check with the IMT to see if it is registered with them, or with the main importers, another country's dealer or even easier on your vehicle log book. Some manufacturers will charge for this, others pass it on for free. You upload the details here https://chnac.imt-ip.pt/
You will receive a declaration from the IMT via the same site. You need to download this to take to the inspection centre once you've booked your inspection B.

2. Category B inspection
Book your inspection at the local test centre. Find your nearest test centre here: centro de inspeçoes. Book an appointment at your local test centre for a category B inspection. Get the van serviced before you go as they will fail you if the tracking or headlights are misaligned, and you won't get a free retest.

3. Enter the process at IMT
Booking an appointment at the IMT office. You must book this online. You cannot take a ticket and wait anymore. You will be charged €45 to enter the process.

4. Pay Customs
Then when approved by the IMT, you can enter the process with the Customs (Alfadegas) online. This is to pay the ISV

5. Register with the IRN
Register with the IRN, when you have paid the Declaração Aduaneira de Veículos (DAV) at the Alfandagas.

6. Get the number plates
The IMT will then issue the matricula (number plates). They will normally call you or email you to say they are ready. This will be a paper with the new matricula or number plate on it; you then need to go and get them made up. They will only make them up for you if you have this legal document from the alfandegas.

7. Register the vehicle in your name at the IRN
Once you have the plates you will need to make an appointment at the Conservatoria or IRN to register the vehicle in your name. you will be able to drive the vehicle in the meantime, providing you contact your new insurer, but you will still need to wait for the Livrette (vehicle log book) to arrive. Could take up to 2 months.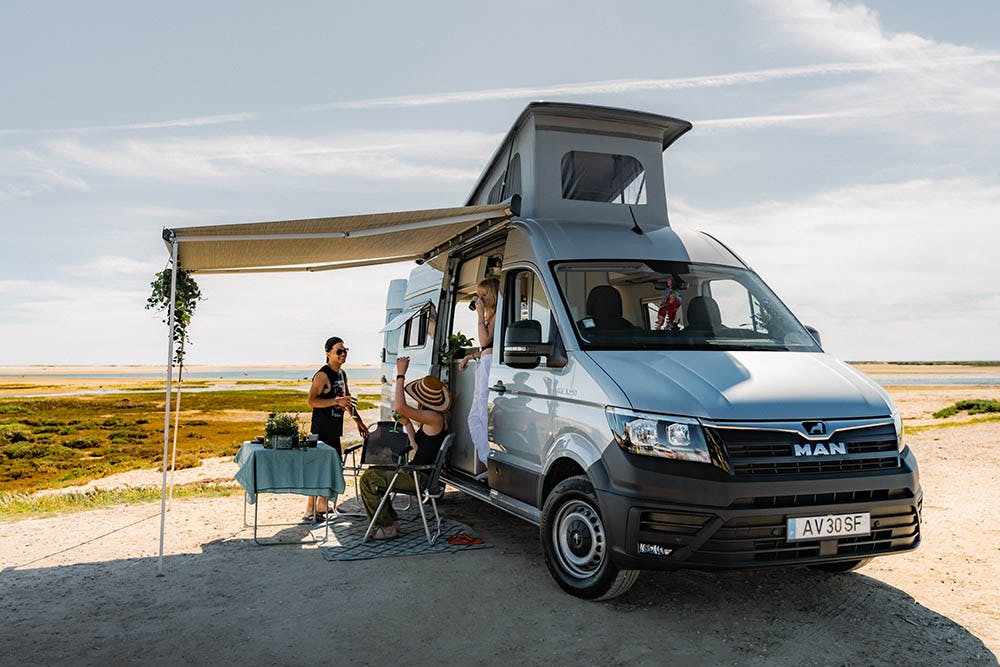 Finished campervan conversion


If you made it, congratulations!
We understand a campervan conversion in Portugal is a long-winded process, but the rewards of doing this yourself are great. You can kick back in your van enjoying that perfect sunset knowing that it cost you a fraction of a price of a ready-made camper. There's also the satisfaction of seeing a van conversion through from beginning to end. In the end, you can sit back with smugness knowing that you beat the Portuguese Bureaucracy.